People: Scanlans; George Moss & Sons; Refinery Group; Evgen Pharma; Primas Law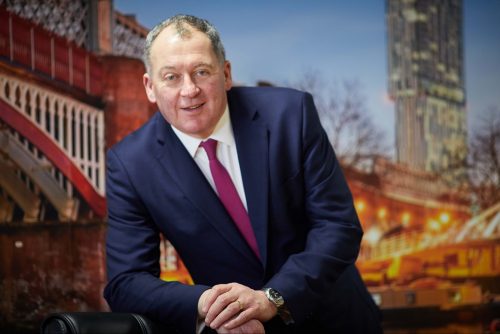 The chairman of Manchester-based property management and surveying practice, Scanlans, is handing over the reins as he embarks on a new career as a mediator.
Ian Stanistreet, 61, is handing over the role to Ian Magenis.
Mr Stanistreet has been a partner at Scanlans for 31 years and its chairman since 2016, when he succeeded David McKee.
He has also continued to head the firm's property management division alongside partner Ian Magenis. He will stand down as chairman and retire as a partner at the end of March, but will remain with Scanlans as a consultant.
In that role he will continue to manage a portfolio of commercial properties across the North West, carry out landlord and tenant work such as rent reviews and lease renewals, and handle compulsory purchase claims, some of which relate to HS2.
Ian Magenis will assume responsibility for the day-to-day running of the firm's property management operations in the North West and Yorkshire, and the administration of the entire business.
Neil Inman will continue to be the lead partner for the Midlands operation. Partner, Tony Mancini, will continue to oversee and administer Scanlans' building surveying functions.
Ian Magenis said: "While we are all extremely sad to see Ian retiring as a partner, we are pleased he will be remaining with us as a consultant. He has been an intrinsic part of the growth of Scanlans Property Management, taking it from a department of three people to over 40. Without his hard work, commitment, knowledge and enthusiasm, this level of success would not have been possible.
"While Ian will be missed as chairman, we are looking forward to working closely with him in his new role as a consultant."
Ian Stanistreet said: "While there have been staff changes over the years, the culture of Scanlans has remained intact."
His new venture is IHS Mediation, which will specialise in resolving civil and commercial disputes. He said: "Mediation is an area that has always interested me."
::
Leigh business, George Moss & Sons, has appointed a new managing director to drive the family business forward as it enters its second century.
Neill Wood has been appointed by the current owner of the 100-year-old family business, Sebastian Moss, to drive the growth and sustainability of Moss Industrial Estate, on St Helen's Road in Leigh, and to share the strategic and operational leadership of the business.
Prior to joining George Moss & Sons, Neill was the financial controller of City Football Group, where he was responsible for the group's financial accounting, risk management and finance systems as well as all the external reporting for Manchester City Football Club.
After graduating from Loughborough University in 2006, Neill completed the graduate programme with EY and qualified as a chartered accountant in 2010. He then spent seven years consulting with EY including secondments with RBS, Thomas Cook and Microsoft, based in Dublin and then at its head office in Seattle, where he led the global rollout of new accounting software.
Neill and Sebastian go back a long way, having first met at university. Sebastian said: "This is a really exciting appointment for our family business. Neill is someone I have known personally for many years and trust implicitly. He brings a wealth of experience to George Moss & Sons that will be of great value to the business, both now and in the future."
Neill said: "It is both a huge privilege and a great responsibility to protect this important family business, which is rich in history and deeply rooted in the local community. But it is also a great opportunity and one which I am very excited to be a part of."
::
Refinery, Manchester's integrated communications group, has hired the ex-CheethamBellJWT MD, Mark Harrison, as the agency's latest recruit.
Harrison joins the agency as managing director under Nick Bradshaw, CEO, to run the agency and build upon the group's recent new business and creative successes.
Before moving back to Manchester in 2018 to join WPP, Harrison worked in London for more than 15 years in agencies including Mother, JWT, Karmarama and M&C Saatchi.
Nick Bradshaw said: "We are delighted to have Mark on board, his experience and passion for creativity will ensure our growth continues at pace."
Mark Harrison said: "I am extremely excited to join Refinery, the agency has very firm foundations that we can all build upon to secure our position as the leading privately owned integrated agency group outside London."
Refinery works with a large number of consumer and business to business clients including Siemens, Dulux, JCB, Manchester Arndale and Energizer.
::
Evgen Pharma, the Manchester-based drug development company focused on the treatment of cancer, inflammation and acute respiratory distress syndrome, has announced that Helen Kuhlman will be joining the company as chief business officer from April 1.
Dr Kuhlman has more than 20 years' experience in government funding and equity investment, together with scientific and business roles in public and private R&D-based biotechnology companies.
She joins from the Development Bank of Wales where she was responsible for equity investment in technology companies and for managing investments in the bank's portfolio companies.
Prior to that Helen was vice president of corporate development at Chronos Therapeutics and was previously at Innovate UK where she created and delivered the £180m Biomedical Catalyst competitive grant scheme funded by the UK Government.
Dr Kuhlman holds a PhD in physiology and pharmacology from the University of Leicester.
Dr Huw Jones, Evgen chief executive, said: "We are delighted to appoint Helen to a key senior role within the company.
"Helen will also have a key role within the team in providing a commercial focus on our indication selection, horizon scanning and competitor intelligence activities."
::
North West legal firm, Primas Law, has appointed three new hires, including a new head of department, in response to growing client demand.
The firm has welcomed a new partner and head of employment, Richard Whalley, along with two experienced solicitors, Bushra Zaman who joins the firm's real estate department, and Jonathan Barratt in the corporate and commercial team.
Richard Whalley will head up the employment law department and brings more than a decade of experience with him, having worked across all areas of employment law in several North West legal firms.
Richard's strategic and commercial approach has seen him work with businesses from SMEs and owner-managed businesses to large national and international companies, supporting them with employment tribunals and contested proceedings involving TUPE, discrimination, breach of contract, whistle blowing and unfair dismissal.
Bushra Zaman joins the real estate team as a solicitor specialising in commercial leases acting for both landlords and tenants, as well as commercial and residential conveyancing.
Joining the corporate and commercial arm of the firm is solicitor Jonathan Barratt. Jonathan has a background in mergers and acquisitions as well as dealing with inter-company arrangements.
Richard Whalley said: "I'm delighted to have joined such an ambitious and forward thinking law firm. Their growth in the region is testament to the hard work they've all put in and I'm looking forward to helping them continue that growth.
"Their approach and the straightforward way they work with clients is refreshing, and I can see already how clients are receptive and appreciative of this attitude."
Adam Kerr, managing partner, said: "It's always a pleasure to be able to announce new hires, and the fact that we continue to grow reflects the continued demand for our services.
"Richard's appointment is significant for Primas, and his extensive knowledge and enthusiasm for employment law will be a huge asset to us, further boosting our employment team.
"Both Bushra and Jonathan are high calibre additions to the firm and will ensure we can continue to provide practical and bespoke legal advice to our clients, particularly during this challenging period."
The growing law firm, which has offices in Cheshire, Manchester and London, has big plans for further growth and expansion. This latest raft of recruits takes its team to 36.