£15m care facility will create 100 jobs when it opens in November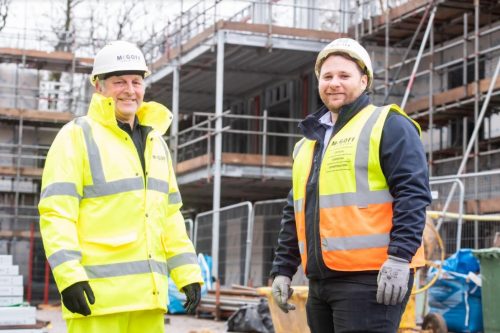 With build progressing well at New Care's latest £15m care facility on Walkden Road in Worsley, the development-led care home operator can confirm that the centre will officially open later this year, with practical completion expected in November.
Work at the site, which was formerly the Cock Hotel, started in September with principal contractor, McGoff Construction, managing the build programme.
With the frame in situ on site, construction of the 3,500 sq m home can continue at pace over the next seven or eight months.
Specifically designed to suit the plot, the care facility will be arranged over three floors, providing an exceptional clinical offering, including residential, nursing and dementia care services.
A number of advanced care services have been incorporated into the build, such as acoustic monitoring and silent call bells, which will further enhance the level of care available.
In the coming months New Care will start to recruit for this care facility, forecasting 100 new members of staff, from a home manager and carers to hospitality roles and wellbeing co-ordinators.
Dawn Collett, commissioning director at New Care, said: "It's great to see build well under way and so much progress on site in Worsley. We are pleased to be able to confirm that this care facility will open later this year, providing much needed care services in the locality."
She said the facility will be the company's first care home in Salford, complementing its already well-established existing facilities across the North West: "We are looking forward to employing a new team in Worsley, creating approximately 100 local jobs," she added
Based in Altrincham, New Care is a development-led care home operator with a growing portfolio of award winning care facilities across the UK.
All of the state-of-art care facilities provide person-centred residential, nursing and dementia care services.
Each of the luxurious care homes feature fully furnished private bedrooms with en suite wet rooms, stylish communal lounges and elegant dining rooms, spa assisted bathrooms, a hairdresser and nail bar, as well as secure beautifully landscaped gardens.