National industry group takes office space at Wirral Waters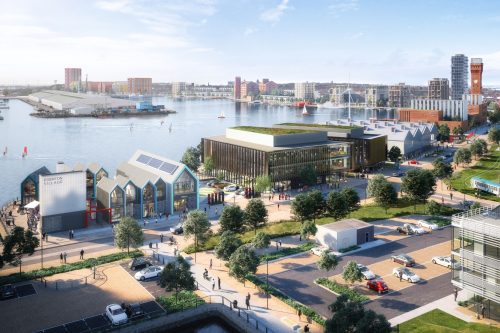 The UK's sole trade association for transport operations will be embarking on a new journey in 2021 by taking office space at the Tower Quays complex at Wirral Waters.
The Road Haulage Association (RHA) will be moving to Units 14-17 at Tower Quays, following an agreement with the owner and developer of Wirral Waters, Peel L&P.
The move comes during a time of rapid development at Wirral Waters.
In December, construction started on an innovative and sustainable new office project, Hythe, and in February, improvement works on Tower Road itself completed with the installation of a sustainable, safe and attractive new streetscape that gives more space to pedestrians and cyclists.
Robyn Walters, property manager at Peel L&P's Wirral Waters, said: "We are delighted to welcome the Road Haulage Association to the growing number of businesses choosing to locate at Wirral Waters.
"Tower Quays offers them flexible, newly refurbished, waterside office space within the Mersey Waters Enterprise Zone and we are looking forward to working in partnership with the RHA to help facilitate their growth over the coming years.
"With more and more projects progressing at Wirral Waters, the area is beginning to bloom with more people looking to live and work on the left bank of the River Mersey."
Tower Quays forms part of the Four Bridges neighbourhood at Wirral Waters.
It is one of the most strategically connected office developments on the Wirral, with the Twelve Quays ferry terminal within two minutes of the site, and links to the M53 motorway and A41 nearby.
Richard Burnett, Road Haulage Association chief executive, said: "It's fantastic to be moving into our new Birkenhead Custom Brokerage office and to be working with Peel L&P, Mersey Maritime and many other businesses so close to the water in such an excellent location.
"These offices will provide great connectivity to local businesses on the Wirral, as well as providing valuable links with the wider Liverpool City Region and the North West."