Creating Unicorns to accelerate growth and prosperity
Leaders and professionals in the northern technology sector got to grips with key questions around what it takes to launch the next wave of fast growth, large-scale businesses.
They joined in presentations sponsored by Nexus and chaired by Kayley Worsley, who is a freelance journalist and former Yorkshire editor for TheBusinessDesk.com.
Speakers included Dr Martin Stow, director at Nexus, the University of Leeds' innovation hub, Paul Hallet, co-founder of Vet AI, Matt Moulding, CEO and executive chairman of The Hut Group and Furqan Alamgir, founder and CEO of Connexin.
Stow said the North is "extremely" well set up to help fast growth companies, as it has a competitive advantage in assets and expertise, particularly in areas such as advanced manufacturing, energy, health and digital.
"These strengths position us well to transition the UK into a new economy," he said. "And we also have eight research intensive universities.
"Manchester, Leeds and Sheffield Universities between them file one out of every 11 patents filed by higher education institutions in the UK."
He said Leeds City Region can seize a major opportunity offered by devolution, with millions already allocated to innovation activities as part of this process.
Stow noted Nexus is attracting high growth potential start-ups, with people drawn to the North by its talent base and dynamic eco system of support.
Hallet noted that his company, Vet-AI, has also joined the community at Nexus.
He described Leeds as the heartbeat of his business, adding: "In our early stages Leeds enabled us to connect with multiple stake holders quite seamlessly. Everyone works together to propel you.
"Nexus has been a fantastic partner in helping us access world leading academics, bringing them into our ideas and helping us deliver them."
He said it was important to have a network in place when hunting for funding, and stressed that finding cash for a pre-launch enterprise is going to be tough wherever it is based.
"It's always challenging before you launch because it's about convincing people of a business plan that doesn't exist yet," he said.
"But we were still able to get substantial investment and have gone through a number of other funding rounds since then."
Moulding – whose company was named a Unicorn in 2016 and now employs 10,000 people – said his darkest days had been when he was first setting up The Hut Group and spending from his own pocket to get it off the ground.
"Finding yourself running out of cash day in day out is pretty stressful," he said.
He emphasised a large part of achieving success is about constantly being prepared to change plans.
"Everyone has a plan when they start out as a business but that only lasts a few minutes," he said.
"That is always the case. I don't care how big your company is, if you're not changing your plans you've probably got problems coming.
"And if you're not trying to create big, important products you're not going to get the explosive growth and the impact you're looking for."
Alamgir focused on how Connexin has flourished in Hull, despite some people's assumptions that it would need to move to Manchester or London to secure funding and expertise.
He said location is less important in this new digital era, with some of his company's employees being based in the South or even overseas.
"You can grow a business anywhere if you're able to adapt and you're able to leverage the resources available to you," he said.
"We saw a lot of opportunity in Hull. And I've read a statistic which says there are as many computer science graduates in the North as in the South."
He said moving North attracts professionals in search of a better work-life balance, who are keen to avoid the stress of commuting in and around London.
---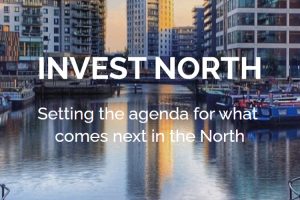 Invest North is a one-day virtual conference bringing together more than 500 people including business and policy leaders to set the agenda for what comes next in the North.
The event has been curated by TheBusinessDesk.com and backed by a broad coalition of organisations spanning the public and private sectors, led by EY, Squire Patton Boggs, Influential, and Impact Data Metrics.