People: DLA Architecture; RLWC21; Mitchell Charlesworth; RPG Chartered Accountants; MCI Developments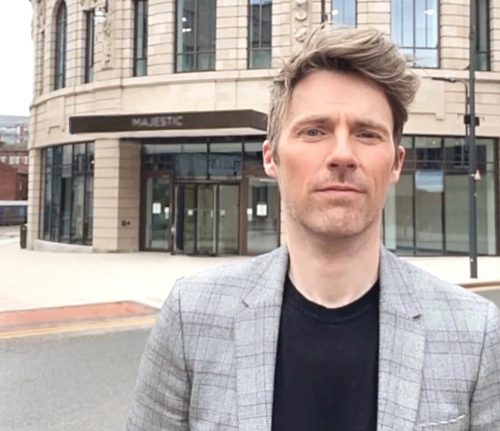 X

Register for free to receive latest news stories direct to your inbox
Register
DLA Architecture, a top 100 UK architectural practice, has promoted Mark Redfern as head of design across all three studios in Manchester, Leeds and London.
The newly-created role has been generated by the business restructure and succession plan announced earlier this year.
Mark, who joined the practice in 2006, operates across all office locations and drives the design ethos within the practice. As head of design, Mark will take the lead in developing a more integrated design culture to deliver the company's ethos of contextual narrative led architecture across all the DLA studios.
Mark has contributed considerable design leadership through several high profile projects including the redevelopment of 'The Majestic' which is to become the new HQ for Channel 4, and the Central Square development in Leeds which was one of the first BREEAM Outstanding speculative office developments in the UK.
Chris Levett, board director and head of the London office at DLA, said: "Mark's skills and experience are perfect for this new and vital role demonstrated by Mark's passion for contextual and integrated design which is widely recognised in the property sector. He is able to balance the commercial requirements of the client's brief with the challenges that each site brings to create high quality, award winning civic architecture."
Mark Redfern, said, "I am delighted to take on this new role at DLA and see tremendous value in embracing the collective design expertise across all our offices to enrich our design culture. This is a very exciting time for the future of the practice and, indeed, the property industry as we emerge, post-pandemic, with an evolved perspective on the effects of the built environment around us."
DLA Architecture has been established for more than 40 years with offices in Leeds, Manchester and London. The practice employs more than 75 architects, landscape architects, architectural technologists, and graphic designers.
While its HQ remains in Leeds, it has committed to grow its North West presence with larger premises in Manchester city centre.
::
RLWC2021's determination to maintain the highest levels of governance and integrity in delivering the biggest and best ever Rugby League World Cup has been further strengthened by three significant appointments to the RLWC2021 board.
Fervent Rugby League fan Jonathan Caine, Lord Caine, who served as a special adviser to six Secretaries of State for Northern Ireland, is the Department for Digital, Culture, Media and Sport (DCMS) representative on the tournament's board.
Sue Catton will be the UK Sport representative and was head of events and competitions at England and Great Britain Hockey, delivering four major European and world level back-to-back events, culminating in the successful Women's Hockey World Cup in 2018. Previously Sue was the sport manager for both Hockey and Wheelchair Rugby at the London 2012 Olympic and Paralympic Games and has also held non-executive director positions with the International Hockey Federation and England Hockey.
The International Rugby League representative is Emma Young, who is an independent technology consultant and specialises in enabling businesses and organisational change through the provision of technology solutions.
Emma joined the London Organising Committee of the Olympic and Paralympic Games in 2007 and as head of telecommunication services led the staff, partners, and suppliers responsible for the strategy, design and delivery of technology infrastructure and telecoms services critical to the successful operation of the London 2012 games and has subsequently been an advisor to the International Olympic Committee.
The RLWC2021 board will also be supported by the strategic advice of Hitesh Patel, head of international sport, major sports events at DCMS who joins the board as an observer.
The new board members join the independent directors – Stuart Cain (CEO of Warwickshire County Cricket Club), Stacey Knight (commercial & marketing director at CSM Live), Mike Perls (CEO of MC2) and Robert Sullivan (CEO of the Football Foundation). Karen Moorhouse (chief regulatory officer at the RFL) completes the board as the final nominated director.
Chris Brindley, the RLWC2021 chair, said: "We welcome three highly committed and talented board members at this crucial moment on the road to successfully delivering the biggest and best ever Rugby League World Cup."
The RLWC2021 organising team is based at Quay West, in Manchester's MediaCityUK. The tournament culminates in a showcase double header final at Old Trafford, Manchester, on November 27, 2021.
::
North West accountancy firm Mitchell Charlesworth has bolstered its tax team with the appointment of a new director of tax.
Aaron Phillips has more than 20 years of experience in both personal and business tax planning. He qualified as a Chartered Tax Adviser in 2005 and became a Fellow of the Association of Tax Technicians in 2011.
With experience of both personal and business taxes, Aaron will be responsible for identifying and advising on tax planning opportunities for both owner-managed businesses and high net worth individuals. He will deliver tax advice on a range of specialisms including business succession, capital gains tax and inheritance tax planning.
He rejoins the firm after having spent six years at McLintocks and will be based in Mitchell Charlesworth's Chester office.
Mitchell Charlesworth tax partner, Tim Adcock, said: "We are delighted to announce Aaron's return to Mitchell Charlesworth. During this challenging time for businesses and individuals, we continue to recruit high calibre people to ensure we can fully support our clients. Aaron's significant experience, capabilities and knowledge will further boost the high quality, specialist tax advice we deliver."
Aaron said: "Mitchell Charlesworth is a well-established and highly respected firm that places great emphasis on service and the quality of advice to clients, therefore, the opportunity to rejoin the firm is one that I could not pass up. They have a really strong tax team which I am delighted to become a part of."
::
RPG Chartered Accountants has announced a bumper crop of new appointments.
Four new staff have been appointed and are in position just ahead of the Manchester-based firm being joined by Crawfords Chartered Accountants on March 31.
RPG Group managing director, Jonathan Brownson, said: "It is tremendous that we have the need to recruit, especially when we will be joined by 25 new colleagues from Crawfords."
Gareth Hunt joins RPG as a licensed insolvency practitioner having previously been at Beesley Corporate Recovery. Gareth will be joined by leading insolvency practitioners David Kaye and Alex Kachani, and senior insolvency manager Tony Chan when Crawfords join with RPG on March 31, creating a highly experienced insolvency team, RPG Business Recovery.
Paulina Danilescu joins the RPG business services team bringing experience in VAT and accounts preparation having previously worked at Madisons and CKW chartered accountants.
Georgia Thomas and Zoe Stopford have both joined RPG as trainee payroll administrators and will be based at the RPG office in St Asaph, Denbighshire, along with other members of the RPG payroll team.
Jonathan Brownson added: "The recruitment demonstrates our continued investment in the future and our desire to ensure that we continue to provide an outstanding service for our clients."
::
MCI Developments, part of national homebuilder Keepmoat Homes, has expanded its operations with four new appointments in the North West.
As part of the company's ambitious growth plans, Craig Murphy, Ian Sumner, Mark Nuttall and Keiron Morley have all joined MCI Developments as the company looks to strengthen its senior team.
Craig Murphy joins as operations director to strengthen the commercial and build delivery in the business. As a respected construction professional with more than 30 years' experience in the housing industry, Craig has worked for a variety of companies including Mclean Homes, Redrow Homes, George Wimpey Homes and, most recently, Keepmoat Homes, where he was promoted to regional managing director in the North West.
Craig has a successful record for growth and at Keepmoat Homes he established a new region and delivered more than 800 new homes, including their first zero carbon homes as part of the Government's new Future Homes Standard.
Ian Sumner has been appointed as construction director. Bringing with him more than 37 years' industry experience, Ian has previously worked at Keepmoat Homes and Taylor Wimpey, achieving 18 NHBC Pride in the Job Awards/Seals of Excellence.
Mark Nuttall joins with more than 25 years' experience in commercial management. With an impressive track record working in various sectors of the construction industry having previously worked at Construction Partnership, Allen D&B and Birse Group, he will head the commercial team.
Keiron Morley has been appointed head of technical and will be responsible for the architectural and engineering function. Keiron has 14 years' experience in the house building sector, holding various engineering and management roles, and prior to this he's worked in the Public Sector Engineering Department's for 19 years.
Alex Wood, MCI Developments managing director, said: "We are delighted to welcome Craig, Ian, Mark and Keiron to the team. The appointments mark an exciting new chapter for the company and we're confident that their combined extensive knowledge of the industry and proven track record will help us achieve further success and drive our continued growth plans in the area."
Alongside the four new appointments, MCI Developments has also further expanded into new regions, with the appointment of two new regional managing directors for the Yorkshire and Midlands region.