Banking boost for state-of-the-art experimental glass making facility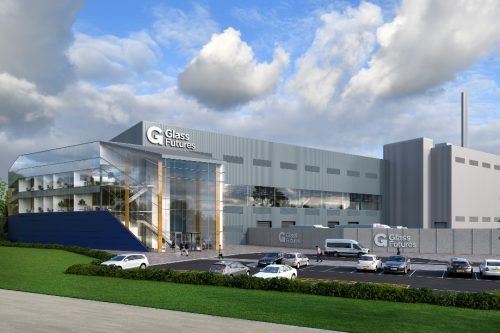 Plans for a state-of-the-art experimental glass making facility in Merseyside are a step closer thanks a new banking facility provided by Barclays Corporate Banking.
Glass Futures is a not-for-profit research technology organisation set up by the global glass industry for the glass industry, creating a state-of-the-art experimental glass making facility in St Helens, to provide the Global Centre of Excellence for sustainable manufacture of glass, enabling Net Zero.
The development is being funded through a mix of public and private investment. UK Research and Innovation (UKRI) is investing £15m into the project and Barclays Corporate Banking will provide the facilities to hold the funds towards the project.
Additional funding is also being provided by the Liverpool City Region with £9m through its Getting Building Fund. St Helens Council, along with industry, are also contributing for a total build value of circa £54m.
The new facility will be capable of experimentally producing 30 tonnes of glass a day for R&D into products such as bottles, jars or windows and will be located in St Helens on a former glassworks site historically occupied by United Glass.
In addition to creating 80 new permanent jobs, the project will lead to much-needed apprenticeships, training and general up-skilling within the glass sector and attract further inward investment to the Region as leading international glass companies focus resources to be within geographical reach of the facility.
Richard Katz, CEO of Glass Futures added: "As a rapidly growing Not-for-Profit Research Technology Organisation, we're delighted to be partnering with Barclays Corporate Banking to accelerate our growth with the creation of our 160,000 square foot Global Innovation Centre in St Helens."
Elise Higham, Relationship Director for Barclays Corporate Banking, said: "Barclays is committed to supporting organisations with ambitions to have a positive social environmental impact so we are delighted to partner with Glass Futures to enable the delivery of this vital project which will signal a new era in highly efficient, low-carbon glass production."