People: Jones Melling; Panthera Biopartners; The Insights People; GHP Legal; DTE Business Advisers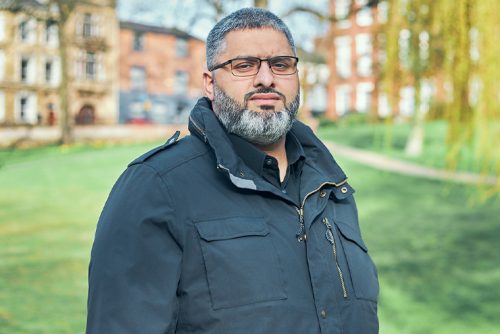 Property and construction advisory firm, Jones Melling, has appointed architectural technologist, Shahid Khan, to join its architectural and design team.
Shahid joins from Adamson Construction & Interiors in Dukinfield, Ashton-under-Lyne. Based at Jones Melling's Preston office, his appointment brings the firm's architecture and design team to five.
In his role as an architectural technologist, Shahid will carry out measured surveys and produce planning and building regulation drawings for both residential and commercial projects.
He is an accomplished designer with a broad experience in computer aided design (CAD) software programmes including AutoCAD, Revit, Google Sketchup and Lumion 3D.
Shahid will work alongside Jones Melling's commercial and residential building surveying, quantity surveying and project management teams.
Gary Melling, co-founder and director, said: "The firm has enjoyed a very strong start to 2021 and we have secured a number of new clients and projects from the healthcare, warehouse and distribution sectors. It's great to see this manifest into the creation of another new job.
"Shahid is highly experienced, he really impressed us with his excellent knowledge of the construction sector, in particular on measured surveys, and has a wide range of technical skills. He has great enthusiasm to work in partnership with clients to deliver a first class service."
A Salford university graduate, Shahid said: "Jones Melling is a growing practice with a wide range of clients from many sectors. I was really impressed by its commitment to its people and providing a supportive work environment."
Prior to Adamson Construction & Interiors, Shahid spent six years at A3 Architectural Services in Manchester and four years as an architectural technician at ICA Architects in Lancashire. At Jones Melling he will support its clients across all sectors, with a focus on refurbishment and redevelopment projects.
::
Independent clinical trial site management organisation (SMO), Panthera Biopartners, has appointed M&A and fundraisings adviser Chris Steed as a non-executive director.
Chris has more than 25 years' experience as a corporate financier, working at Arthur Andersen, Deloitte and for the past 17 years as founder and managing partner of Argyll Partners.
He has acted as lead advisor on more than 125 transactions involving mergers and acquisitions and fundraisings on deals ranging from £4m to £300m. He works as a senior advisor, providing advice to shareholders and the boards of companies covering strategy and shareholder value creation.
Panthera's chairman, Prof John Lyon, said: "We are delighted that Chris has joined us as a non-executive director. His great experience will be invaluable to us as we continue to grow and build on the rapid expansion of the company.
"Since our launch in 2019, despite COVID, we will, by the end of this year, have extended our UK network to 10 sites. We are now looking at overseas opportunities and intend, with Chris's help, to become a significant global player."
Panthera is currently involved in running clinical trials on behalf of its clients in pharma and CROs including several COVID 19 studies as well as trials in oncology, NASH, neurology, and conditions treated in primary care.
Panthera launched its first site in Preston in 2019 and has since opened a Manchester operation.
::
Research company The Insights People has appointed a marketing industry veteran as chairman as it unveiled a rebrand to reflect its rapid growth.
The Manchester-based company, which will now be known as The Insights Family, has brought in Simon White, the former senior vice president and UK managing director of Momentum Worldwide.
White has also held senior positions in both the corporate and agency sectors, working with organisations such as FIFA World Cup, The Olympic Games, AEG, Microsoft and Unilever.
The appointment and rebrand come as the fast growing company relaunches its tech portal, which has so far attracted global customers including Disney, Amazon, Kraft and Nintendo.
Nick Richardson, founder and CEO, said: "In just a few years we have grown from The Kids Insights and Parents Insights to The Insights Family.
"We're now operational in 17 countries across five continents and interview a family member somewhere in the world every 117 seconds.
"From our beginnings as a small Manchester company, we are now the global leader in family market intelligence."
The company's 52 staff includes more than 10 developers, with eight having joined over the past year to work on the new portal.
Richardson added: "We are delighted to welcome Simon to our growing family. Having worked with and known Simon for the best part of 10 years, his appointment is a key signal of our intent of becoming the business-critical partner for all kids, parents and family brands."
Simon White said: "The Insights Family is a true British success story and one that is rapidly fulfilling its global potential. I'm thrilled to have the chance to help play my part on this exciting journey."
::
A Wrexham woman who joined one of the region's largest independent law firms as a conveyancing clerk at their Chirk office and was subsequently offered a training contract with the firm has qualified as a solicitor.
Lauren Blackford joined the residential conveyancing team of Legal 500-listed firm GHP Legal in February 2017. Having completed a degree from the University of Chester in 2010 she gained her Legal Practice Certificate at Chester College of Law and worked for five years as a conveyancing executive with a Cheshire-based specialist conveyancing firm before joining GHP Legal.
Specialising in residential conveyancing, including domestic sales and purchases, transfers of equity and re-mortgages, Lauren has had a particularly busy time over the past year as the number of home moves across the UK escalated.
Now based at firm's Llangollen office, Lauren said: "GHP have been extremely supportive throughout my training contract, but especially so during the pandemic when I have managed to work throughout whilst home-schooling my daughter. The firm has provided flexibility and reassurance when I needed it. Without that I may not have achieved qualification in such difficult times."
Richard Lloyd, senior partner of GHP Legal and head of the firm's property department, said: "Lauren has been dedicated to her training during what has been a difficult year for all of us and she fully deserves to have qualified. The conveyancing department at our Llangollen office is currently extremely busy and Lauren is already a valued member of the team."
::
In line with its vision for growth and strengthening teams to better support clients, DTE Business Advisers has promoted Richard Askey to senior audit manager in its Bury head office.
Richard trained at DTE and is an FCA (Fellow Chartered Accountant) qualified. He has developed strong relationships with clients and has a hands-on approach. He specialises in dealing with professional practices and looks after solicitor clients.
Technically excellent in FRS102/ISAs and possessing good all round knowledge of different taxes, Richard also deals with the audit and accounting queries raised by members of DTE Connect, a support network for accountants and tax practitioners across the country.
As a senior audit manager at DTE, Richard will be largely responsible for advising clients directly on accounting/audit and tax matters, mentoring and training staff as well as nurturing DTE's relationships with clients and prospects.
Fiona O'Loughlin, director and head of audit at DTE Bury, said: "At DTE, apart from unmatched support for our clients, what we pride ourselves the most on is our policy of nurturing talents, and that's how we have maintained excellent staff retention rates over the years.
"It has been a great pleasure witnessing Richard's growth with the firm and I wish him all the best in his future years with DTE."
Richard Askey said: "I have always been made to feel a valued member of the team and believe DTE have a proven policy of rewarding hard work and commitment. We have a strong team that works well together.
"It is a forward-thinking practice that has embraced new developments in technology and changes in financial reporting."