Mystery over future of Essar's Stanlow oil refinery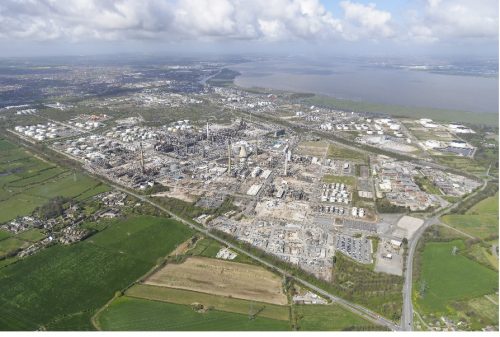 Talks are set to take place over the future of the Essar oil refinery in Cheshire, according to reports.
Sky News claims the refinery owner has approached the Government for financial support following falls in fuel prices caused by the pandemic.
It is believed negotiations are scheduled for next week.
India-based conglomerate Essar bought the former Shell refinery at Stanlow in 2011.
The site directly employs around 900 staff, with up to a further 800 contractors also located there.
However, thousands of other jobs are linked to the plant, which provides 16% of all petrol and diesel fuel in the UK.
The plant also provides aviation fuel via direct piped links with the nearby Liverpool John Lennon Airport and Manchester Airport.
It is estimated that Stanlow produces 4.4bn litres of diesel, 3bn litres of petrol and 2bn litres of jet fuel.
Sky claims Essar Oil UK has been in discussions with the Government for weeks in a bid to stabilise its finances.
Essar sources are understood to have claimed that the COVID-19 pandemic has depressed margins and hit demand for its products.
Road journeys have been severely impacted through the UK's various lockdowns, while the aviation industry has virtually ground to a halt as countries around the world closed their borders and airline operators grounded their fleets.
However, as the UK begins to emerge from its latest lockdown, demand is expected to increase.
And, in January this year plans were announced to create a £750m hydrogen production plant at Stanlow.
Essar and Progressive Energy, developers of HyNet North West, an industrial decarbonisation cluster, have joined forces to set up a venture to produce low carbon hydrogen at the Ellesmere Port refinery.
They said the joint venture will manufacture hydrogen for use across the HyNet region and is expected to create hundreds of construction jobs, followed by thousands more across the region once the network is completed.
It will provide Essar Oil UK with low carbon hydrogen to decarbonise its own energy demand in addition to creating a hydrogen economy across North West England and North East Wales.
Natural gas, and fuel gases from the refinery will be converted into low carbon hydrogen, with carbon dioxide safely captured and stored offshore in sub-surface reservoirs in Liverpool Bay.
Stein Ivar Bye, Essar Oil UK chief executive, said: "Essar is committed to innovative growth as a means to create positive impact to both economy and environment. HyNet and hydrogen production is integral to Stanlow's strategy and will set it on a journey to be the UK's first net zero emission refinery with the ambition to avoid emissions of over two million tonnes of carbon dioxide to the atmosphere per year, the equivalent of taking nearly a million cars off the road.
"With the support from government to establish the appropriate business incentives, together with Progressive Energy, we are committed to undertaking the development and the financing of its construction."
And in February, Essar announced it has joined forces with Fulcrum BioEnergy and Essar's subsidiary company Stanlow Terminals to create a new £600m facility which will convert non-recyclable household waste into sustainable aviation fuel (SAF) for use by airlines operating at UK airports.
The Stanlow project, named Fulcrum NorthPoint, will create 800 direct and indirect jobs during the design, build and commissioning process and more than 100 permanent jobs during its operation.
The innovative bio-refinery will convert several hundred thousand tonnes of pre-processed waste, which would have otherwise been destined for incineration or landfill, into approximately 100 million litres of low carbon SAF annually.
A spokesperson for Essar said today (April 9): "Historically, Essar Oil UK has been a very profitable business that has attracted over $1bn in investment since its acquisition in 2011. It is a long standing private company without public shareholders.
"The global COVID pandemic has affected all refiners, with repeated lockdowns leading to reduced product demand and depressed refining margins.
"We have successfully traded through a very difficult 12 months and are now seeing increased demand for road transport fuels and improving refining margins, which has resulted in increased throughput at the Stanlow Manufacturing Complex.
"We are not a levered business and currently we do not have any short term or long term bank debt on the company, other than working capital lines.
"Prior to coronavirus, we were generating EBITDA in excess of $300m per year. We remain confident that we can manage through this period and come out stronger as the economy clearly continues to recover."
They added: "We are fully focused on supporting the customers and industries who rely on our products as lockdown restrictions are eased and we are excited about our plans to decarbonise Stanlow and increase our supply of sustainable fuels, thereby supporting the UK's green agenda."