Work set to re-start on troubled student accommodation scheme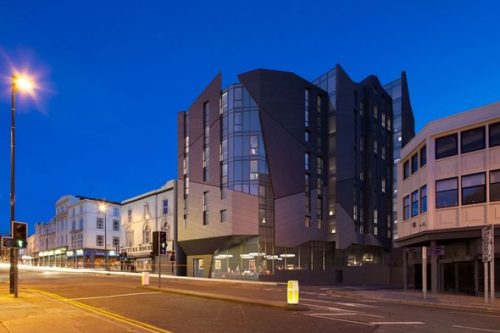 Construction work is set to recommence on a Liverpool student accommodation development which was halted due to the pandemic.
Paramount, on London Road in the city centre, was bought from administrators in July 2019 by the Elliot Group.
Plans were to create a 488-bed scheme, 150 underground car parking spaces and ground floor commercial units.
Paramount originally began in 2014.
A number of units were completed and occupied, but much of the scheme remained empty and its façade incomplete.
Around 120 investors, many from overseas, were believed to have bought units in the development which was originally owned by developer Pinnacle and was supposed to open in 2015.
In December 2019, Elliot Group said it had started work on the site, next to Lime Street station, and was investing £8m to complete construction.
Two of the principal sub-contractors who lost money when the previous developer collapsed were retained, said Elliot Group chief Elliot Lawless, who confirmed that WDS Commercial and BAK-UK would be part of a team managed by main contractor Exchange Construction, which was established by Elliot Group to finish the work.
Mr Lawless said at the time in December, 2019: "They're good companies that took a hit when the original developer got into trouble and I wanted to give them an opportunity to recover some of their losses."
However, work was halted last year after students deserted the city as a result of the coronavirus pandemic.
Now, with a government 'roadmap' pointing to a way out of the pandemic lockdown, and the vaccination programme leading to a dramatic fall in infections, confidence has returned to resume construction.
But when work begins in a fortnight, an Elliot Group spokesperson confirmed that Newry Construction will be working on the site.
He said the aim is to complete the scheme in time for this September's entry of students to Liverpool's universities.