Plans for Clean Air Zone in Manchester could boost economy by £7m, says CBI analysis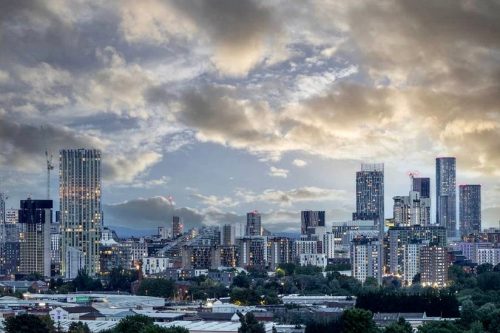 Manchester's extensive Clean Air Zone could inject over £7m into city economy and save lives, new research shows.
Analysis by CBI Economics, commissioned by the Clean Air Fund, has revealed the city could see a minimum £7m annual benefit from reduction of nitrogen dioxide (NO2) levels because of the proposed Clean Air Zone (CAZ).
This could also prevent at least 160 deaths each year associated with respiratory conditions due solely to NO2 exposure and more than 350 days spent in hospital across city-region.
The analysis revealed Manchester stands to gain many times more than others including Bristol and Liverpool because of the wider scope of its proposed introduction of an extensive CAZ.
Last year's analysis found that the UK economy could benefit to the tune of £1.6bn each year if it were to achieve the guidelines set by the WHO for 'safe' air quality.
This latest study shows the economic benefits the CAZ programme could deliver in key UK cities including Manchester, Birmingham, Bristol and London.
Manchester is one of several cities due to implement a CAZ as part of its response to the UK government's air quality plan, which requires local authorities to develop a strategy for reducing NO2.
The city has gone further than the government stipulates, expanding the target zone to include the full greater Manchester region, however it has failed to include restrictions for private cars.
Jane Burston, executive director of the Clean Air Fund said: "For the first time, these numbers give hard evidence that the Clean Air Zone would make Manchester richer and healthier, with its widened focus spreading these benefits across the whole city.
"This shows the benefits of joined-up thinking on business and health as we build back better.
"The council's positive vision for clean air is hugely welcome – it needs to quickly implement these measures to lock in its own economic and public health gains and show what is possible elsewhere."
Damian Waters, CBI North West Director, said: "Cleaner air within our major cities is an aspiration not only central to improving public health, but also a business-critical issue for firms in Manchester.
"Congested city streets are all too common a sight, slowing business operations and ultimately putting people's health at risk. The loss of working hours in Manchester alone runs into the hundreds of thousands.
"Building Back Better must have a green thread running through the very middle of it. That means working together towards reaching our net zero targets and making the most of the economic benefits from lowering air pollution in urban areas."