Land sale brings 'Neighbourhood' of 157 new homes closer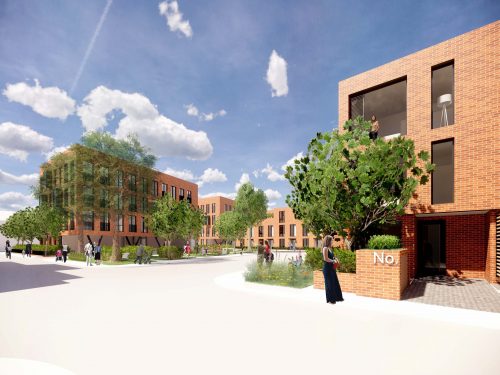 An ambitious housing scheme to develop two brownfield sites in Salford has taken another step forward.
Salford-based housing association Salix Homes and partner developer Step Places have completed the land transaction for the two parcels of land off Kara Street and Liverpool Street in Seedley South.
The 3.8-acre site will be home to Neighbourhood, an eco-friendly scheme which will see 157 homes built on the land comprising social housing, homes for affordable rent and properties for shared ownership and outright sale.
The community-focused development will be a mix of two-, three- and four-bedroom homes and one- and two-bedroom apartments.
Sue Sutton, Salix Homes chief executive, said: "The completion of the land sale marks the next major step in this ambitious housing development, which will bring 157 much needed homes to the area and breathe new life into vacant, brownfield land that has stood empty for over a decade.
"Neighbourhood has been purposefully designed to combine innovative architecture and contemporary living to create a vibrant and aspirational community of modern, high quality and energy efficient homes that will complement the wider regeneration taking place across the city."
She added: "We're really excited to be working with our partners, Step Places, on this new era of housing in Salford, which we're confident will help create that real sense of community and neighbourly spirit which Salford is so famous for."
The innovative design is a modern take on the traditional terrace house, complete with rooftop gardens for some of the properties. There will be a public green space at the heart of the development and all houses will have cycle storage and electric car charging points.
Harinder Dhaliwal, managing director at Step Places, said: "We are looking forward to creating a vibrant and sustainable community which, by design, allows its residents to be kinder to the environment."
In total, 91 of the properties will be shared ownership, affordable rent and social housing, while 66 will be available for market sale.
Salford Council will purchase 25 of the homes for social rent, while a further five properties will go to Inspiring Housing Community Land Trust for a community-led housing model which aims to support affordable homes for local people.
The 32 affordable rent homes will be allocated via Salford Home Search, while the remaining properties will be available via Salix Homes' affordable home ownership brand, Willo Homes.
Work is due to start on site later this year and it is expected the development will be complete in 2023.