Ground broken on 200-unit Preston residential development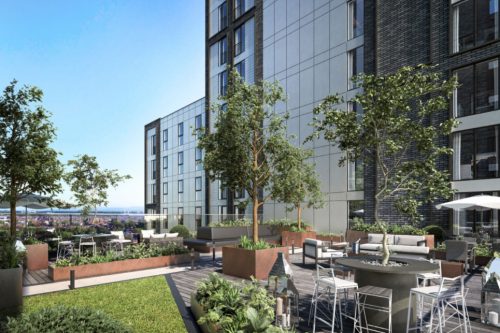 The Heaton Group has broken ground on its latest residential scheme, The Exchange, in Preston.
Made up of 200 residential apartments and boasting a concierge, large communal residents lounge, shared working space, a gym, a landscaped courtyard, roof garden and terrace for residents to enjoy, The Exchange will create a sociable residential community when it opens in April 2023.
Split over three buildings on Pole Street in the middle of the Stoneygate redevelopment area, The Exchange is made up of one-, two- and three-bedroom apartments, all finished to a high specification and designed to make the most of the space. The apartments will now be sold through the Wigan-based group's exclusive sales agent, The Property Alliance Group.
With an emphasis on communal and social living, the development features a spacious roof garden and terraced area for residents to enjoy, as well as inside co-work and social spaces to encourage life outside the apartment and to offer an alternative space to work from home and encourage a healthy work-life balance with alternative working spots away from the living space.
To further encourage a better lifestyle and a focus on well being, The Exchange will feature a high spec on-site gym which will be complementary/discounted for its residents, as well as secure bike storage for more active guests.
Once complete, there will be retail units on the ground floor, with a focus on local independent businesses to complement the area and create opportunities for people in the city.
The Heaton Group managing director, John Heaton, said: "It's great to be on site with our fifth residential scheme in Preston and bring much needed and considered accommodation to the city. In the middle of the Stoneygate Masterplan the location of The Exchange is fantastic and it'll be great to see its progress over the coming months."
Acting as The Heaton Group's exclusive sales agent, Ronnie Garrett, managing director of Alliance Investments, said: "The standard of accommodation and amenities provided in the Exchange is perfectly suited to the growing young professional market in Preston, and is already proving to be incredibly popular with buyers.
"The Exchange caters for the future of Preston, delivering a new level of quality to the city and seamlessly aligning with the city's masterplan."
As well as The Exchange, The Heaton Group is also in development with Bishopgate Gardens in Preston, a 130-unit development that is due to open in summer 2021. It also has a further three schemes under construction in Greater Manchester.