Willmott Dixon secures £19.7m school contract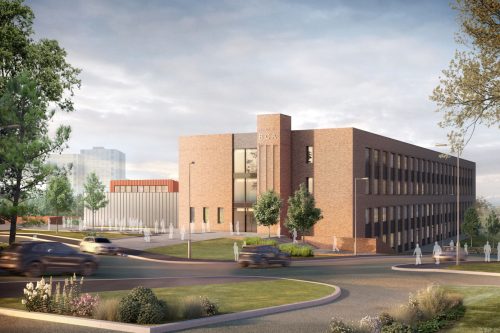 Construction firm Willmott Dixon has been awarded a contract to deliver the £19.7m Brian Clarke Church of England Academy in Oldham.
The project for The Cranmer Education Trust will create a 1,200 place school situated on an easily accessible, town centre site on Booth Street, benefitting from existing public transport links.
Cranmer Education Trust CEO Julie Hollis said: "We are very excited to announce our proposed site and also let the people of the borough of Oldham take a look at these impressive images and plans.
"We are so pleased to be working with Oldham born artist Brian Clarke, whom the school is named after, and Oldham based contractors Willmott Dixon.
"We anticipate a whole range of events and opportunities for those interested in the Brian Clarke CE Academy to learn much more about the new school."
Anthony Dillon, managing director for Willmott Dixon in the North, said: "The project follows our successful handover of Dixons Trinity Academy in 2020, where we were recognised by Department for Education at their Capital Awards through winning their prestigious 'Going Above & Beyond in Covid19' award.
"With our local supply chain, coupled with our coronavirus safe working practice knowhow, we look forward to progressing with the build and generating prosperity in the local area."
As an Oldham based contractor, the delivery of the Brian Clarke Church of England Academy is the latest in a series of local projects the business has secured.
In March, the company handed over the £9m Construction Centre at Oldham College five weeks ahead of schedule.