People: Wrights Food Group; Castlehouse Construction; Hill's Panel Products; Redrow; O'Donnell Solicitors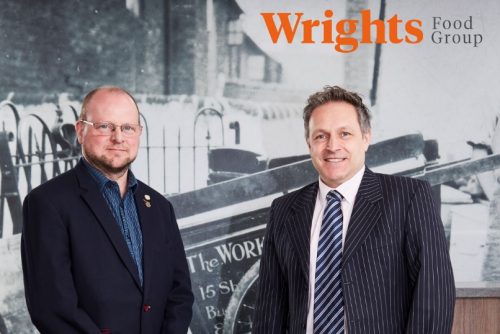 Crewe-based Wrights Food Group has appointed two new senior members of the team whose combined focus includes environmental, ethical and wellbeing issues.
Bringing a combined 40 years of specialist industry expertise into the 600-strong team as it continues its growth trajectory into 2021, health, safety and environment compliance manager Paul Strangwood and head of purchasing, Lee Crank, joined the food manufacturer this month.
Marking a hat trick of senior new starters in 2021, following the appointment of managing director Ian Dobbie, in January, the appointments follow 12 months of significant change for Wrights Food Group which, despite COVID-19, saw the business increase its retail sales by 20%.
Health, safety and environment compliance manager, Paul Strangwood, has worked as a senior practitioner in the gourmet pastry, ambient ready meal and cake and desserts sectors. Paul's focus in his new role is on leading the company's welfare and wellbeing, environmental, safety and sustainability policies with an emphasis on making a positive social impact both inside and outside the business.
Lee Crank joins from his five-year consultancy role and 15 further years as a purchasing specialist. With a focus on purchasing across food, food packaging and non-resale goods, Lee will harness his early career experience as a qualified chef and factory manager alongside two decades of knowledge, contacts and purchasing within fast-paced manufacturing environments.
Wrights commercial director, Helen Bowyer, said: "Both Paul and Lee are experienced, knowledgeable and passionate professionals in their own fields. Their expertise, track record of processes, strategic development and implementation means they are exceptionally well placed to be part of the continued growth of Wrights Food Group as our focus continues on operating an ethical and values-driven business for our customers and our highly valued team."
Wrights Food Group supplies savoury and sweet bakery products as well as ready meals to some of the UK's leading retail and foodservice operators. The company operates with a team of 600 across two sites in Crewe and includes 15 high street stores across the North West. It produces sweet bakery and more than three million savoury products per week for the foodservice, bakery and the retail sectors.
::
Manchester and Leeds-based Castlehouse Construction has strengthened its team with the appointment of a new quantity surveyor. Steve Clarke joins the growing firm which now boasts more than 30 employees.
Steve joins the company from Cardinal Project Management and prior to that he was with ISG Construction where he held QS roles. He brings a breadth of experience, having worked across multiple sectors in the construction industry, on projects ranging from £10k-£10m.
Responsible for subcontractor and labour only employee management, as well as project procurement and cost control, Steve will also liaise and negotiate with client quantity surveyors. His broad expertise will support Castlehouse's key sectors focus from education, industrial, healthcare and retail to commercial, residential and care home projects.
Managing director, Frank Kofler, said: "The successful delivery of any construction project is all about teamwork and our quantity surveying team is a key driver to this. We are delighted to welcome Steve on board and to harnessing his wide sector knowledge and experience."
Steve Clark said: "I am excited to be joining Castlehouse, one of the region's fastest growing construction companies. I look forward to working on a wide range of projects across the North of England."
::
Furniture components manufacturer and distributor, Hill's Panel Products (HPP) has appointed Gary Kinder as purchasing manager.
The 53-year-old has extensive fitted furniture industry experience and his CV includes roles with Eurospace Furniture, Symphony, Richmond Cabinets and JT Ellis.
HPP, based in Oldham, and with a second UK distribution centre in Sheffield, is celebrating its 30th anniversary this year and serves the national kitchen and bedroom fitting industry. It has more than 2,000 trade customers across the UK and supplies in excess of 6,000 products including its own brands of doors and cabinet components.
Gary said: "I'm delighted to have joined HPP. I've known the company for many years through previous roles as a buyer. It has a great reputation and history.
"I'm working across the business on a variety of projects. These including stock control and buying, evaluating existing product ranges and potential new ones, and looking at product sales reports and data. This includes working closely with the purchasing team, sales representatives and HPP's IT director, Andy Evans."
::
Paul Murray has been appointed North West head of planning for housebuilder Redrow at its Daresbury-based NW division after being senior planning manager for three years.
His new position will see him look for forward and strategic land to secure future developments.
Paul, who joined Redrow as an assistant planner straight from the University of Sheffield in 2013, says the North West business has always had a strong pipeline of development land and his new role is to keep the pipeline full so that it can keep refuelling the company's activity.
From its offices at Daresbury Park, Redrow NW has circa 15 live outlets across Cheshire and parts of Merseyside and North Wales, building everything from starter homes to large, executive detached houses.
Jason Newton, managing director at Redrow NW, said: "Paul's promotion is well deserved and I'm confident he will continue to deliver the sites we need to create vibrant new communities across the North West."
::
Saddleworth-based O'Donnell Solicitors has added a double boost of experience and talent to its team.
Associate solicitor Katrina Fox has joined the law firm's commercial property team to work alongside James O'Donnell, director and head of corporate and commercial.
Katrina, moving from international law firm Eversheds, is a stellar appointment with more than nine years of experience. Her role will involve assisting with the busy and often high value and technical commercial property workload and developing the client base locally and beyond.
James said: "Katrina's appointment pays tribute to the continued success and growth of the firm's offering of commercial transactional work.
"To draw the attraction of a highly qualified solicitor from an international law firm is credit to our performance as a North West contender."
Also set to join the firm in May is Jill Waddington, who lives in Dobcross and is currently a partner of Huddersfield-based Ridley Hall Solicitors. Jill will move into O'Donnell Solicitors' private client department headed by director Rebecca O'Donnell.
Jill is a senior qualified solicitor with more than 17 years' experience and specialises in wills, estate and tax planning, trusts, probate and estate administration, powers of attorney and court of protection work. She has been recognised as a leading lawyer in the 2021 Legal 500 and is a fully qualified member of Solicitors for the Elderly and a full member of the Private Client Section of the Law Society.
Rebecca said: "We are excited to welcome Jill to the firm. She is a highly skilled solicitor with a compassionate personality. Jill's appointment will enable clients' needs to be met more efficiently and will speed up processes at what can be difficult times, such is the high level of demand."
The additions come on the back of another year of growth for the firm, which this year marks its fifth anniversary. In that time, O'Donnell Solicitors has developed from a two-director firm with one secretary working out of the old bank in Lees, to a multi-disciplinary practice boasting two branch offices, five directors, 13 fee earners and numerous support staff.