Irish athleisurewear brand opens North West site at Trafford Centre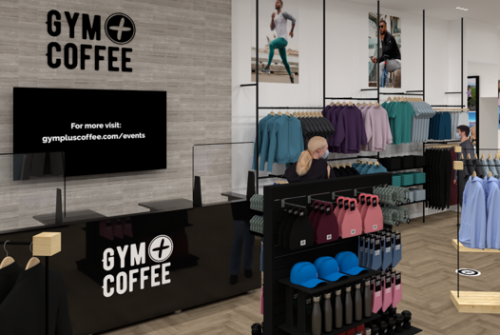 Irish brand Gym+Coffee has launched a clubhouse concept store in The Trafford Centre this month – the athleisurewear brand's first foray into the North West.
Following the opening of non-essential retail on April 12, Ireland's largest athletic-wear company, Gym+Coffee has acquired a unit on Upper Regent Crescent, after signing a 3,000 sq ft lease.
Launched in 2017, the concept was founded by three fitness fanatic friends with an ethos of socialising through exercise, born out of their love of fitness and fashion, which today sees the brand offer a full range of Irish-designed active wear across domestic and UK outlets.
The news of the launch follows McKinsey's State Of Fashion 2021 report, which anticipates strong demand for active wear categories as both gyms and non-essential retail re-opens on April 12.
The Trafford Centre launch will incorporate Gym+Coffee's entire collection, which the brand says are clothes comfortable enough to wear at the gym, for use outdoors, or to lounge around in.
The founders hope the new clubhouse concept will bring together a new community in the region, as the store will incorporate an in-house coffee station to encourage people to hang out and socialise in after the pandemic.
Niall Horgan, Gym+Coffee chief executive, said: "We are delighted to join The Trafford Centre and to continue to grow Gym+Coffee in the UK.
"It's been a challenging but exciting year for us as a brand and community and opening our second international clubhouse is a significant milestone.
"We're looking forward to further building our foundations in the UK and continuing to bring our unique Make Life Richer ethos to our Manchester community."
Zoe Inman, center director , said: "It's really exciting to see Gym+Coffee's community-led approach to its retail concepts replicated in Manchester, which is why we're delighted to be bringing the experience to our customers across the North West.
"We expect the demand for active wear to remain high, long after the pandemic as consumers look towards brands which boost their wellbeing.
"Gym+Coffee's new clubhouse offering is testament to the importance of in-store experiences and post-pandemic community cohesion – an unrivaled experience, which online shopping really can't compete with.
"As one of the UK's most popular retail and leisure destinations, The Trafford Centre has continued to enhance the vibrant mix of retailers available for our customers whilst non-essential retail has been closed during lockdown.
"Like Gym+Coffee, other recent centre launches – including Polestar and Rituals – really emphasises the consumer demand and importance of a tangible in-store experience."