Manchester barrister leads national initiative to tackle abusive behaviour at Bar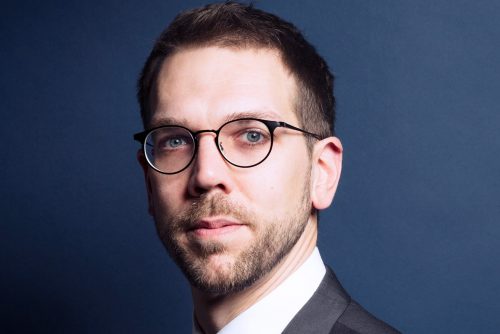 A Manchester barrister is leading a new, national initiative aimed at tackling abusive behaviour at the Bar.
All Rise is a project inviting the Bar to step up and actively create a better culture for all barristers.
It aims to encourage barristers across all practice areas and levels of call to be 'active bystanders' – speaking out and standing against abusive, bullying and belittling behaviour.
The initiative is headed by Chris Gutteridge from Exchange Chambers in Manchester, Bo Kay Fung (Financial Conduct Authority), Lydia Pemberton (3 Paper Buildings) and Morayo Fagborun Bennett (Hardwicke), who met on the Bar Council's inaugural leadership programme, a project aimed at changing the culture of the Bar though facilitating a network of 'new leaders'.
The team behind All Rise has designed and produced a pin badge that barristers can wear in chambers or at their place of work and at court as a symbol of allyship.
The pin is a sign to others that the wearer will use whatever power they have in a given situation to stand against unacceptable behaviour and act in support of those in need. The pin badges are wooden, and environmentally friendly, and come on a recycled cardboard backer that can be re-used as a bookmark.
Chris Gutteridge said: "There have been a number of decisions handed down by Bar Disciplinary Tribunals in recent months concerning sexual assault and harassment by barristers.
"The details of one of those cases suggested that the offending barrister acted in the presence of other barristers without fear of repercussions.
"In fact, the junior barrister he assaulted said that she felt unable to say anything whilst she was being assaulted because she did not want to make a scene in front of senior members of the bar who were present at that event.
"This is, in a word, appalling. It casts a shadow over the whole profession.
"We appreciate this is a small first step on the long road to tackling a very big problem, but nevertheless, we think it will create more 'active bystanders' at the Bar and act as a visual deterrent to potential abusers."
All Rise aims to raise £5,000 to produce 4,000 pins – its initial target of approximately 25% of barristers in England and Wales. So far, the group has secured pledges and contributions of about £2,000.
Individual barristers can buy a pin, and have it sent by DX to their chambers or posted to another address, for £5. The group is also looking for chambers and other organisations to act as 'sponsors' – contributions of £100 and up.