People: Endless; GHP Legal; Taylor Wimpey NW; Weightmans; Russell Bolton Consulting; BLM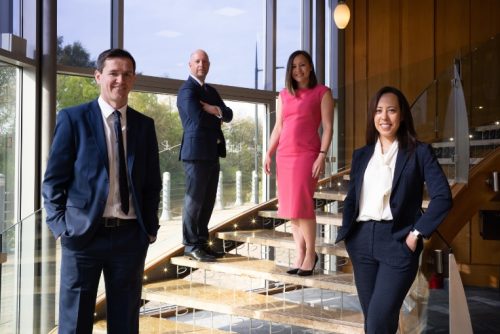 Private equity investor Endless has announced a milestone promotion in its Manchester office, as Richard Harrison is promoted to partner.
Nationally, the business is celebrating the appointment of four new partners.
The financial year to April 30, 2021, was, for Endless, one of its most active and included the investments into Hovis, one of the most iconic food brands in the UK, and Amscan International, an international market leader in party products. Endless also raised its fifth fund, Endless Fund V, at £400m in November 2020, and recently completed its first investment in that fund, Hyde-based Findel Education, an e-commerce specialist in educational resources.
Enact, the SME fund investing Enact Fund II of £30m, was similarly busy and completed the acquisitions of Realise, an apprenticeship provider, Evolutions, a TV post-production business, and Bartoline, a heritage manufacturer of decorating products.
After a year of significant progress investing Enact Fund II and in anticipation of raising its third fund in the next 12 months, Richard Harrison is promoted to partner in the Manchester office, and will now focus on Enact investments. Richard will transition from Endless to Enact, following a year in which his highlights included the investment into Hovis and managing outstanding growth in the existing investments at BBF and Warrington-based American Golf.
Lucia Villamor and Simon Hardcastle were integral to the successful raising of Endless Fund V and this has been recognised with both being promoted to partner, leading the investor relations and legal & compliance departments of Endless, respectively. Kerry Battiscombe, who has led the due diligence team since 2019, will join them as partner on her return from maternity leave later this summer.
Garry Wilson, managing partner, said: "After a year none of us will ever forget, it is great to be able to reward the new partners. Lucia, Kerry and Simon have been with us for a long time and have transformed their respective parts of the Endless business in recent years. Richard has forged a strong niche in the North West market and is a natural leader for the Enact business in that region.
"I would like to congratulate all of them on their partner promotions and the rest of the team that have also achieved important milestones in their careers this year."
::
A surge in private client work, brought on in part by the coronavirus pandemic, has resulted in law teams across the country taking on new members of staff.
The latest announcement in this region is the appointment of a new solicitor at the Wrexham head office of GHP Legal.
Frances Cartwright joins GHP Legal, which, as a member of the Legal 500 register ranks among the top 500 law firms in England and Wales, from Bartletts Solicitors in Chester.
Wrexham born and bred, Frances qualified as a solicitor in 2018. After gaining a 2:1 degree in law from Liverpool John Moores University, she completed her Legal Practice Course remotely while working full time as a legal secretary, and was later offered a two-year training contract with the same firm.
Joining GHP Legal at one of its busiest ever times, Frances has experience in dealing with all aspects of private client work including obtaining probate, administration of estates, inheritance tax matters, powers of attorney and the preparation of wills. She is currently studying towards gaining her STEP (Society of Trusts & Estates Practitioners) qualification.
Welcoming Frances to GHP Legal, partner Victoria Wilson said: "GHP Legal has a strong reputation for its sensitive handling of all private client matters whilst achieving successful outcomes. Frances brings with her experience and expertise in every area of work covered by the department and will be a valued member of the team."
::
Taylor Wimpey North West has strengthened its land and planning team with the appointment of two new recruits.
Land manager Max Mutemererwa and assistant land manager, Megan Holden, will be responsible for sourcing new land opportunities for future development.
With a wealth of knowledge and experience in the industry, Max and Megan will help to support the continued growth of the regional business and the acquisition of new land.
Land and planning director, Ian Harrison, said: "At Taylor Wimpey we are committed to building vibrant communities and we have some great land prospects in the North West. We're delighted to welcome Max and Megan to the team to help continue to develop schemes that people are proud to call home."
Max said: "Both Megan and I are pleased to have joined Taylor Wimpey at such an exciting time. We're looking forward to helping the team to develop the variety of projects in progress, as well as looking ahead to buying further land to provide new housing and community facilities across the North West."
The appointment of Max and Megan comes just a few weeks after Taylor Wimpey completed the purchase of land off Liverpool Road in Prescot.
The development, named Orchard Park, has planning permission for 227 high quality three- and four-bedroom homes. The company has also been selected by Homes England as the preferred homebuilder for the David Whitby Way, Crewe development of 325 homes.
::
National law firm Weightmans has bolstered partner numbers, promoting 11 in its continued commitment to career progression and development.
The eleven are based across four Weightmans UK offices, including Louise Mutch, Liverpool (large loss), Simon Forster, Manchester (large loss), Sam Gittoes, Liverpool (motor), Martin English, Liverpool (regulatory), Lee Rogers, Liverpool (employment), and Jon Gregson, Liverpool (employment).
In addition to the partner promotions, Weightmans has promoted three to legal director, 28 to principal associate and 43 solicitors to associate – a total of 85 promoted this month.
These are the first partner promotions since 2019, which come following a year of unexpected challenges and opportunities as Weightmans sought new ways of working to help clients and colleagues through the coronavirus pandemic.
Managing partner, John Schorah, said: "The last year has seen many challenges, taking measures to preserve people's jobs at a period of great uncertainty but still maintaining the quality and exceptional levels of service our clients come to us for.
"We worked quickly to ensure we responded to new demands and identify emerging opportunities. Our people worked tirelessly throughout, and the support we have had from them is nothing short of inspiring.
"I would like to congratulate our new partners, principal associates, legal directors and associates for their achievement, with some of them being with us right from the beginning of their careers. Their focus on the client, support for each other and maintenance of high standards, particularly in the last 12 months, is integral to our success, and I know that they will continue to work hard to deliver creative solutions and results."
::
A recently launched project management, cost consultancy, property and construction advisory firm has made a hat-trick of new hires after a 'blistering start' to 2021.
Russell Bolton Consulting, which is based on King Street in Manchester, has recruited Riyaaz Patel, Syrrun Adnan and Cath Ronan from Rider Levett Bucknall to join their growing team in the city.
The firm was launched in February 2021 by senior property professionals, Russell Bolton and David Litherland, and has since been appointed to provide consultancy services for more than £100m of real estate projects across the North West.
Riyaaz is a chartered surveyor and project manager and joins the firm as an associate in its project management team. He has more than 24 years' experience across a range of sectors and has worked on some landmark projects, including a £140m scheme to redevelop Newport town centre and the development of the National Graphene Institute and Graphene Engineering Innovation Centre for the University of Manchester.
Syrrun joins as an associate in the firm's cost consultancy team. Having spent 15 years in the industry, he has worked on construction projects with values up to £60m for clients such as Manchester Airports Group, The University of Manchester, Aviva Investors, HSBC, Associated British Ports, and ITV.
Cath joins as the firm's business manager and will take a lead role across all business operations covering finance, compliance, health and safety, employee engagement and productivity.
David Litherland, co-founder and director, said: "We believe we can make a difference on every project and to do that we must attract highly qualified and motivated professionals.
"Riyaaz, Syrrun and Cath bring stand out capabilities and experience to the firm and we are delighted to have them on the team. We have made a blistering start to 2021 and have been bowled over by the positive response since launching the firm. The team is looking forward to working on a range of projects that will help transform cities and neighbourhoods, which in turn will benefit millions of people."
Riyaaz said: "I was really impressed by the vision of the firm, its commitment to make a difference and its plans for building a strong team in Manchester. I feel that this is an exciting journey and I am delighted to be part of it."
Syrrun said: "I felt the firm will be the ideal environment for me to develop, grow and work with some great clients and colleagues. Client service and impact comes first here and this is very much aligned to my ethos."
And Cath said: "The firm has very exciting plans and I am looking forward to helping the leaders create a strong operational infrastructure that helps our people deliver an outstanding service, while realising our business goals."
::
Insurance risk and commercial law specialist BLM has announced five promotions in its Manchester office, based on King Street, including one appointment to partner.
The Manchester promotions span three of the firm's seven business streams, with three promotions in commercial advisory and private wealth, one in catastrophic injury and one in the firm's prison team.
The Manchester promotions include Helen Smith to partner, Fred Feistauer, Marc Harries and Michael Ledwith to associate, and Kim Frost to manager. In total, BLM promoted five of its associates to partner and 12 of its solicitors to associate and associate equivalent roles across its UK locations, spanning five of its seven business streams.
The new appointments follow a promotions round announced last October, which created 12 new partners and 23 new associate roles across its teams.
Matthew Harrington, recently re-elected for a second term as senior partner, said: "It's a pleasure to announce this round of partner and associate promotions, and I'm sure the firm will join me in wishing the best of luck to our colleagues for these well-deserved appointments. The tenacity, dedication and hard work shown by the teams over the last year has enabled BLM to continue to offer extraordinary support and service to our clients, during a time that has been challenging for many businesses, and people.
"These promotions, as with our October appointments, again reflect our plans for growth in areas that represent both BLM's strengths and opportunities. As we continue to strengthen and diversify our expertise in key areas, supporting our talent will remain an important focus. Congratulations to all new partners and associates."