People: Total Processing; Edge Testing; Jones Melling; Nexus Planning; Armstrong; Matthews & Goodman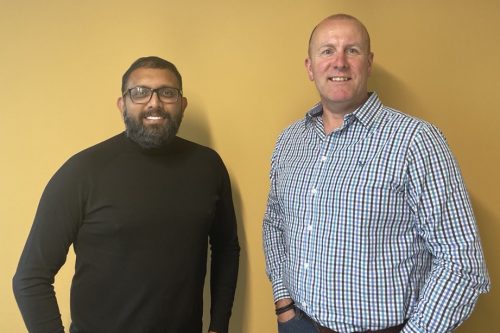 Manchester-based payments fintech Total Processing has made two additions to its senior leadership team, with Rob Pailin joining as chief executive and Sunil Peenikal appointed chief technology officer (CTO).
Bringing more than 15 years of financial services and fintech experience, Rob Pailin, former Assetz Capital and RBS Corporate managing director, will be spearheading the fintech's ambitious growth plans as it looks to expand to new markets, bolster its headcount and continuously innovate its product for customers.
Sunil Peenikal joins with more than 20 years' experience at some of the world's leading tech companies, including IBM, Hewlett Packard and Fulcrum Digital. Sunil will lead the development of Total Processing's payments processing technology, ensuring it continues to evolve and scale, while maintaining the bespoke nature of its services.
Rob and Sunil's appointments follow an influx of new recruits to the fintech over the past year, as it more than doubled its headcount over lockdown and moved to a new, much larger headquarters at 111 Piccadilly, to accommodate its 60-strong workforce.
The duo join Total Processing at a pivotal moment in the business's growth journey, as it targets global expansion with new offices in the UK, Europe and, most recently, Dubai, with plans for significant headcount growth in the coming 12 months.
Rob Pailin said: "Total Processing is one of Manchester's most exciting fintech businesses – the growth it has achieved to date has been huge. As the e-commerce landscape evolves, we have an opportunity as a business to bolster this growth further.
"Many domestic and international businesses are reassessing their core processes, streamlining wherever possible, and this is where Total Processing is making its mark. We've got ambitious plans and I'm looking forward to seeing what we can achieve."
Sunil Peenikal said: "I've had the opportunity to work with some of the world's most innovative businesses throughout my career, and I believe Total Processing has the potential to reach similar heights.
"What sets the business apart is the relentless focus on the customer, and how that translates into its technology. We have the ability and agility to quickly develop custom features if our customers demand it, which is such a refreshing approach.
"This is why we have some of best customer retention levels in the industry – and it's from these brilliant foundations that we will build on our technology and innovate further."
Founded in 2015, Total Processing is now one of the UK's fastest growing fintech companies, delivering its services to more than 3,000 clients and disrupting the payments sector through the delivery of custom payment solutions across online and in-store channels worldwide.
::
Independent software testing company, Edge Testing, part of Eurofins Digital Testing, has appointed Ian Bryson as digital test hub manager to spearhead growth plans for digital test hubs across the UK.
Edge Testing opened its regional technology centre in Manchester in spring 2019 in the city centre. The Manchester-based digital test hub (DTH) is Edge Testing's third, alongside its Scottish site in Belshill and another at its Birmingham office.
Edge Testing launched the DTH concept to meet requirements for low cost, on-demand testing services. The DTH can be accessed easily by organisations looking for a remote testing service for applications and back office systems.
Ian's new role will see him working alongside head of technical services, Neil Cameron, to drive and oversee service expansion across Eurofins Digital Testing's regional technology centres. He will also work closely with testing teams in Bangalore, India, for larger projects.
Ian has managed teams internationally, so brings a wealth of blue chip project consultancy and team management expertise to the position.
He was also head-hunted as programme test director for Scotland's implementation of the electronic transfer of medical prescriptions (ETP), via ATOS, which was so successful that Ian managed a similar ETP roll out across England, Wales and Northern Ireland.
Neil Cameron said: "We are expanding our offering to meet the increasing and changing demands from clients. The regional technology centres are in a prime position to provide a fully outsourced testing service with the capability to take all testing off clients' hands.
"Ian's appointment will see him focus teams efforts on giving clients the peace of mind, and time to concentrate on other parts of their businesses, leaving testing to us."
To bolster the company's service delivery, Ian's focus will be on offering higher value services and a greater return on investment for clients across the country. However, he will also be aiming to attract new talent to the regional technology centres' teams while ensuring its already sterling reputation for consistently high quality service delivery to a UK-wide client roster remains.
Ian said: "I've known about Eurofins Digital Testing since it was founded and have been attracted to it as a potential employer thanks to its family culture combined with a progressive, flat management structure.
"My new position will enable me to help boost the regional technology centres testing services offerings with a blend of services specifically designed for customers, but I also look forward to promoting the offshore benefits that the regional technology centres provide, from a UK-base."
::
North West property and construction advisory firm, Jones Melling, has promoted building surveyor Simon Gummer to its senior team.
Simon joined Jones Melling in March 2019 and works across its network of North West and London offices advising clients across the UK. Over the past two years Simon has played a growing role in helping secure new clients and projects, and has developed his technical skills which has led to his promotion.
Gary Melling, co-founder and director, said: "Simon is a growing member of the team, demonstrating a willingness to develop and extend both his own skills as well as the team around him. He has also established a strong client base and has proven to be a great asset not only to the building surveying team but to the firm as a whole."
Working across the commercial, residential and care sectors, Simon delivers both building surveying services and contract administration work. He is also involved in specialist medical negligence cases and other related expert witness roles.
Gary added: "His contract administration skills and ability to work with clients across all sectors and backgrounds fit perfectly into our objectives for the firm. We are thrilled to have him join the senior team."
Simon said: "I have thoroughly enjoyed my time at Jones Melling, working alongside a great team and portfolio of clients. I've gained valuable experience along the way, working closely with our contractors and clients on various projects. I am very excited about the new challenge and the next chapter with the firm."
::
Nexus Planning, one of Manchester's largest independent planning consultancies, has promoted Heather Lindley-Clapp to director.
Heather joined Nexus Planning's Manchester team in 2019 and was previously associate director.
In her role as director, Heather will be instrumental in Nexus Planning's senior management team, as well as developing the award-winning planning consultancy's retail and commercial advisory services.
She will also take a leading role in the day-to-day management of Nexus Planning's Manchester office, alongside fellow Manchester directors, Murray Graham and Richard Shepherd, and executive director, Peter Tooher.
Heather has more than 14 years' experience working extensively across the private sector, including retail, commercial mixed-use and residential projects.
Her clients include Morbaine, DTZ Investors, BXB Land Solutions and NHS Property Services, as well as a number of local authority clients. Heather has acted on behalf clients at Public Examination and Inquiries, and she is a Chartered Member of the Royal Town Planning Institute.
Recently, Heather has been involved in the preparation of town centre strategies and place plans, working with local authorities to plan for the future of their centres, as well as assisting in how these then translate into Development Plan documents.
She has successfully delivered permissions for several large scale commercial and residential schemes for a range of private sector clients across the UK. Her role has also involved managing multi-disciplinary teams, developing and delivering planning strategies, and negotiations with planning authorities.
Heather said: "I'm thrilled to be taking on a director role in our Manchester office. I've been incredibly impressed with how well the team has performed this past year, even managing to grow through a number of new and existing projects, despite the obvious challenges.
"I'm looking forward to continuing to support Nexus Manchester's growth by assuming more of a leadership role in the mentorship and career progression of our junior members. Together with Nexus Manchester's senior team, I will be nurturing existing clients and helping them grow their portfolio, as well as continuing to help to grow the retail and commercial sector, both public and private – an area I'm particularly passionate about."
Peter Tooher, executive director of Nexus Planning Manchester, said: "As a highly valued member of the business, it's a pleasure to welcome Heather to the senior management team.
"Heather has made a significant and sustained contribution to Nexus Planning's Manchester team across a number of sectors, and more widely across the business through her outstanding work. She is also taking on a key role in managing Nexus Planning's relationships with several established and emerging clients in the North, including DTZ Investors, Euro Garages and Landmark Properties. It's shaping up to be an exciting year."
::
Integrated B2B marketing agency, Armstrong, is investing in growth after a successful start to the year.
The Chester-based agency has appointed 15 new team members since the start of 2021 and is seeking more hires including a senior web developer, traffic manager and a 3D motion designer.
The recruitment comes as a result two major global account wins and contract expansions. The agency has been appointed by Knauf, one of the world's largest independent building material manufacturers, and Kawneer, a manufacturer of architectural systems and products in North America and with growing presence in Europe.
Daniel Owen, CEO and founder of Armstrong, said: "Armstrong is off to a flying start in 2021 and has won the accounts for two global brands. Now, we're looking for people who can bring their creative expertise to the table to deliver exceptional work for our clients.
"We work with some of the world's most important businesses across a number of critical supply chains, like glass, industrial vehicles and construction. Our clients are forward looking and technologically advanced, and they look to us to deliver dynamic creative that reflects their progressive nature."
Other clients include Encirc, the UK's largest manufacturer of container glass and Bucher Emhart Glass, Switzerland, the world's largest manufacturer of hollow glass forming and inspection technology.
Daniel added: "We work with businesses which are excelling in their field. What this means from a creative point of view is that our team can really push the boundaries of B2B marketing – using the latest technology to bring their products to market. We work with leading companies in international markets with incredible stories to tell and we're looking for people who can help us turn these stories into captivating marketing narratives."
The 38-strong agency team delivers brand strategy and development, creative services, digital, and CGI and motion projects for its large client base. Armstrong is based in the Old Post Office building on St John Street in Chester, which it acquired in December 2019.
The 1876 three-story building includes 12,000 sq ft of office space and is currently being renovated to accommodate the growing team.
::
Matthews & Goodman, one of Liverpool's most established property consultancies, has recruited Sam Birtwistle to join its agency team, as an associate surveyor.
Birtwistle, who has more than 10 years' agency experience in commercial property, has a proven track record in marketing, disposal and acquisition of office and industrial properties for both landlords and tenants in the North West region.
Prior to joining Matthews & Goodman, Birtwistle spent more than 10 years with Warrington-based BE Group, where he started as a graduate, rising to senior surveyor. His portfolio of clients included public sector organisations such as Warrington Borough Council, as well as blue chip brands including Betfred and Bruntwood.
Lynn Haim, head of the Liverpool office and head of the business space team in Liverpool, said: "Sam's 10 years' professional experience is underpinned by his excellent people skills, market knowledge and an impressive breadth of expertise. He is already proving to be an excellent addition to our multi-disciplinary team, reinforcing our position and capability in the North West."
Birtwistle said: "I am delighted to have joined the business space team at the Liverpool Matthews & Goodman office and to be working alongside the existing North West team. As lockdown restrictions are starting to ease, this is an exciting time for the future of workspace, and I am looking forward to the challenges and opportunities that will be presented."
Having gained an upper second BSC (Hons) in Property Management & Investment from the University of Salford, Birtwistle is currently studying for his Royal Institution of Chartered Surveyors (RICS) professional chartered surveyor qualifications. He will be based at Matthews & Goodman's Liverpool office.