Cammell Laird stands ready to deliver new national flagship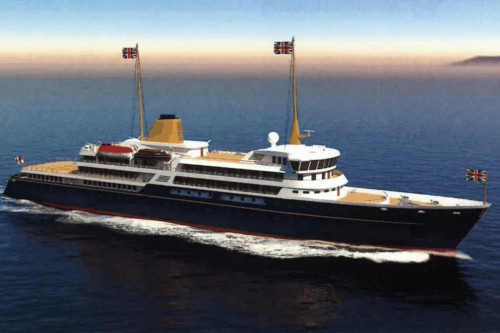 Birkenhead shipyard Cammell Laird, says it stands ready to build the UK's new national flagship after Prime Minister Boris Johnson's announcement that construction of the vessel will commence in 12 months, with the ship entering service by 2025.
The ship will be the first of its kind to be built and commissioned by the UK and will showcase British design, engineering and green technology.
Today (June 1) David McGinley, Cammell Laird chief executive, said the famous shipbuilder and repairer is ready to deliver the new national flagship, which will be used to promote British interests around the world.
He said: "From HMS Ark Royal to the RRS Sir David Attenborough, Cammell Laird knows what it takes to deliver vessels of vital national importance.
"We have completed some of the most ambitious ship building projects in modern times, through the recent construction of the RSS Sir David Attenborough, the Aircraft Carrier Alliance, and delivering critical units of the next generation nuclear submarines, Astute and Dreadnought on behalf of BAE.
"It is this experience that makes Cammell Laird the only UK shipyard who can partner with government to deliver this vessel, a partnership that will significantly de-risk the project, enable it to be delivered at speed and maximise value for money."
In addition to the construction of the RRS Sir David Attenborough, Cammell Laird has delivered a range of specialised vessels including RoRo and RoPax ferries for Red Funnel, Western Ferries and Strangford Ferries.
Mr McGinley said he welcomed the Government's decision to place this contract with a UK shipyard and that the construction of the national flagship would unlock a huge amount of social value in the North West of England.
He said: "The construction of the new vessel will unlock the full social benefits of the contract for the people of Wirral/Merseyside and the wider maritime supply chain, as well as supporting the Government's levelling up agenda by delivering a significant national infrastructure programme in the North West of England.
"We will continue to develop our successful apprenticeship and training programme that has already recruited over 300 apprentices, including 46 in the past year alone.
"Furthermore, the contract will enable us to accelerate one of our strategic objectives to create a 'Shipbuilding Centre of Excellence' on the banks of the River Mersey at Cammell Laird, which will incentivise innovation and create the skilled workforce the UK will need to compete in the global economic marketplace."