North West business briefs: RLWC2021; Conlon Construction; Urban Zoo; City of Culture 2025; OP2MA
Pepsi MAX will become the official soft drink of RLWC2021, a 61-match tournament that kicks off on October 23, 2021, when hosts England take on Samoa in the opening men's game, and culminates in a showcase double header final at Old Trafford, Manchester, on November 27.
Gatorade will further add to the world-renowned brands supporting what will be the biggest and best Rugby League World Cup in history – staged at 21 iconic sporting venues across England – as the official sports drink.
The brands will receive sales and marketing rights for the tournament, including tickets, experiential and social activation, as well as providing hydration for all players, officials, volunteers and staff at RLWC2021. The tournament will create history via the men's, women's and wheelchair competitions being held simultaneously for the first time at a major sporting event, with some of sport's most historic venues including St James' Park, Emirates Stadium, Elland Road, The Copper Box and Old Trafford hosting matches.
Jonathan Neill, commercial director at RLWC2021, said: "Our objective as a tournament is to transcend the sport and deliver the biggest and best Rugby League World Cup ever. By welcoming Pepsi MAX and Gatorade as sponsors, we have two of the world's most recognisable brands. RLWC2021 and Britvic Soft Drinks are both purpose-led organisations and are aligned around our commitments to sustainability, equality, inclusivity and doing business in the right way."
Adam Russell, director of foodservice and licensed at Britvic, said: "We are excited to become the official soft drink and official sports drink sponsor of RLWC2021. At Britvic, we pride ourselves on providing consumers with a wide choice of quality soft drinks to suit their tastes and different occasions and with this sponsorship we're delighted to be offering rugby league fans a selection of our iconic and much-loved brands during a great tournament."
The tournament's official logistics partner, Kuehne+Nagel, has also announced a new tournament time campaign, 'Tree for a Try', to support the tournament's commitment to delivering the most sustainable Rugby League World Cup ever. Kuehne+Nagel will plant a tree for every try scored in all 61 matches across the men's, women's and wheelchair tournaments.
::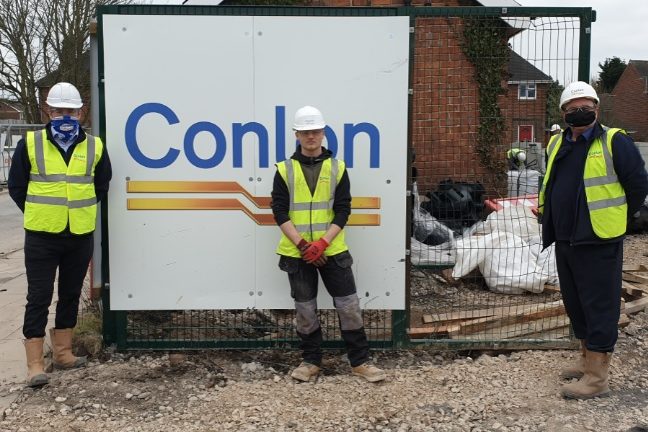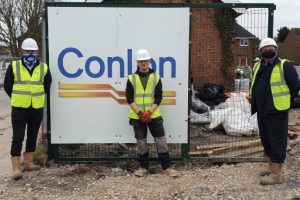 Preston-based Conlon Construction has been appointed by Blackpool Council to redevelop the former Colton House into a modern, high specification, purpose-built respite care centre for young adults with complex needs and the firm has been working closely with the council to create opportunities on the development for young people in the local area.
The council-owned property, on Ambleside Road at Mereside in Blackpool, was previously operating as three flats, providing supported living accommodation for people with learning disabilities. It is set to be developed into a new two-storey modern facility with six bedrooms, state-of-the-art assisted technologies, a dining/kitchen, lounge, duty office, laundry, sensory and garden rooms, and staff facilities.
The facility is specifically for people with learning disabilities or Autism to reduce the need for them to be supported in hospital settings and also to integrate people back to their families and communities from hospitals more quickly.
Neil Conlon, business development director at Conlon Construction, said: "We are delighted to have been appointed by Blackpool Council to work on the former Colton House to develop a new modern centre, providing respite care and rehabilitation for those with a learning disability."
The £1.6m project, funded by NHS England, is expected to complete October 2021 and will benefit from Conlon Construction's ongoing CSR agenda, which is applied to all its live developments. The contractor promises that 80% of the supply chain for the project will be sourced from within a 30-mile radius of the site, and that the development will be used to create opportunities for young local people. Working closely with Blackpool Council, Positive Steps and Chance 2 Shine, Conlon Construction has provided Bradley, 17, (pictured centre above), with his first taste of construction work on the development, with four weeks of work experience.
::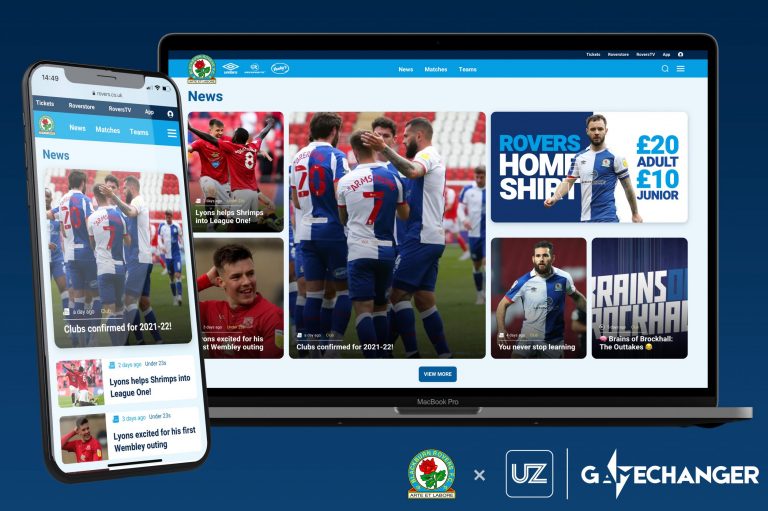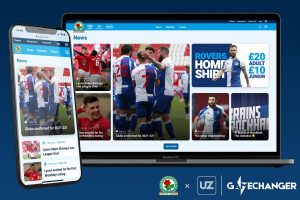 Former Premier League champions Blackburn Rovers have 'switched code', moving their digital assets away from the EFL Digital templated website to the more user-friendly and dynamic Gamechanger platform in the latest win for fast-growing Warrington technology provider Urban Zoo.
The Lancashire club says it was attracted to Gamechanger's 'seamless navigation, emphasis on aesthetics and its improved accessibility for fans with disabilities, such as a screen reader, an option to increase text size and the ability to pause animations.'
Blackburn Rovers CEO, Steve Waggott, said: "The past 18 months have been tough to navigate for the club. We were determined to push ahead on all fronts, however, to improve our fan experience. Our digital offering has never been more important and we are delighted to be working with Urban Zoo and Stream AMG to build and improve our online platforms to offer supporters a better experience and a closer connection to the club."
Rob Moore, Urban Zoo's chief commercial officer, said: "It's been a priority for us to support Rovers at this crucial time, especially given the physical distance the fans have had to maintain away from the stadium. The club's new website has a much improved look and feel and is designed to provide fans with a more enjoyable and accessible experience as they start to make plans to return to live games prior to the start of next season."
The club's charitable arm, Blackburn Rovers Community Trust, also receives more prominence as their award-winning work in the community is showcased in its very own section where supporters can find out more about their many programmes and book facilities. As part of the digital overhaul the club has teamed up with video streaming platform experts Stream AMG. RoversTV – replacing iFollow Rovers – will offer fans enhanced behind-the-scenes videos, exclusive interviews and match streaming amongst a host of new content.
::
On May 29, Culture Secretary Oliver Dowden launched the search for UK City of Culture 2025 and, for the first time, the competition will welcome bids from groups of towns joining together to win the bid for an area.
Lancashire will bid for the title of City of Culture 2025, the first time a county has re-imagined itself as a virtual city with a mission to produce an ambitious, inclusive cultural programme that will be woven together to integrate the urban, the coast and the countryside.
The citizens of Lancashire are at the heart of the bid and as part of the bid process, Lancashire 2025 is now recruiting a Citizen's Advisory Panel, a unique opportunity for citizens from all walks of life to help shape and influence the county's submission, reflecting the many points of view and rich diversity of citizens in the county. Individuals that represent cultural links, business, technology, education, skills, rural groups, grassroots, volunteer coordination, charity groups and bodies focusing on inclusion and representation are being asked to apply to join the Lancashire 2025 Citizen's Advisory Panel.
Loz Kaye, citizen engagement manager for Lancashire2025, said: "Lancashire's strength is its amazingly creative people who will be at the heart of our bid for UK City of Culture bid and it is vital that we hear the county's voices in what we do. We are looking for people who are passionate about a positive future for Lancashire, and the role played by culture, arts, nature and digital technology."
Those interested in joining the Citizen's Advisory Panel should contact Loz Kaye at loz@lancashire2025.com for more information and an application form. The recruitment will close on Sunday, July 4.
::
Calum Lewis has launched advisory consultancy OP2MA to help companies achieve sustainable financial growth through optimisation of their supply chain.
Lewis launched Wilmslow-based OP2MA after a successful 25-year career in leading businesses and delivering exceptional operational and financial performance. With the LEGO Group, he embedded best practice supply chain management to drive five-fold sales growth in the UK/Ireland market while supporting LEGO's climb to No 1 UK toy supplier.
OP2MA recognises the importance of operations in supply chain in relation to business performance, applying design-led thinking and methodology when optimising a supply chain. Its team of consultants look to understand business strategy, current operations and the impact this has financially to find an optimum outcome.
Calum Lewis said: "I created OP2MA with the belief that there is no reason why small and medium-sized enterprises should not have access to the 'large corporate' expertise and know-how that can transform supply chains to drive sustainable growth. The OP2MA team love working out what makes businesses tick, how they can improve, and applying pragmatic solutions. They believe that SMEs are critical for the economic prosperity and wellbeing of the communities in which they operate and are passionate about helping businesses grow and thrive.
"All our consultants have held significant line management roles as well as having excellent track records in delivering transformational supply chain performance and we are looking forward to helping businesses to achieve supply chain excellence in 2021 and beyond."