People: P4 Planning; MHA Moore and Smalley; Northcoders; Weru UK; Marketing Cheshire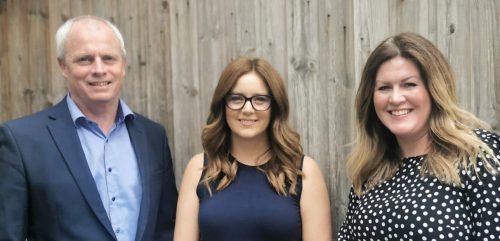 X

Register for free to receive latest news stories direct to your inbox
Register
Manchester-based P4 Planning has made a number of internal promotions, with associates Rhian Thomas and Gillian Worden both becoming directors at the independent planning consultancy.
The promotions recognise the experience and contribution they have made to P4, helping to successfully guide the business through the past 12 months, culminating in a return to the city centre and new offices based in Manchester's Northern Quarter.
P4's new premises are part of a wider plan for sustained growth and both new positions will be central to the strategy, with Rhian heading up internal culture and people development and Gillian taking a lead on developing longstanding client relationships, future business growth and marketing.
Both promotions will allow P4's founder, Bill Davidson, as managing director, to focus on strategic growth and quality as the company plans for the future.
Bill said: "We have worked hard to ensure a solid foundation for P4 which has an experienced team with a strong vision and values, and we are looking to build on this with these promotions part of a wider plan to sustain and grow whilst continuing to provide a proactive and client focussed planning service."
Rhian joined P4 Planning in 2018 and is leading projects for the University of Liverpool and the New World Trading Company.  Gillian joined in 2019 and has been heading up projects including for Midia and Watson Homes.
Bill added: "I have known both Rhian and Gillian for many years, having appointed and worked with them early on in their careers.  Whilst our paths went different ways it has been great to be working with them again as part of the P4 team and these promotions are the perfect acknowledgment of all their experience, hard work and commitment."
::
North West accountancy and business advisory firm MHA Moore and Smalley has strengthened its tax team with a new senior appointment at its Manchester office.
The firm has appointed Kirsty Foster as senior tax manager. Kirsty has experience across a range of tax consultancy roles.
After beginning her career at Deloitte PCS, she worked her way up to senior manager with several independent North West practices, including Jackson Stephen and DTE.
Kirsty specialises in helping individuals manage complex business and personal tax affairs. She will work closely with the Manchester partners to support the continued and rapid growth of the firm's Manchester base.
Colin Abrahams, tax partner, said: "Kirsty has a wide range of experience advising business and individual clients on their tax affairs. Since we opened our Manchester base in 2019, we've seen demand for our tax advice in the Manchester market continually grow.
"It's great to have Kirsty on board and her knowledge and expertise will enhance further the firm's already strong reputation in the North West for the quality tax advice it provides to clients."
Kirsty is also a member of the Chartered Institute of Taxation.
She said: "I believe that companies get the best from their people by providing a supportive environment where ideas, queries and solutions can be freely discussed. That is a key value of MHA Moore and Smalley and something that really attracted me to the firm.
"I am looking forward to working with the team in Manchester and also with the wider MHA network to support clients at a unique and challenging time for businesses and individuals."
::
Northcoders, the Manchester- and Leeds-based technology solutions and education group, has cemented its strengthened leadership team by formally appointing a number of new members to its board of directors.
Charlotte Prior and Amy Wild join existing executives Chris Hill, Amul Batra and Sandy Lindsay to complete the strategic appointments of the past six months, as demand for Northcoders' coding and software development training continues to drive the group's accelerated growth. Nick Parker has also agreed to join the board later in the year.
Having joined Northcoders in August 2018, Charlotte Prior, chief financial officer, was formally appointed to the board on May 6, 2021. Charlotte has significant experience in finance roles ranging from the construction industry to a registered charity, and as leader of Northcoders' financial operations fulfils a central role in the board's discussions, plans and strategy.
Amy Wild has more than 17 years' of corporate leadership experience. She joined Northcoders as chief commercial officer in June 2020 to lead the development and execution of all commercial strategies and manage the group's sales, partnerships and marketing teams, and officially joined her fellow directors on the board in May 2021.
Alongside these appointments, non-executive director Sandy Lindsay will be appointed as the group's non-executive chair in July 2021. Awarded an MBE in 2015 for services to business and young people, Sandy is the founder and chair of one of the UK's leading communications agencies, Tangerine, as well as having established an award-winning apprentices' academy, The Juice Academy, to address the digital skills gap in the North West.
She chairs skills groups for the Institute of Directors and the North West Business Leadership Team, is on the Business Leadership Council for Teach First and vice chair for Forever Manchester.
Nick Parker, an experienced corporate funding expert, will be joining the group in July 2021 as a non-executive director. Nick oversaw Wandisco's IPO and was CFO of Dyson Group and Volex, as well as being the CEO of Sheffield Wednesday Football Club.
The expansion of the Northcoders' board furthers the strength and breadth of the group's leadership expertise and provides significant support and complementary skillsets to the board's existing members, including founder and CEO Chris Hill and COO Amul Batra.
The new board, alongside the internal operational board also formed within the past six months, provides a formalised structure and enhanced working practices at director level as the group continues to deliver on its growth strategy and to address the significant digital skills gap in the UK.
CEO Chris Hill said: "We are in the middle of a period of transformational growth at Northcoders, and I am delighted that we have attracted such an experienced board to help guide us at this exciting moment in time.
"Moving away from the pandemic, the demand for digital training has never been stronger in the UK. The Government has clearly signalled its support for improving access to all forms of education, especially through apprenticeships like ours, and the rapid increase in our corporate hiring partners is evidence that private sector investment in our industry is increasing.
"As we assess the next steps to accelerate further expansion, I look forward to working with our new board and all of the team at Northcoders who have shown faultless dedication to our journey so far."
::
Hot on the heels of a trio of new hires, Lancashire-based glazing company Weru UK – a distributor for Weru, Germany's provider of windows and doors – has announced further expansion of their team with the addition of another new staff member and an extended role for a long-standing employee.
Recently joining the team as an order processor is Anthony Chadwick. Anthony comes to Weru after a long career in the construction industry and after owning his own business in the sector. Anthony also worked for many years in the police force and his combined experience and expertise have set him in good stead to manage customers orders and liaise with Weru in Germany.
Vicky Gayton joined Weru while on placement with the University of Salford when studying for her Master's degree in Digital Marketing. Over the past 3½ years, Vicky has gained extensive knowledge about Weru's specialist German products and deals with customer service, sales enquiries and their social media channels. Vicky's role now extends to support the management team with both operations and marketing.
John Feeney, general manager of Weru UK, said: "A few months ago, we announced the expansion with three new hires, and since that announcement we have continued to bolster our team in order to provide the best customer service and experience for our clients. Anthony's vast experience in the construction sector gives him unrivalled experience and skills and he is such a great asset to our team.
"Vicky, who has been with Weru UK for nearly four years, has stepped up in her role to provide extra support to the senior management team whilst juggling all of her day to day business activities. She has a deep knowledge of Weru products, and we are very fortunate to have such a passionate, dedicated, and committed professional on our team who has a conscientious attitude and determined work ethic."
Weru UK is based at Amy Johnson Way, Squires Gate, Blackpool and was established more than 35 years ago. The business serves a UK-wide client base from its national support centre and showroom at the 8,000 sq ft site.
::
Marketing Cheshire has strengthened its strategic team with the appointment of four new board members.
The organisation, which represents more than 300 tourism and hospitality businesses across Chester, Cheshire and Warrington, promotes the region as a place to visit, live and invest.
The new board members are all senior professionals and will work alongside chair Trevor Brocklebank, directing Marketing Cheshire's activity.
They include Jamie Christon, CEO of Chester Zoo and Peter Mearns,cChairman of Storyhouse Chester, who has a significant track record as a consultant in the arts. Rob McKay, managing director of Sherrington Associates, is a vastly experienced director and executive coach. The quartet is completed by Tracey O'Keefe, a consultant for voluntary, community and social enterprise organisations and former chair of East Cheshire Hospice board.
Jamie Christon, chief executive at Chester Zoo and chair of Destination Chester, said: "I welcome the opportunity to support Marketing Cheshire by joining the board at a pivotal time for the region's tourism sector.
"Chester Zoo has always worked very closely with Marketing Cheshire and, through their network, we've been able to tap into a wide audience and welcome new visitors. Throughout the pandemic, we've all come to appreciate what's on our doorstep much more, so we should all feel proud to promote Cheshire and Warrington as a fantastic place for visitors to discover and a place for local communities to thoroughly enjoy."
Tracey O'Keefe said: "As a long-term supporter of social business, I'm keen to ensure we recognise the value of partnerships between the private, public, and not-for-profit sectors in our sub-region. I'm pleased to be able to offer the perspective of these sectors and work with the board to develop the place marketing of Cheshire and Warrington."
Marketing Cheshire is part of the Cheshire and Warrington Local Enterprise Partnership, working with the three local authorities and local businesses to champion all that the region has to offer.
Trevor Brocklebank, chair of Marketing Cheshire and deputy chair of Cheshire and Warrington LEP, said: "We have a crucial role to play in 2021 to help the tourism, retail and hospitality sector reopen and recover from the impact of COVID-19.
"At the same time, we have a huge role to play in positioning Cheshire and Warrington as a great place to live and work. I'm excited to welcome Jamie, Peter, Rob, and Tracey and know they will be a tremendous asset in helping us achieve our goals."