North West business briefs: St Helens Chamber; VitCo; Lakes Carpet Cleaning Solutions; Manchester Flower Show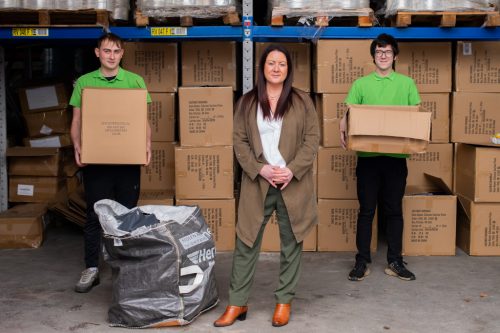 More than 300 local vacancies have been approved through the Kickstart scheme, with the involvement of St Helens Chamber.
It has been working as a gateway organisation for the scheme which provides opportunities for young people aged 16-25 who are unemployed and claiming Universal Credit. Working closely with DWP, St Helens Chamber aims to place local young people into these new roles.
Aaron Unsworth, Kickstart co-ordinator at St Helens Chamber, said: "We're thrilled at how many local businesses have really got behind the Kickstart scheme and created new vacancies to support these young people into work. With over 300 approved vacancies so far, and 42 young people already placed into roles, it's really encouraging to see this kind of investment from businesses as we move out of the lockdown."
Businesses taking part in the Kickstart scheme benefit from a range of funding and support, and the young person benefits from a placement for at least six months to help them boost their employability and get valuable experience in the workplace.
One local business which has seen the benefits of the scheme is Easytots which has added to its warehousing team. Founder, Helen Davies, said: "Kickstart has enabled us to have a bit of breathing space cashflow-wise while enabling us to grow, but also it's allowing us to give something back to help these young people who just need bit of support to grow their confidence."
Aaron added: "It's really encouraging to see how many businesses have pledged vacancies for Kickstarters. It shows that local businesses are investing in St Helens and are keen to invest in the talented young people in our town."
::
Three Lancashire businessmen have joined forces to launch a national vitamin patch company specialising in improving health and wellbeing. Its focus is on promoting energy levels and tackling ailments such as anxiety and depression, swollen joints and poor sleep patterns.
TheVitCo, based at Riversway Business Village, Preston, supplies innovative vitamin and supplement formulas without prescription, through its VitPatch range, as well as VitOil and VitCream ranges. The business is the brainchild of Jack Taylor, a director at Preston-based modular homes company OVI Homes, Simon Malcolm, a director at Haydock-based packaging specialists Enviropax and OVI Homes, and Peter Love, who has a background in finance and property development, and who launched the successful Ohana Patches vitamin and wellness brand in the UK in 2018.
Taylor also specialises in growing start-up businesses and brought the trio together to develop a UK-based business with the vision of creating jobs. As part of the new business launch, Ohana Patches will be rebranded and aligned under the new brand TheVitCo.
Taylor said the decision to launch the business, which also supplies a range of premium CBD oils and creams, was taken because they recognised there was a definite need for an alternative delivery method for vitamins and nutrients: "Now, more than ever in the wake of COVID-19, are we all more aware of the necessity to be in the best possible physical and mental condition," he said.
Malcolm said: "We aim to inspire healthier communities by delivering vitamins and nutrients more conveniently and efficiently. We are redefining the traditional delivery system, promoting healing performance and overall wellness. The patches are created to support the lifestyle of busy people."
::
As demand for UK staycations increase, family-owned Lakes Carpet Cleaning Solutions, is in a strong position to capitalise on the surge in new business opportunities having secured a six-figure funding line from Manchester-based Time Finance.
The firm specialises in carpet and upholstery cleaning to hotels and holiday homes across the Lake District. But, like many businesses, it was knocked off course by COVID-19. With Government lockdown restrictions forcing the hospitality and leisure industry to close its doors, the demand for cleaning services reduced significantly, putting pressure on cashflow.
Having taken advice from their broker, the firm was introduced to Time Finance which provided a £100,000 invoice finance solution. With sufficient cashflow in place, the business was able to meet its fixed costs which remained despite the drop in turnover. It enabled it to see the crisis through and prepare for the re-opening of the hospitality and leisure sector, which has left it well placed to capitalise on the expected surge of demand for its services.
Marcus Osgerby, Lakes Carpet Cleaning Solutions director, said: "It's such a relief to have the support of a funder like Time Finance behind us. Over the course of a tough and uncertain year, having access to a flexible supply of funds and the commitment from Time Finance gave us peace of mind and helped us remain optimistic and hopeful for the future."
Andy Hume, head of sales (North) for invoice finance at Time Finance, said: "Lakes Carpet Cleaning Solutions are ideally placed to capitalise on the focus on additional cleanliness following the COVID pandemic. It's a real boost for their business and we are determined to help. We are a relationship-driven funder and it's important to us that we understand our clients' position so that we can deliver a solution that's right for their business in good times and bad."
::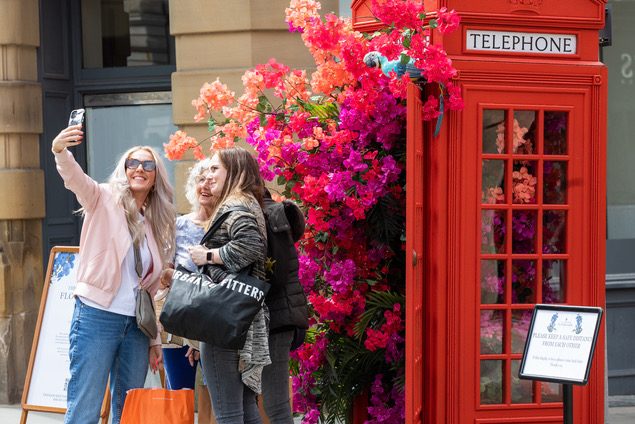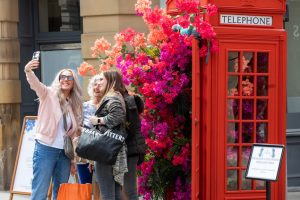 Manchester's first public event of the year, The Manchester Flower Show, helped to attract more than 150,000 additional visitors into the city centre during its sunny nine-day run, which finished last Sunday.
The floral takeover of the city centre was organised by Manchester Business Improvement District (Manchester BID) and CityCo, to beautify the streets and welcome people safely back into the city centre. The outdoor-focused festival was an opportunity for workers and visitors to rediscover the city's many reopened shops, restaurants, cafes and cultural venues.
Dozens of public spaces, buildings, windows, doorways, statues and fountains came alive with colourful urban blooms, and businesses across the city took part, helping Manchester's central retail district achieve the same level of bank holiday footfall as the equivalent weekend in May 2019, and an increase of 23% compared with the week prior to the event.
Jane Sharrocks, chair of Manchester BID and general manager at Selfridges Exchange Square, said:  "As the city's first major reopening event this year, we're thrilled with how many people enjoyed the colourful sights of The Manchester Flower Show. We worked hard to develop an event that everyone could take part in, and that was COVID-safe. The increase in footfall, particularly over the bank holiday weekend, provided a real boost to city retailers and the hospitality industry."
She added: "The event demonstrates the success of a collaborative approach by BID retailers, CityCo business members, event and promotional partners, and Manchester's volunteer community. We're looking forward to the next show already."