People: P3 People Management; Real Agency; CBRE; Beever and Struthers; Public Sector Plc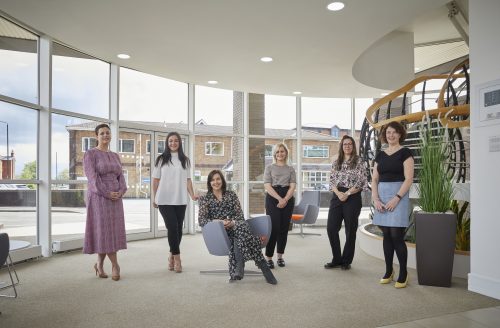 Outsourced HR business, P3 People Management, has made two further appointments to the team. Following on from an earlier appointment made in March, the business has now doubled its size in the past two months.
P3, based in Altrincham, helps SMEs based across the North West to increase their profits by investing in the performance of their people.
Michaela Lewis, from Irlam, joined the team in April as HR and business administrator, a brand new role for the business. Michaela supports the team with client work, providing HR-focused administration, as well as a business administration function for P3.
Michaela originally worked in the catering industry, managing a branch of an Italian restaurant chain, along with her husband who was the head chef. After leaving to have three children, Michaela started her own sewing business which she ran for five years. Keen to get back into employment, she spent four years with Tesco where she was invited to join the store's admin and HR team. Through this role, she gained a wealth of experience developing her HR admin skills, organising staff training and inductions as well as supporting with recruitment and contractual administration.
The latest recruit to the P3 team is Hannah Pryjmachuk, from Heaton Chapel, who joined P3 in May as a HR consultant. Hannah qualified with a Masters in HR Management in 2014 before spending five years living and working in Sydney, Australia, within various HR roles with the legal, electronics and recruitment industries, including her last role in Sydney with Nikon Australia.
After moving back to the UK in 2019 with her husband and six-year-old son, Hannah took some time out to have her baby daughter before starting work as HR officer for humanitarian charity MAG in Manchester where she worked for 10 months during the COVID lockdown.
Michaela and Hannah's appointments follow on from the appointment of HR consultant Lyndsey Price announced in March. All three have joined at a pivotal time in P3's growth, having adapted to the challenges of COVID-19 and refocused its products and services for its clients.
Charlotte Dean, founder and managing director of P3 People Management, said: "The last year has been a bumpy ride for many businesses and we have had to remain focused so that we have been able to support our clients with a wide range of challenges across many different industries. The demand for our services has increased and we continue to develop our services to meeting ever-changing business needs as we look to the future. This has also meant growing our team of HR consultants and creating a new HR and business administrator role.
"Michaela and Hannah each have a wealth of personal and HR experience which will be a great benefit to P3 and to our clients and I am very excited that they have decided to join us."
Michaela said: "I am really excited to learn everything I can about my new role as well as getting to know the team and building relationships with our clients."
Hannah said: "Having previously worked in-house, I am really excited for the challenge of consultancy. I am passionate about people management and love building relationships and I am really looking forward to developing my career and learning from the experience of my new colleagues so that I can help support my clients with more complex issues in the future."
::
North West marketing agency Real has recruited three new team members.
Based in Cheshire East the company, which has championed a culture of digital innovation and transformation for more than five years, has added a junior designer, digital marketing manager and digital marketing apprentice to the team.
Mia Tinsley joins with a First Class Honours Degree in Graphic Design and a wealth of experience from freelance work. She said: "Real has given me the opportunity to grow and thrive as a designer which I am so grateful for, I love coming to work each day, not many people can say that."
Heading up the digital marketing element of the company is Vicky Pulman. Passionate about PPC and SEO Vicky is already taking the company into new areas of specialism: "It's a great time to have joined the company at a key stage of their growth. The Real team are truly collaborative and supportive – this is such an exciting opportunity," she said.
Apprentice Amy Tinsley is starting her career in marketing with Real after working in the private education industry, where she gained her award in Business Administration. Amy said: "Real have given me an amazing opportunity to develop and learn new skills in the marketing industry, which is something that I've wanted to do since leaving school."
Founder and managing director, Laura Bosworth, said: "It's been an impressive few years for Real and as we see our five year milestone come and go, we're experiencing a period of significant growth with some really exciting projects in the pipeline. We have always felt that the real competitive advantages for any business are its people, so it's a wildly exciting time to be joining our team."
::
CBRE has launched a specialist national development viability in planning service with the appointment of Matt Spilsbury and Steve Smith who join as part of the firm's acclaimed 60-strong UK planning team.
Matt Spilsbury joins as senior director from Turley where he was head of development viability, providing development advisory to a range of clients across the UK. Matt specialises in providing robust financial viability analysis and delivering strategy advice to underpin promotion of sites, masterplanning and land assembly, planning applications for major development schemes and to negotiate, renegotiate or critically independently review, affordable housing and other planning obligations.
He is a Chartered Planning and Development Surveyor (MRICS) and Town Planning Advisor (MRTPI) with substantive leadership experience and in his new role at CBRE will be acting across the UK for both private and public sector clients including landowners, developers, investment funds and local authorities on diverse projects including build to rent, urban living, regeneration and strategic allocations.
Associate director, Steve Smith, MRICS, has also joined the team from Turley where he led many of the client instructions in the North of England. Steve has more than 25 years' experience and has amassed a wealth of expertise on the development process including senior level experience gained in valuation, agency and viability consultancy roles.
The new team will deliver robust financial advice that will support the viability of land under promotion, existing property assets and development proposals at all stages of the planning process.
The team sits as part of CBRE's leading UK planning team who are advising on more than 90,000 residential units and in excess of four million square metres of commercial development across the country and recently achieved national acclaim for its role in advising Everton Football Club on its successful planning application for a new stadium at Bramley-Moore Dock and community-led legacy project at Goodison Park.
Iain Jenkinson, co-lead of the UK planning team at CBRE, said: "As highly regarded development viability specialists, Matt and Steve bring experienced development, valuation, town planning and property market expertise to our growing and successful planning team.
"They have a national remit and will advise across a wide range of sectors including traditional residential, build-to-rent, elderly living, mixed use, commercial and other business uses. We are delighted to welcome them to the team at such a busy and exciting time and look forward to extending the service to our clients."
::
Beever and Struthers, which has offices in Manchester, Blackburn, Birmingham and London, has recruited a director to its corporate team to meet growing demand from clients.
Dean Curtis has re-joined the team from Ballard Evans Corporate Finance, and will support John Jones, corporate services partner, providing advice to clients looking for strategic or financial support.
John Jones said: "We have ambitious plans to develop our offering but it's a very personalised service we offer so getting the right person was critical. As soon as Dean and I discussed the opportunity it felt right and I am really excited to be working together again."
Dean Curtis said: "Having spent the past four years further developing my M&A skills and experience in the SME market, I'm delighted to have re-joined the firm at this point in its growth. This is a fantastic opportunity to help build a team focusing on advising our clients across a variety of sectors, from business sales through to private equity transactions, acquisitions, MBO/MBIs and fundraising."
Dean joins newly-promoted directors in both the audit (Richard Graham and Jonathan Mather), and tax departments (Julie Hernon) reflecting the growth of the firm over recent months.
Recruitment has continued through the pandemic at record levels, bringing many new faces to the teams across all locations. Growth within the not-for-profit sector, in particular, has led to several new appointments, including Helen Storr, senior manager, based in the London office.
At the same time the firm said its placement scheme, offering valuable paid experience to university students to work over the summer, is bigger and better than ever before with 27 joining the team in the next few weeks.
Maria Hallows, executive partner, said: "We are delighted to welcome Dean back to our team. His skills will be valuable in delivering the corporate finance work that our clients need as the economy gets back on its feet."
::
Public Sector Plc has appointed Jennifer Rowland as development manager as part of an expansion of its commercial and development team.
Public Sector Plc is a strategic asset manager, creating commercial partnerships with local authorities and other public sector bodies to add value to land and property assets.
Jennifer joins from Workman, the UK's largest independent commercial property management and building consultancy firm.
Based in the Manchester office, Jennifer will help manage partnerships with Gateshead and Cheshire West & Chester Councils.
Jennifer has more than eight years' experience in the property industry, covering property management as well as residential development and construction.
At Workman, Jennifer was responsible for a portfolio that generated a rent roll of £18m, including industrial, office, hotel, retail and leisure assets, and managed around £5m of service charge spend yearly.
She has worked with clients such as Columbia Threadneedle, New River Retail, Trilogy, and Stenprop Industrials managed the Grade II-listed Great Northern Warehouse mixed-use scheme in central Manchester.
Leena Gillespie, commercial director, said: "It's great to have Jennifer on board. Jennifer is joining us at a key time as we deepen our engagement with local authorities across the UK. Councils are looking at new ways to rationalise estates, deliver better performing property assets and regenerate communities by developing unused spaces into multi-use assets which create better places to live, work and visit."
She added: "Jennifer's experience in managing multi-use portfolios and delivering strategies to enhance income and value helps to strengthen our existing team and allows us to offer our partners a broad range of property skills and expertise to match the diversity of their land and property requirements."
Jennifer said: "It's an exciting time to join the team, and I'm looking forward to working with Public Sector Plc's partners during this period of recovery and the nation's new focus on localism."