Gino D'Acampo confirms plans for second Liverpool restaurant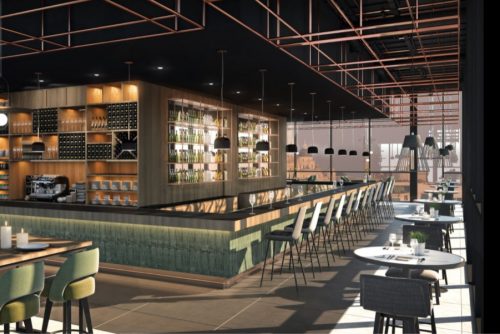 Restaurateur Gino D'Acampo has confirmed that he plans to open a second restaurant in the heart of Liverpool, Gino D'Acampo Old Hall Street Restaurant and panoramic Sky Bar, creating 100 jobs.
The opening at the much-anticipated INNSiDE Liverpool hotel will, upon launch, be Gino's third collaboration with INNSiDE by Meliá, part of Spain's largest hotel group Meliá Hotels International, and follows news that the two brands have united to create a new hospitality empire.
Gino D'Acampo Quayside opened at INNSiDE Newcastle last month, with his team having also taken over the food and beverage operations at INNSiDE Manchester.
The news comes almost four years after the arrival of the Italian chef in the city, with the doors to the award-winning Gino D'Acampo My Restaurant on Castle Street having opened in July 2017.
Gino D'Acampo Old Hall Street is set to open on August 16, within the former offices of the Liverpool Daily Post and Echo and Merseyside County Coucil. It will serve Mediterranean cuisine and premium drinks in a chic and contemporary setting.
Key features will include a beautiful, open-plan 200-cover restaurant, an impressive open theatre-style kitchen, two private dining rooms, and a 60-cover long bar within the hotel's impressive open bar and lounge, for both hotel and restaurant guests to enjoy. Local resident DJ's will see in guests' mornings and weekends.
Further raising the bar for drinking and dining in Liverpool will be the opening of Gino's new 360-degree Sky Bar on the 17th floor of the hotel, comprising seating for 100 guests.
Gino D'Acampo said: "I'm super excited to confirm I'm to open my second restaurant in Liverpool, at the beautiful INNSiDE Liverpool.
"It's an incredible place with an amazing open plan restaurant and unbelievable panoramic Sky Bar with cool DJs. I cannot wait to open the doors and invite everyone to experience it."
Garry Fortune, cluster general manager at UK North at INNSiDE by Meliá, said: "This is just the beginning of the story for these two lifestyle hospitality brands coming together to create a brand new modern, dining experience for guests at INNSiDE by Meliá destinations across the UK – and what a story it has been so far.
"This is our third collaborative site, and we couldn't be prouder to bring INNSiDE Liverpool and Gino D'Acampo Old Street to the city. And not forgetting the 360 Sky Bar – a must-see bar in its own right – I haven't seen views of Liverpool like this before, the views are simply amazing from the hotel's 17th floor."