People: Bermans; Grant Thornton; Hill Dickinson; Taylor Lynn Corporation; Simpson Millar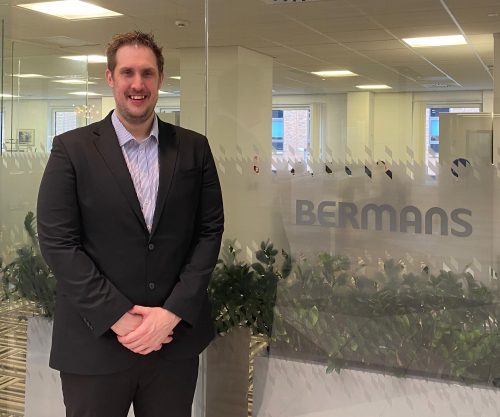 Stephen Green has joined Bermans as a partner to head its commercial team.
Stephen joins from the Manchester office of a large listed national law firm, having historically worked in-house and in the North East, and believes his skills are well suited to serving the firm's client base from its Manchester and Liverpool offices.
Having historically worked at mainly large regional firms, Stephen is perfectly suited to provide legal and commercial advise to the Bermans' regional focused SME client base, in connection with commercial contracts, intellectual property and IT matters, said the firm.
He is primarily a commercial contracts specialist and will lead the team on wider commercial compliance – including data protection and GDPR compliance – and intellectual property protection portfolio. Stephen advises clients in a wide range of sectors and industries including the cosmetic, manufacturing, pharmaceutical, leisure, retail and sports. He was previously in-house at Avon Cosmetics and MATCH Hospitality.
Stephen will also be given a mandate to look to grow the commercial team further, similar to the way Bermans' corporate offering has developed in Manchester under the leadership of Jon Davage. Currently, the Bermans commercial team is made up of Stephen, a solicitor, a trainee solicitor and an experienced regulatory consultant in Greg Walsh, The plan is to grow the team and become the 'go to' commercial team for SMEs in the North West.
In addition, Stephen will also complement Bermans' growing sport law team, alongside Gareth Farrelly and David Keenan, as he has substantial experience of working on commercial contracts for sporting organisations, clubs and events, including in relation to the 2018 FIFA World Cup in Russia and was also lead advisor to the T20 Caribbean Premier League (CPL), which involved drafting, advising on and negotiating various rights and outsourcing-related commercial agreements.
He said: "I am delighted to have joined Bermans. It has been a challenging couple of years and so I am really excited about coming to such a commercial and progressive firm. There are plenty of opportunities for us as a firm in both Manchester and Liverpool.
"I am looking forward to working with Fergal, Jon and the rest of the Bermans team to build on our current client base, and develop and grow our offering, without forgetting our local roots and culture. Very exciting times ahead."
Bermans senior partner, Fergal O'Cleirigh, said: "We are delighted Stephen has joined us to replace Chris McDonough who has now retired after eight years of fantastic service to the firm. We feel commercial contract expertise is an important part of our full service offering to the SME market and we hope, under Stephen's leadership, the team can build on the foundations Chris laid."
::
Grant Thornton UK has announced a flurry of new hew hires and promotions in its North West corporate finance team, recruiting three new up and coming young dealmakers, while recognising and celebrating the rapid development of three of its existing team.
Alex Parry joins the team as an assistant manager from a Big Four firm, where she spent more than five years after graduating from the University of Nottingham with a first-class honours degree in accountancy.
A second external hire is Humza Khan, an experienced mid-market deal originator with particular expertise in private equity and M&A activity. He has an MBA in Corporate Finance, Venture Capital & Private Equity from Alliance Manchester Business School.
Also joining the North West corporate finance team is manager Rachael Taplin who is shifting her focus within the firm. She started at Grant Thornton in 2018 and has been working in audit, where she has risen quickly through the ranks with two promotions in successive years.
In line with its commitment to retaining and developing the best and brightest talent, Grant Thornton has promoted three current members of the deals team, who have all been instrumental in maintaining its position in the North West over recent years.
Rising star Cariad Mudford has been promoted to associate director. Working between the firm's Manchester and Leeds offices over the past eight years since joining from university, she has played a key role in several high profile deals. These include the sale of Apple Aviation to US private equity backed STS Aviation Group, Manchester-based home care provider, The Human Support Groups' sale to City & County, and the acquisition of independent vehicle reconditioning and storage specialists, Smart Fleet Solutions, by Cazoo, the rapidly-growing tech unicorn which is disrupting online car sales.
Meanwhile, Alex Hirst and Amy Huddleston have both been promoted to manager. Alex joined Grant Thornton as a graduate in 2015 and worked in audit for the firm in the Midlands until 2018, when he moved into the North West CF advisory team.
Amy has been with the firm since graduating from the University of Nottingham with first-class honours in economics and philosophy in 2016. She has worked in Grant Thornton's Manchester office since then, completing placements in transactional services, restructuring, and M&A before joining the deals team permanently last September.
The new hires take the team's headcount to 10 and also sees it become one of the most gender diverse M&A advisory line-ups in the North West market, at 40% female.
Pete Terry, partner and head of corporate finance for Grant Thornton in the North West, said: "As we head into the summer months, activity in the North West deals market is undoubtedly hotting up, particularly in the mid-market. There is a wall of private equity capital looking for a home, and a raft of businesses ready to kick on to the next phase of their growth trajectory, as we enter what we all hope are the final months of COVID-19 restrictions."
::
Commercial law firm Hill Dickinson has announced the promotion of four new partners across the firm in its 2021 senior promotion round.
Paul Allerston, a healthcare advisory lawyer based in Manchester, Colin Lavelle, a Liverpool based shipping lawyer, and Joanne Raisbeck, head of the firm's family law team, all become fixed share partners. Edward Liu of Hill Dickinson Hong Kong is also promoted to partner.
The firm said the announcement continues to recognise Hill Dickinson's commitment to developing its people by promoting from within. It follows the promotion of 19 senior associates to legal director in May.
Hill Dickinson chief executive, Peter Jackson, stressed his firm's commitment to organic growth and the importance of building a culture around its people.
He said: "I am absolutely delighted to welcome four more of our lawyers into the partnership.
"The uniquely challenging conditions and uncertainty of the past 15 months could very easily have forestalled career progression. Instead, our people have risen to the challenge magnificently and worked harder than ever to ensure our clients continue to be serviced without interruption.
"I am hugely proud to see the efforts of these four individuals rewarded with the progression to partnership and wish them every success in their continued careers with the firm."
::
The Taylor Lynn Corporation (TLC) has strengthened its events management operation this month with the addition of a new events administrator to the team, and a move to new central Manchester offices. This comes as the company continues its recovery from lockdown restrictions, by breaking the £3m barrier for new bookings secured this year.
Former TLC intern, Laura Callaghan, 26, has joined the team. Laura takes on the role of events administrator but is already a familiar face to TLC clients.
While she studied for her BSc (Hons) Events Management at University of Plymouth, Laura joined TLC as an intern.
Following graduation, she gained three years' experience with Q Hotels as an events and group sales executive.
Her role at TLC will see Laura support the events team, as it returns from furlough, in the planning of their events, in addition to day-to-day office management.
TLC chief executive, Liz Taylor, said: "Laura proved to be a valuable member of the team as an intern.
"Enthusiastic, meticulous and keen to learn, and I could see great potential in her from the outset. Having gained three years of hands-on experience at a venue, she returns to us more confident and skilled and will prove a huge asset to the business as we move forwards."
Liz added: "Having had the worst year our industry has ever faced, the Taylor Lynn Corporation has certainly bounced back in terms of bookings this year. Business is strong with clients looking to resume, restructure and reschedule their live event calendars."
::
Consumer law firm, Simpson Millar, has further solidified its commitment to building a national network of specialists to act on behalf of its clients with another Court of Protection appointment
Joining as an associate solicitor, Kayleigh Smith will oversee the day-to-day management of property, investments, welfare benefits, vehicle requirements, therapy and employment of carers on behalf of her clients.
Based in Manchester she brings with her a wealth of experience in Mental Capacity Law, managing the affairs of vulnerable people and supporting the litigation process since 2009, as well as extensive experience in managing the financial affairs of clients who are unable to do so themselves.
Her appointment to the firm follows hot on the heels of the arrival of Kate Edwards who joined earlier this month, and further bolsters the growing Court of Protection department which is led by Mel Varey, and which also welcomed Carl Marston last year.
Kayleigh said: "I am thrilled to be joining the team at Simpson Miller and to have the opportunity to continue working within an area of law that provides a valuable service to our clients, which has always been a passion of mine.
"I take a huge amount of pride in building a relationship with the individuals I work with – many of whom are extremely vulnerable – in order to best understand their needs and be creative in my approach to their problems."
Mel Varey said: "It is an honour to be welcoming Kayleigh to the team. Her wealth of experience and passion for the field is highly impressive and makes her perfect for the role. She joins us during an exciting period of growth for the team as a whole, following hot on the heels of Kate Edwards who also joined us earlier this month.
"As someone who embodies many of our goals here at Simpson Millar, most importantly building a rapport with vulnerable clients to understand their specific needs, it is a real privilege to have her onboard."
Kayleigh's arrival at Simpson Millar follows a string of 'strategic appointments' for the firm which is working to bolster its national network of 'top quality lawyers' and its personal injury, public law and private client offering across the country.
Earlier this month the business welcomed Cara Nuttall as a new family law partner in a move which furthers the firm's ambitious expansion plans for 2021.