People: Beyond Group; GC Business Finance; Armstrong; C Hoare & Co; Glass Futures; UA92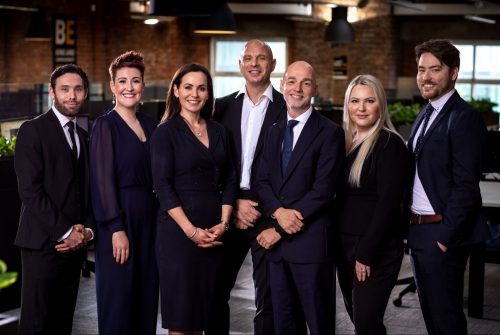 Manchester and Cheshire-based Beyond Group has announced four significant promotions across its specialist corporate law and family law practices.
The group's corporate law practice, Beyond Corporate, promotes solicitor Angeliki Kotsidou to associate, and the group's specialist family and children law practice, McAlister Family Law, promotes associate Paul Reay to senior associate, and solicitors Jessica Horsman and Aaron Williams to associate.
Angeliki is part of Beyond Corporate's core corporate transactional team, Paul and Aaron are part of McAlister Family Law's divorce and finance team, and Jess works within the children team.
Amanda McAlister, managing partner of McAlister Family Law, said: "These have been a challenging 12 months, particularly for those people involved in court hearings which have largely been held remotely and which have demanded a lot of family law solicitors.
"The pandemic has put a lot of strain on families and our workload has been increased significantly. We are absolutely delighted to recognise Paul, Aaron and Jess's hard work and dedication with these promotions."
Jim Truscott, who heads Beyond Corporate's corporate law team, said: "Angeliki has worked extremely hard since qualification, demonstrating tremendous commitment to the corporate team and the wider Beyond Group, and we are extremely pleased to be able to see her progress with us as she moves to the next stage of her career, particularly as the corporate law team continues to grow as a result of increasing demand for its services.
Matt Fleetwood, who heads the group, said: "We are delighted to be able to announce the promotions of Angeliki, Aaron, Paul and Jess. In what has been a challenging year in many ways, all our teams have worked extremely hard and continue to grow as they face increasing demand for their services.
"These promotions are very well deserved. We are proud to see each of them progress their careers with Beyond Group and we celebrate their commitment and success."
::
GC Business Finance has made four senior promotions and appointments across its business finance and angel investment divisions to expand its support for SMEs across the North West.
Since her promotion to head of investment in October 2020, Jess Jackson has played a key role in designing and implementing the strategic vision for GC Angels and in scaling the investment capacity, funding structures and market impact of the service.
To help drive this vision forward, Sarah Ayton has joined as strategic partnerships manager for GC Angels, where she will be responsible for building formal co-investment partnerships with innovation sites across Greater Manchester. She will be working alongside Jess to scale up the reach and impact of GC Angels on the region's early stage innovation funding ecosystem.
Kevin Glover has been appointed to a new senior role as a fund manager at GC Business Finance, with a focus on heading up the successful and growing NPIF-Microfinance Fund which is jointly managed with MSIF. In his new role, Kevin will continue to support entrepreneurs in accessing finance and broaden awareness of the finance options available for businesses in the North West.
David Menezes has also joined as senior marketing and communications manager. He will be working to enhance visibility of the GC Business Finance and GC Angels brands across the North West's community of businesses, investors and wider stakeholders to consolidate its position as the go-to source of finance for businesses across the North West.
Paul Breen, director of business finance at GC Business Finance, said: "These new appointments and promotions show our commitment to increasing GC Business Finance's presence in the region as we push to drive awareness of our service across the North West's business, investor and wider stakeholder communities.
"We have seen huge demand for our services over the last year, with the addition of support schemes including CBILS, BBLS and the Recovery Loan Scheme. In their new roles, Jess, Sarah, Kevin and David will continue to help fulfil the growth and innovation potential of Greater Manchester through better routes to finance, greater collaboration, and improved awareness of the business finance options available."
::
Chester-based full-service marketing agency, Armstrong, has recruited two senior hires as it grows due to new client contact wins.
Joy Pendleton has more than 20 years' experience and joins as Armstrong's account director in client services from Liverpool-based Uniform, while Michal Pilch is the agency's new head of digital. Based in Poland, with a decades-long career in development and data security, Michal is tasked with leading the growth and development across all the business's technical aspects for its global client base.
Joy will primarily focus on building and strengthening relationships with key clients. She said: "Armstrong is in an exciting place. It has an impressive roster of clients and a hugely talented team. I'm looking forward to supporting the agency's continued growth and developing more creative and strategic solutions for our clients.
"B2B has always had a different style of marketing applied to it, but never before has it been so important to treat our B2B audiences as consumers in their own right. There are so many ways we can provide interesting effective solutions to engage with our customers, and I can't wait to get going," she added.
The agency has expanded contracts with a number of key clients already in 2021 and is predicting further growth during the remainder of the year.
Daniel Owen, Armstrong chief executive, said: "It's an exhilarating time at Armstrong at the moment. The business is on a strong upwards trajectory, and we are proving time and again that we deliver the highest quality work for our clients, making them stand out in their sectors.
"We're really pleased to welcome Joy and Michal to the partnership with their calibre of talent and experience, and we're confident that they will make stellar additions to the Armstrong team as we continue to strive for excellence in all that we do."
::
C Hoare & Co, which claims to be the UK's oldest privately-owned bank, has announced the appointment of Simon King as senior relationship manager to lead the bank's expansion in the North West of England.
Simon's appointment further develops its wider strategy of expanding its presence and customer base across the UK regions. It builds upon the successful expansion of the bank into Cambridge and the recent new hire for the South West.
Simon joins with more than 30 years of banking experience. Most recently he was a senior relationship & business development manager at Allied Irish Bank (AIB) in Manchester. Before joining AIB, he spent 25 years at Yorkshire Bank, where he undertook a variety of roles in both retail and corporate banking.
He will be responsible for establishing the business, creating new opportunities, and growing C Hoare & Co's customer base across the North West region, with an initial focus on Manchester and the surrounding area.
Manchester has a well developed intermediary community and a strong reputation for entrepreneurs. More broadly, the region is home to a number of highly successful family owned businesses across trade and manufacturing.
C Hoare & Co believes that its own heritage as an established family owned bank makes it well placed to support similar businesses at both a commercial and personal level.
Venetia Hoare, a partner at the bank, said: "We are delighted to establish a permanent presence in the North West and I'm very pleased to welcome Simon to the bank. His appointment will help us build on the relationships we already enjoy in the region and forge new links with a thriving business community."
::
Glass Futures' Global Centre of Excellence, the proposed research and development and training facility in St Helens, continues to deliver on employment commitments having successfully recruited in a key business development position.
Naomi Smith has been appointed as the new business development role responsible for driving membership of Glass Futures and the Global Centre of Excellence.
This new role will provide a key point of contact between the innovations team and members, and will help define and drive strategic activities to grow the membership base and ensure the needs of current members are fulfilled.
Naomi started her career as a sales representative with Ovako, selling steel into the UK market, working in collaboration with the design, engineering and manufacturing teams to produce parts and equipment serving multiple industries.
She has also worked within the Testing Inspection and Certification (TIC) sector with Element Materials Technology, where she ran marketing campaigns and strategies to bring new products and services to market.
The not-for-profit research and technology organisation (RTO) has appointed 17 members of staff and secondees in key managerial roles in a phased ramping up of appointments including recent positions in engineering, communications and marketing.
Aston Fuller, Glass Futures' general manager, said: "It's great to see the Glass Futures team grow as we deliver on our promises and continue to fill positions with further plans to hire 10 roles throughout the course of this year."
Naomi said: "I look forward to developing strong relationships with existing and future members of Glass Futures to ensuring we understand their research and development requirements.
"One of Glass Futures' core values is collaboration. I am thrilled to deliver world class customer service and act as the thread that ties it all together to drive a research revolution across the whole of the glass industry."
::
University Academy 92 (UA92) has appointed Sara Prowse as its new CEO.
Sara joined UA92 earlier this summer following a 30-year career in consumer retail where she specialised in building brands that put the consumer at the heart of the business. Sara's career has seen her lead and build iconic names such as Hotter Shoes, Lands End, and ISME at Shop Direct, which has now rebranded to The Very Group.
She said: "I am delighted to be taking on the position of CEO at such an innovative, distinctive and inclusive organisation. I believe there is a big role for UA92 to play, now more than ever, in supporting Greater Manchester to build back better and stronger as we recover from the pandemic."
Gary Neville, founder of UA92, said: "Sara's deep understanding of developing inclusive brands, promoting a consumer led proposition and amplifying the integration of our industry partners will help ensure UA92 becomes a pivotal part of Greater Manchester's post pandemic success story."