People: Acumen Financial Partnership; EA Technology; Excello Law; BAKO Group; Pareto Financial Planning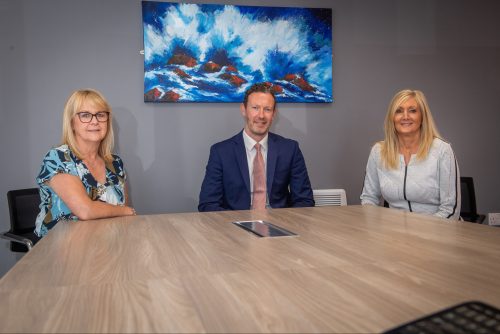 X

Register for free to receive latest news stories direct to your inbox
Register
West Lancashire independent financial adviser, Acumen Financial Partnership, has further strengthened its team with the appointment of a new financial planning co-ordinator.
Diane Livesey joins the IFA from Standard Life bringing the company's headcount up to 19.
This year also marks the Burscough-based firm's 15th year of providing expert financial advice to its clients.
Angela Maher, managing director, said: "Many of our clients, who include everyone from experienced investors to absolute beginners, have been with us since I set up the company in 2006.
"Despite the pandemic, we've continued to offer a full service to all of them making sure we're here and available to answer any questions.
"We've all had to adapt to different ways of working and splitting our team into two groups has also given us the flexibility to meet clients at our offices in Swordfish Business Park."
She added: "Diane's appointment means we can continue to focus on service, not targets and help many more people plan for a long and happy retirement."
Diane Livesey said: "I've spent almost 25 years supporting financial planners around the region and look forward to using this experience to help Acumen grow.
"The company has a very good reputation in the industry achieving national recognition for the service it provides."
::
EA Technology has appointed Lionel Paillet, a former senior executive of Apple and Nest managing director as a non-executive director.
In the early 2000's, after Steve Jobs returned as CEO at Apple, Mr Paillet formed part of the organisation's European leadership team for 13 years.
He had responsibility for business development and professional, creative, enterprise and education markets across EMEA, then was responsible for products sales for Germany, Austria, Belgium, Netherlands, Switzerland, Eastern Europe and Poland.
Most recently, Mr Paillet was managing director Europe for Nest, and set up the company, founded by Matt Rogers and Tony Fadell, in Europe.
The Nest Learning Thermostat anchored the SmartHome category, thanks to close cooperation with energy companies across the globe.
Since 2011, Nest users around the world have saved more than 70 billion kilowatt hours of energy.
Mr Paillet is looking forward to contributing to Chester-based EA Technology's scale-up momentum via its software and services offering. He said: "As networks are ageing, and both user and business demand grow massively, we need to add transparency and intelligence to our networks and let go of the past.
"Energy networks are already starting to pivot and accelerate this digitisation.
"Timing will be everything and a sense of urgency is now required. EA Technology is a world leader in electricity network management and insights, and I am eagerly anticipating working closely with both the leadership and product teams."
Robert Davis, CEO at EA Technology, said: "We are so pleased to have secured a candidate of such stature with such notable skills for this role.
"Having worked for some technology giants, Lionel also has extensive experience with start-ups and has worked across consumer and B2B markets.
"We warmly welcome him to EA Technology and enormously look forward to working with him in our quest to promote the development of resilient and accessible networks."
::
National new-model firm Excello Law has expanded its real estate and property development team in Liverpool with the arrival of lawyers Lisa Evans and Sue McGorian.
Qualifying in 2009, Lisa spent a decade at Kirwans, where she was a partner and the head of the property team. Lisa acts for a wide range of individual and SME clients across the country on a range of property transactions.
She said: "I could not wait to join Excello, with its modern hybrid set up which allows me to focus on my clients and my practice.
"There is also a great wealth of support from other like minded senior professionals across the firm."
Sue joined Excello from Weightmans having started with the firm in 2013 following its merger with Semple Fraser where she was a legal director.
Prior to that Sue was a partner with Hill Dickinson. Qualifying in 1986, Sue has extensive experience in the retail and development sectors.
She said: "Excello Law has given me the ability to provide a more personalised and flexible service to developers and property owners alike.
"I am delighted to have joined a firm with such a progressive and modern approach to the delivery of legal services particularly during these times of change."
Julie Mogan, regional director, said: "It's a testament to the reputation that Excello has gained in the North West that we have, even during these difficult times, managed to attract yet more quality candidates to strengthen our fantastic team.
"This is not only as a result of our commitment to provide a collaborative, flexible and fully supported approach to legal work, but also as a result of word of mouth recommendations from our existing lawyers who have found the Excello model a breath of fresh air compared to the traditional law firms they have worked in previously."
::
David Yates has been elected chairperson of Preston-headquartered bakery products distributor BAKO Group after previous chair Joe Hall stepped down from the role at the end of his tenure in May 2021.
Taking over as chairperson from June 1, Mr Yates has served on the board since January 2018 and as deputy chairperson since December 2019.
Outgoing chairperson Joe Hall said: "After eight fantastic years it is time to move on for me personally and I couldn't be happier to be passing the baton over to David.
"As a baker for over 30 years, he has a deep understanding of the challenges and opportunities our members face, and I can't think of anyone better positioned to take BAKO forwards in support of our customers across the UK."
David Yates said: "The coming years present many challenges, but also many reasons for huge optimism for the bakery industry.
"As the world and the industry recovers from the impact of COVID-19, I am really excited and honoured to have been elected as chairperson of BAKO and look forward to a bright future of innovation, diversification and positive change for the benefit of our members, partners, customers and colleagues across the baking industry."
BAKO Group includes BAKO Ltd, BAKO Northern and Scotland, and BAKO South Eastern.
::
Paul Stones has been promoted to managing director of Pareto Financial Planning, with John Stevenson focusing on strategy and growth.
The promotion follows a number of key appointments at Manchester-based Pareto over the past 12 months taking the team to 60.
The board of directors was recently strengthened with the promotion of Nicky Aspray to operations director and Chris Romain joining as finance director last year.
Paul has worked in financial services for 30 years, 11 of which have been at Pareto. He first headed up a key strategic partnership with Alexander & Co Accountants, later moving into head of client services and a board director in 2017.
Paul said: "The past 12 months have been particularly challenging for everyone, but our operational resilience has allowed us to emerge in a position of strength, well placed to manage any ongoing impacts and to support our future growth.
"Our investments in talent and technology have set out an exciting course for the year ahead. I am thrilled to take on this new position and am looking forward to the challenge of achieving the next steps in Pareto's growth."
As well as heading up key relationships with intermediaries and clients, Paul will manage the day-to-day operations of Pareto with the support of the existing board and management team.
John said: "2020 brought unparalleled uncertainty to every sector including financial services. However, this time of disruption is also an opportunity for growth. It has enabled Pareto to refocus our strategy and develop some exciting and ambitious strategic plans."
Pareto recently released its financial year end statement announcing an increase in turnover to £5.4m, with assets under management now standing at £935m.