Public inquiry to consider plans for Horwich housing schemes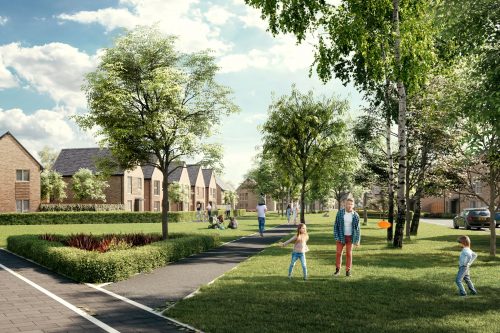 A public inquiry will begin next Monday (June 28) into Peel L&Ps plans for a Bolton housing development.
The developer aims to build family and affordable homes on the site of the former Horwich Golf Club in an investment worth more than £34m and which would create 235 jobs during construction.
Its proposals will be heard at a five-day public inquiry to be held, virtually, from June 28.
Since the original proposals for 300 homes off Victoria Road were submitted in 2017, Peel L&P has reduced the development by two hectares and to 276 homes.
A report into the socio-economic benefits of the 276-home development found that the project, during its construction, would boost Bolton's economy by £15.4m and help aid a post-pandemic recovery.
Around an additional £5m per year would also be spent in the local economy by new residents.
In response to concerns around the impact on the landscape in Peel L&P's original proposals, the north east site boundary has also been realigned to help protect the area's views and just under 50% of the site would be green space and woodland with improved access to footpaths.
Ninety four of the 276 homes, equating to 34%, would be allocated for shared ownership or affordable rent working with a registered housing provider.
Peel L&P would also contribute £274,000 towards education contributions to St Joseph's RC High School and highway improvements at Beehive roundabout where the council has identified a funding gap.
Furthermore, Peel L&P said it will support recreational improvements at Old Station Park in Horwich and Nellie's Clough that runs through the site with new tree planting, hedge grows and meadow grassland to attract wildlife.
The Planning Inspector on the previous scheme of 300 homes back in July 2019 found that the site would make a positive contribution to meeting Bolton's housing need, but dismissed the appeal due to the impact of the north eastern part of the site. The proposals were revised to resolve that issue but the 276 homes were refused by Bolton Council in January 2020 with Peel L&P taking the decision to appeal.
Then, in September last year, Peel L&P's homebuilder, Northstone, also brought forward fresh plans for a smaller 150-home development at the same site with a third of homes earmarked for people with affordable housing needs.
The Northstone proposals also feature a new 15-acre recreational and ecological green space for local people with community orchards, play areas and a children's woodland. Bolton Council refused the Northstone application in December 2020 and Northstone has also appealed.
The Planning Inspector will now consider both proposals at the inquiry.
As well as the identified socio-economic benefits and helping to meet the shortage of new family and affordable housing, Peel L&P says both proposals would deliver a biodiversity net gain whereby habitat would be left in a better condition than before any development.
Peel L&P acquired Horwich Golf Club in 2012 and has since helped to keep the struggling business running for the past eight years. The golf course, which is open to members only, is due to close in 2023 when the funding support ends.
Phil Wilson, executive director for land, communities and homebuilding at Peel L&P said: "Bolton has a housing shortage that isn't being met and we want to provide a mix of quality, energy efficient homes that suit a range of needs and give people more choice.
"We've adapted our plans based on local feedback and public inquiry recommendations by reducing the size of the schemes to lessen the impact on the landscape and creating new green spaces for the community and areas for wildlife habitats to flourish.
"We've presented two different residential schemes to Bolton with affordable housing to help the borough find homes for some 3,000 households on its social housing waiting list and we hope the inspector will recognise the benefits the proposals bring to the area – economically, socially and environmentally."