The challenges facing decarbonisation
Policymakers across the North West have set ambitious decarbonisation targets, but delivering this timetable will require everyone to collaborate and innovate as was as to change the way they live and work.
In a session at sustainability conference In The Circle, hosted by Stephen Church UK&I North markets leader & Manchester office managing partner at EY, an expert panel shared the biggest challenges facing the "various targets whether that's 2037, 2038, 2040 or all the way through to 2050".
Helen Anderson, co-founder of Ikigai Capital & board member Cheshire and Warrington LEP S&I Growth Commission responded stating that the UK had already had success in moving to decarbonise electricity, citing that it was relatively "simple" and that this appealed to investors because they traditionally like "simple assets".
Se explained that "[investors] like things to look like the old style infrastructure that they're used to".
"But we now have a challenge", she continued, "to deliver decarbonisation of heat and cool, and decarbonisation of transport, as well as the delivery of new fuels like hydrogen. These are hard because in some cases the ecosystem that is necessary to make them successful doesn't exist."
So she believes the challenge is how do we create "the public and private sector partnerships that make is easier for private sector funders to move into the more difficult asset classes and play a role within the system."
Will Ennett, head of sustainability at Talk Talk picked up on Anderson's perspective of the challenges of infrastructure noting that even areas that don't appear to have a direct decarbonisation impact can be crucial. He explained that within the telecommunications industry TalkTalk is rolling out full fibre / fibre to premises which appears to use 80% less energy than traditional copper wires, adding this supports the decarbonisation journey, perhaps indirectly, as better connectivity "can drive a lot less commuting, support more smart metres and smart systems."
Emnett also highlighted that the challenges is how to get "businesses of all shapes and sizes" to move towards net zero. He said that all businesses it's crucial they are "fully aware" of what is happening around them with the supply chain etc and that they have the "right measurements in place" as without that you can't create a plan on how to reduce emissions.
Hayley Nixon added to Emnett's point of knowledge being key by saying that actually one of the biggest challenges is in fact time. The commercial project manager from Salford City Council noted that similar to Anderson's view the focus is about changing perception.
She explained that it's crucial that there is a change to the speed at which the "technology becomes the norm rather than something new".
"How do we normalise new technology to make it impactful as quickly as possible? I guess we need support from government with regards to planning, housing, transport policy, so we can bring those changes into the day to day of working life that we're all going to have to make."
She also added that it was crucial that councils and businesses "lead by example" to demonstrate how it works and what the benefits are for individuals as well as the whole.
Jonatan Pinkse, director of the Manchester Institute of Innovation Research built upon Nixon's point explaining the challenge remains in "scaling up" the technological response to the climate challenge.
"You see so many technologies that can work for a start-ups and all sounds good but actually making them fit for mainstream markets for mass markets is a major barrier."
The reason for this challenge he says is that it is at the point of mass market adoption that you "bump into resistance".
Pinkse explains that whether it's from a national or local government level, business or even personal that is always opposition to change.
He explains for government's it's the risk that net zero policies may be disliked and might cost them votes, for companies it's hard to change processes that have made them successful, while for general people it's simply about breaking old habits and forming new ones, something easier to say than do.
Ultimately, he said the challenge is ensuring the solutions "work for the majority and not just for the happy few".
Simon Curtis , chair of Manchester Arts Sustainability and board member of Manchester Climate Change Partnership picked up on Pinkse's point noting "some of the barriers can sit within organisations".
He explained that it's time now that the sustainability agenda is being prioritised. For Curtis this importance isn't just about rhetoric and retrofitting the topic into existing roles, but actually "building roles around [sustainability]".
Curtis added that businesses can be fixated on a growth model which systemically locks them into a very uncertain path.
"we're so very well beyond having our cake and eating it", he explained, " We need real systemic change as now there is less cake and it needs to be more fairly shared globally."
"So we need to be brave about really digging into what is positive growth, what is growth that is just perpetuating the very problems that we're trying to navigate."
Watch the session in full below.
---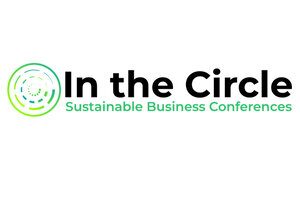 In the Circle is a free one day sustainability conference that brings together business leaders, policy makers and academics to set out how a sustainable approach can improve your business.
The event is in partnership with musicMagpie, Squire Patton Boggs and TheBusinessDesk.com, and is being sponsored by the Northern Powerhouse Investment Fund, Orderly, Whitecap Consulting, and Curveblock.