North West business briefs: Talbot Gateway; Ten Locks; Brian Epstein Legacy Project; Merseyrail; Leighton Hall; Cheshire West and Chester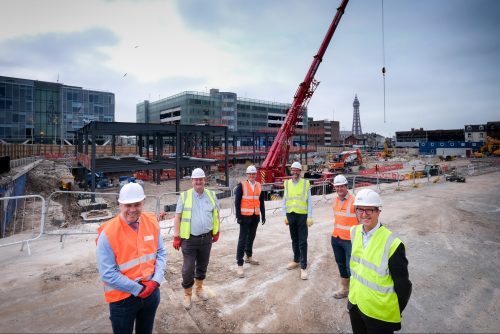 Key members of the development team met on site to mark the next step of the multimillion-pound development at Blackpool's Talbot Gateway Phase Two, as the first steelwork is erected on site for the 4* Holiday Inn and Marco Pierre White restaurant.
With the development on schedule for a summer 2022 opening, construction of the main steelwork frame will be carried out over the next few months, with roofing and cladding work programmed to start in the autumn.
Mike Horner, development director from Muse Developments, Blackpool Council's development partner for Talbot Gateway, said: "It's a fantastic feeling to meet with partners safely on site and see the next phase of the hotel build start to take shape here at Talbot Gateway. We've got some real forward momentum now as we emerge from a very challenging 12 months and this hotel is all part of building back better and further driving inward investment and opportunities right into the heart of Blackpool.
"We're focused in our collective vision to re-energise the town centre and we're delighted to be playing an important role with the council and Robertsons in creating a more vibrant, inclusive and connected Blackpool that's resilient for the future."
Dirk Pittaway, regional managing director of Robertson Construction North West, the main contractor on site said: "We are delighted to join the development team on site today to mark the erection of the steel. This is an important regeneration project for the area, and we are committed to delivering a high quality build that will benefit the region for years to come. Our commitment extends to the local community who have made us incredibly welcome, and we look forward to when restrictions lift in order that we can use the site to become a learning and work experience environment for students, apprentices and our local employment partners."
Cllr Mark Smith, cabinet member for business enterprise and job creation, said: "The steelwork being erected is a significant step forward as passers-by can start to see the new hotel and restaurant really taking shape. Despite the year we have had, the build programme remains on schedule and that's testament to the professionalism of the development team involved in this important regeneration project."
::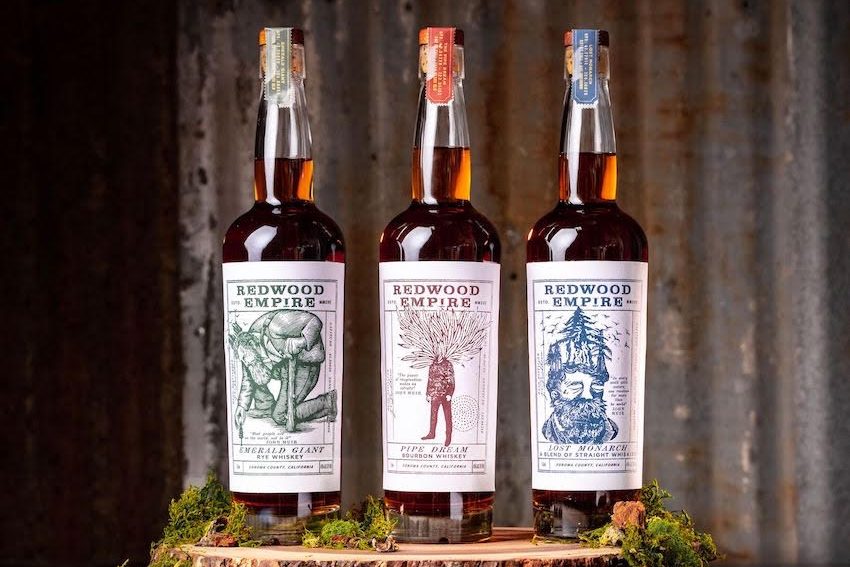 Ten Locks, the Greater Manchester-based drinks company, has stepped into the booming American whiskey sector with its latest partner, Redwood Empire Whiskey.
The partnership will bring three , barrel-aged Redwood Empire Whiskeys to the UK via its home in Salford.
Pipe Dream Bourbon Whiskey, Emerald Giant Rye Whiskey and Lost Monarch Blend of Straight Whiskey will all be available to bars and retailers up and down the country from July.
All three expressions are select blends of aged whiskeys between four and twelve years old, staged with new woodcut-style labels depicting America's most iconic conservationist, John Muir.
Becky Davies, head of commercial at Ten Locks, says: "A rare gem in a booming category, this is a beautiful brand to look at, taste, enjoy and experience. Redwood Empire Whiskey has stand-out strength of character and – much like Ten Locks – is dedicated to leading the category both in terms of innovation and being a force for better.
"At a time when we're all looking to nature and the outdoors to nurture our sense of wellbeing, we know consumers and bartenders will fall in love with Redwood Empire Whiskeys. It's also great to further cement Greater Manchester's position as a destination for premium spirits."
Derek Benham, owner and founder of Redwood Empire Whiskey, said: "Craft whiskey drinkers across the globe are growing in number, and they're looking for new brands, origins and style. We're proud to offer them an authentic Sonoma brand that isn't like any other whiskey."
::
The whole world is being urged to 'come together' to honour the late Brian Epstein with a lasting memorial to the man who helped change the face of popular music forever, as manager of The Beatles.
The Brian Epstein Legacy Project – which is being relaunched following a pause in activity due to the pandemic – will see the creation of a statue of the late legendary music entrepreneur, while additional money that is raised will be dedicated to developing a wider legacy in his memory. The campaign, first unveiled as The Brian Epstein Statue Project in 2019, has announced a new Stateside partnership with the Iowa Rock 'n' Roll Music Association Hall of Fame & Museum – helping to champion plans on the global stage.
The appeal is currently a third of the way towards an initial £60,000 target for the proposed new statue which will be created by renowned Liverpool sculptor Andy Edwards and sited at a key Liverpool location yet to be revealed. Generous sums have so far been received from people in more than a dozen countries including the United States, Canada, Japan, Mexico, Sweden, Italy and France – as well as a substantial anonymous donation. Now it is hoped the appeal will go on to raise a minimum of £100,000, enabling it to further honour Brian's energy and vision.
The Beatles' former manager, born in Liverpool in 1934, is credited with catapulting the Fab Four to global success and has been fondly dubbed the 'Fifth Beatle' to underline his central role in their stratospheric rise to become the most famous band the world has ever seen. Yet, while there are dozens of Beatles statues and monuments across several continents, there is no lasting tribute to recognise and celebrate the vital part he played in the band's history, nor how he changed the face and sound of popular music.
The Brian Epstein Legacy Project committee includes cultural campaigner and activist Tom Calderbank, Beatles fan Marie Darwin who was part of a group who campaigned for a plaque to be placed on the birthplace of Brian Epstein, Beatles historians, researchers and authors Kevin and Julie Roach, and son Robert, Larry Sidorczuk was the personal assistant to the late Joe Flannery, Brian Epstein's original business partner and bookings manager, and Bill Elms, a producer of the smash hit play Epstein: The Man Who Made The Beatles, which was staged in Liverpool and London's West End. Tom Calderbank said: "Following the pause in our campaign due to the pandemic, we've now got fresh wind in our sails."
::
Merseyrail and its fleet maintenance provider, Stadler, have joined forces to provide local students with a behind-the-scenes tour of Kirkdale depot.
Two 14-year-old students from Everton Free School – who work in partnership with Merseyrail regularly – were invited to Kirkdale depot alongside teachers from the school to understand the different job opportunities involved within the rail industry. The students, Brodie Foster and Jordan Green, were shown around by Stadler staff and Merseyrail's community involvement advisor, and walked around the sheds, inspected the new trains due to come into service soon and prototype battery train.
The objective of the Life Skills Programme with Everton Free School is to inspire and motivate children to believe in themselves and the opportunities available to them once they leave school. Brodie Foster said: "I enjoyed seeing the future technology of transport in Liverpool. I want to be a rail engineer in the future and it was an enlightening experience."
Jane English, people director at Merseyrail, said: "As a key part of the Liverpool City Region, it's vital that we here at Merseyrail give back to the local communities that we serve. Our partnership with Everton Free School is a great example of this and I'm thrilled that, together with Stadler, we were able to give these two boys a fantastic opportunity to learn all about the rail industry and even get a sneak peek at our new trains."
Rob Baxter, managing director of Stadler Rail Service UK, said: "A positive experience of the working world can have lasting and far reaching consequences on the life of a young person. Stadler was very happy to welcome two pupils from Everton Free School recently. We consider it a privilege to provide an insight into our operations, including the running of our state-of-the-art depot, which will be home to the new trains for the Liverpool City Region. We intend to do more work with local schools in future."
::
Carnforth's Leighton Hall is rooting for a Blackpool business intent on helping save the planet, forming a sustainability partnership for the next three years that will see estate woodland re-established with the planting of up to 30,000 trees.
With an ambitious target to become carbon neutral by the end of 2021, UK consumer lender Oplo has pledged to plant a new tree for every new customer choosing to take out a loan. These will be split between two projects, Scottish Highlands based charity Trees for Life, and local partners Leighton Hall, set within the Arnside and Silverdale Area of Outstanding Natural Beauty (AONB).
Lucy Arthurs, estate manager at Leighton Hall Estate, said: "We're delighted to be partnering with Oplo, whose environmental ethos and bold practical ambitions match our own. Their support accelerates our ability to re-establish woodlands that contribute to the national drive for long term stabilisation and reduction in carbon. This engagement directly supports the estate and our AONB woodland connectivity programme for nationally endangered butterflies and pollinators."
Creating safe homes for wildlife as well as forests fit for the future, Leighton Hall is helping Oplo employees make their own direct impact. An ongoing schedule of volunteering projects will encourage local employees to not only help to plant the trees, but also bulbs and woodland fauna such as primroses.
Founded 12 years ago, Oplo is a key employer based at Blackpool Airport's enterprise one. Chief people officer, Steve McNicholas, said: "Creating a positive social impact is a big part of why Oplo exists. We have a track record of doing business the right way while delivering a positive impact for our customers, our people, and our community and we want to extend this impact to the planet. We are delighted to offer our customers and our employees a practical, hassle-free option to make a meaningful and genuine difference to protecting our planet."
::
More than £300,000 has been secured to help welcome back visitors and tourists to Cheshire West and Chester as the roadmap out of lockdown continues.
The money comes as part of a larger award from the Government's Welcome Back Fund (WBF), which supports schemes to reopen the high street safely. The funding boost comes on the back of news that Chester has been crowned 'City of the Year' at the itravel Staycation Awards, in recognition of its vast selection of attractions, shops, bars and restaurants, as well as its rich cultural offering.
Now, the latest pot of funding, which is supported by the European Regional Development Fund, will enable Chester and the wider area to be taken forward and grow its status as a 'go-to' tourist destination throughout the summer and autumn. Joe Manning, chief executive of Marketing Cheshire, said: "To secure this funding just as Chester is named City of the Year for staycations is a true testament to the incredible leisure and tourism offer we have here. It's also a real recognition of the brilliant teamwork between Cheshire West and Chester Council and Destination Chester – a local network led by Chester's top attractions and businesses – to put us on the map."
Jamie Christon, chief executive of Chester Zoo and chair of Destination Chester, said: "At Destination Chester we share a passion for our amazing city and are, therefore, delighted to see it winning this award. As we all know, the hospitality industry is facing a huge challenge at the moment as we move through the roadmap, so this recognition and extra funding is a huge help in helping to put our hardworking businesses on the map."
Cllr Louise Gittins, leader of Cheshire West and Chester Council, said: "We are all really proud that Chester has been named as the Staycation City of the Year. It is a well deserved accolade that reflects on all the great things the city has to offer, from the rich heritage to a thriving shopping and growing independent retail scene and a packed cultural programme. Because it is such a high-profile destination, we believe that Chester can act as a gateway to all the other great attractions we enjoy throughout west Cheshire."