People: Anwyl Homes; Optimum Finance; Business Partnership; Proactive Despatch; CTS; Castle Green Homes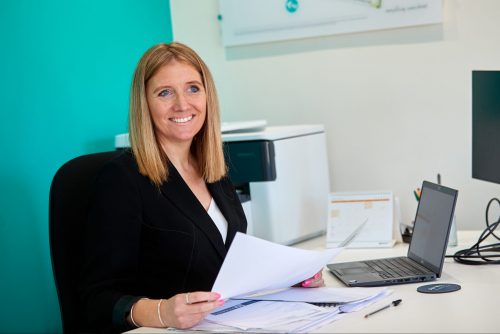 X

Register for free to receive latest news stories direct to your inbox
Register
Former cabin crew Imogen Suffell is flying up the Anwyl Homes ranks just months after joining the homebuilder.
Imogen was taken on by Anwyl Homes Lancashire as a sales adviser in August last year. During her time selling new homes at Stonebridge Fold in Longridge she impressed the management team and, after less than nine months with the company, she's been promoted to trainee area sales manager.
She said: "I was keen to join Anwyl as it's a growing company with potential to progress. I knew there were opportunities in the pipeline, but I didn't expect to become a trainee area sales manager so quickly."
In her new role, Imogen is supporting sales teams at her former development, Stonebridge Fold, as well as those at Lawrence Gardens in Barton, and Bluebell Meadows in Fulwood. She will also oversee the sale of homes at Mill Green in Warton, launching this autumn.
Imogen started her career working as cabin crew. After a career break when she had children she then worked in the hospitality industry, before moving into new home sales with Maitland Selwyn. As a temporary sales consultant she covered developments for a number of homebuilders across the North West.
She said: "I knew I wanted to work in the housing industry as there are lots of transferrable skills from my previous roles. New homes sales has become much more customer service-focused and being a people person and approachable helps because it's all about relationships. Cabin crew are good at building relationships quickly with passengers and crew."
Anwyl Homes Lancashire now employs around 60 people between its headquarters at Buckshaw Village in Chorley and across developments in Lancashire, Merseyside and Cheshire.
Managing director, John Grime, said: "Anwyl Lancashire is growing rapidly and to support that growth we've created additional employment opportunities across the business. Imogen has shown real passion, drive and enthusiasm since joining Anwyl last summer and her promotion to trainee area sales manager is justly deserved. Working alongside sales manager Amy Houlihan and sales director Matthew Gould to support teams on site, Imogen will have a role to play in helping ensure we meet our business objectives."
::
Optimum Finance has appointed Paul Green as the new regional director for the North, having previously held business development positions at RBS Invoice Finance. 
 Paul's knowledge and experience will allow the specialist financier to offer products greatly aligned to meet the needs of the unique northern economy. 
The Office for National Statistics recognizes the North of England as having one of the highest percentages of high growth businesses in the UK and Optimum are keen to support this community with funding options that can follow businesses' growth trajectories.* 
 Chief Commercial Officer, Lynn-Marie Jameson, said "We already service many clients in the North of England and Paul's arrival will give us the tools necessary to spread our excellent funding solutions even wider.
"Invoice finance is an underused solution perfect for both well established and fast growing B2B businesses and we want as many companies as possible to be able to take advantage of this. I already know Paul will be a great addition and I'm delighted to welcome him to the team." 
Paul said "I am looking forward to seeing my introducers in the coming weeks to explain the great offering we have here at Optimum and how we can look to support with flexible solutions. I am encouraged by the agility and flexibility Optimum has to help as many businesses as possible, as quickly as possible."
::
Expanding national business brokers, Business Partnership, has appointed a new regional partner in Lancashire.
Self-starter Gary Jones brings more than 30 years' know how from the credit, utilities and government sectors to his role assisting business buyers and sellers in Blackburn, Fylde, Lancaster and Preston.
His vast experience spans start-ups to large corporates. Before joining Business Partnership, he was responsible for 1,200 staff and revenues of more than £30m in the utilities and finance sectors. Based in the Ribble Valley, Mr Jones has also been involved in turnarounds, mergers and acquisitions and has sold three businesses to multi-nationals.
He said: "I've sat on both sides of the table during a business sale and can fully appreciate all the potential pitfalls and how stressful it can be.
"The pandemic has made many people want to seize the moment and make a lifestyle change. I'm looking forward to helping people achieve their long term aims and maximise their earning potential, whether they're selling so they can retire and enjoy a gentler pace of life or buying a business that is completely different to their current line of work or located in another part of the country."
One of the largest independent companies in the sector, Business Partnership have more than 20 regional partners across the UK offering a comprehensive brokerage service to business buyers and sellers. The combined sale value for clients nationally in 2020 was more than £13.5m.
::
Fast-growing North West courier business Proactive Despatch has added a familiar face to its expanding workforce. Roy Graham has joined the Widnes-based firm's customer services team as the company targets record turnover of £2m.
Proactive Despatch was founded by managing director Paul Woods in 2008 and now handles more than 1,500 deliveries a month on behalf of more than 250 customers.
Mr Graham, 38, has spent most of his career working in the print industry, previously holding roles for BHW Print Group, Hobs Reprographics, and PS2 Print. The company's operations director, Craig Hyland, said the latest addition to the team was a vital part of the company's ongoing growth strategy.
"We're delighted to attract someone of Roy's calibre and his personal values reflect ours as a business. Customer service is our mantra and Roy lives and breathes it. It's really important that every new recruit we bring to the business adds something special to the team and Roy certainly does that."
Mr Hyland said the pandemic had accelerated a planned restructure of the business. The same-day courier company now employs 10 people and describes itself as a "chauffeur service for parcels and pallets rather than people".
Roy Graham said: "I've been on the other side of the fence as a customer of Proactive Despatch and I've seen their focus on customer experience. It's a brilliant time to be joining Proactive Despatch and it's got exciting growth prospects.
"When the opportunity came to work at Proactive Despatch and join an award-winning team it was too good to turn down."
::
CTS, the legal sector's provider of cloud and IT services specifically shaped for law, has welcomed Nick Martin as director of consulting.
Previously managing director at public cloud consultancy SystemsUp, Nick brings 34 years' experience within the technology sector to Daresbury-based CTS, and a wealth of knowledge gained working with the UK's top law firms.
He said: "The legal sector is in a time of significant evolution, and I'm pleased to be joining CTS as the pace of digital change accelerates and firms aim to achieve real transformation through their use of technology.
"Putting the user at the forefront of strategic decision-making is critical to my role in supporting CTS's clients to achieve operational success. Optimising technology and application investments can bring an edge, but only if the options and implications of strategic change and investment are fully understood – from people and skills to process, as well as the ever-increasing importance of cyber security."
Nick's role at CTS is to support clients in achieving their ambitions, developing the CTS methodology for designing the perfect strategic roadmap for each individual business.
Mohamed Bakeer, CTO for CTS, said: "We pride ourselves on understanding the needs of our legal clients better than our competitors, shaping our services around the unique requirements of the sector. Nick is a fantastic addition to our team, further strengthening our collective knowledge to better understand and guide our clients to achieve their goals now and in the future."
::
A trio of appointments at Castle Green Homes go hand in hand with the company's ambitious five-year growth plans.
New arrivals Norman Kelly, Neil Creasey and Ben Ball will contribute to quadrupling business output and expanding Castle Green's geographic footprint into new locations across the North West.
Norman Kelly has been brought in as head of the technical department and brings more than 20 years' experience with him.
Joining from Bloor Homes, where he was an engineering manager for four years, Norman, 49, will oversee the new team, as well as each new development from conception to completion. He will also continue to grow the technical department, bringing in experts with a wide range of expertise so they can work efficiently as an in-house team.
He said: "Even before joining, I recognised Castle Green as a company that was on the up and I wanted to be part of that. I'm looking forward to putting my own stamp on the strategies we'll follow over the coming years. My experience of working for other North West housebuilders, such as Redrow and Morris Homes, means I can assist Castle Green as it branches out into building homes across a much wider area."
Neil Creasey, 48, from Penyffordd, has joined the company as contracts manager. He will oversee construction projects, ensuring that work is completed on time and within budget. Neil has joined from Bellway Homes NW, where he worked for seven years, initially as a site manager and then as construction manager for the past four-and-a-half years.
He said: "At Castle Green I'll be overseeing a number of developments, including three new sites which are coming on stream in the next few months. Initially, though, I'll be focused on Cae Felin in Denbigh, where we are building 64 homes.
"I was already impressed with the appearance of Castle Green's developments, from the organisation of their construction sites to how the finished homes and layout of completed developments looked. And the more I found out about the company, the more I wanted to be part of their ambitious plans for the next few years."
Completing the trio, Ben Ball, 44, from Holywell, is the company's new development engineer. Ben joins with more than 20 years' experience in the industry and began his career as a land surveyor before changing direction to become an engineer. His role at Castle Green will see him be the vital link for technical issues between their development sites and the teams based at the company's St Asaph offices.
He said: "Prior to working at Castle Green I was working for a civil engineering contractor, Charles L Warren, who actually did a lot of work for Macbryde Homes, installing the roads and sewers before construction of the homes started. Through my role there I developed relationships with their site managers at several of their developments and this is how I came to get to know the company so well. They've since rebranded to Castle Green and I feel like I've come in at the very start of what will be a hugely exciting time."
From its offices at St Asaph, Castle Green Homes has circa 13 live outlets across North Wales and the Wirral, with two new Cheshire developments coming soon.
Chief executive, Gwyn Jones, said: "These appointments give us extra strength and resource as we work towards achieving our huge growth plans and I'm confident Norman, Neil and Ben will be key components to us achieving the goals we have set out for the next five years."