'Unprecedented period' in the aviation industry sees MAG's revenues slump by 80%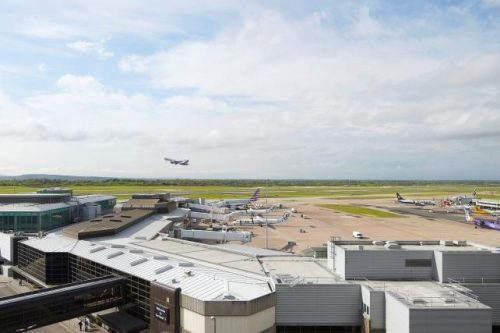 The owner of Manchester, London Stansted and East Midlands airports revealed the true impact of the pandemic on revenues and passenger numbers.
Releasing its annual financial results today, Manchester Airports Group's performance for the 12 months to 31 March 2021 reflects the "unprecedented period" the aviation industry has faced this year following the impact of COVID-19.
Revenues for the period slumped 79.5% from £901m to £184.7m.
Passenger numbers dropped to 6.3m, a reduction of 89.4% compared to the 59.6m passengers in the previous year.
As a direct result the group made a significant loss during the period.
Adjusted EBITDA shows a reduction of £525.7m to a loss of £149.4m.
During the pandemic the group ceased all non-essential expenditure. Staff took a 10% pay cut from April 2020, as well as a major streamlining of the workforce including management, back office functions and operational staff to reflect the short term reduction in operating activity.
The group also took steps to "significantly reduce operating costs" through the alignment of infrastructure and resources to meet the revised traffic demand.
During the period £300m of new equity, which together with £400m raised through the sale of non-core property portfolio contributed to a cash position of £518.1m as at 31 March 2021.
Following the impact of COVID-19 no dividends will be paid.
The group has also reduced and refocussed expenditure on its capital projects, given the reduction in passenger demand.  Phase 2 of MAG's main capital project; MANTP, is now complete and the Terminal 2 extension will be ready to open as capacity returns.
It said: "Manchester Airport's modern facilities will continue to be the international gateway for the North, providing passenger and airline facilities for the future, and supporting commercial yields and operating efficiencies.
MAG CEO Charlie Cornish said: "These annual results paint a very different picture to previous years, reflecting the true impact of what has been the most difficult 12 months in our history.
"We saw international travel come to a near standstill with passenger numbers collapsing to less than 10% of normal levels, and we have had to take a series of decisive, and often difficult actions to protect the future of our business.
"As we look ahead, I am confident of the strong recovery our business and our sector can make, as well as the critical role our airports will play in ensuring a full recovery of the UK economy. Even in the last few weeks, we have taken tentative steps forward with some important markets now on the Government's green list."