Unesco withdraws World Heritage Status from Liverpool's waterfront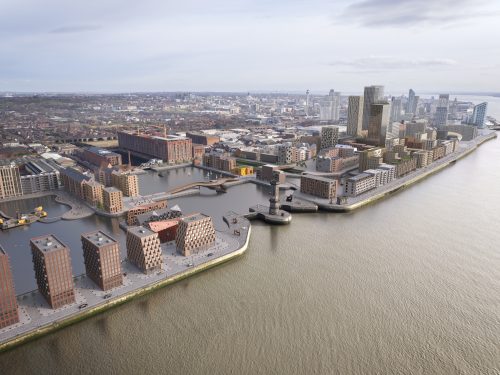 Liverpool has lost its World Heritage Status after Unesco stripped the city's waterfront of the award, which was originally handed to Liverpool in 2004, placing it alongside global icons such as the Taj Mahal and Great Wall of China.
Unesco announced its decision after a meeting in China, baming years of development for an "irreversible loss" to the historic value of the city's Victorian docks.
The UN's heritage body said the "outstanding universal value" of Liverpool's waterfront had been destroyed by new buildings.
Manchester-based developer Peel is behind a £5.5bn plan to regenerate the waterfront, and the most recent scheme to be approved was Everton's £500m new stadium at the former Bramley-Moore Dock.
However, leading figures in the city have shrugged off the decision, saying Liverpool will survive.
Liverpool City Region metro mayor Steve Rotheram said: "The Liverpool City Region is a place with a rich and storied past. We are proud of our history and do not shy away from it. But our heritage is also a vital part of our regeneration.
"Today's decision by Unesco is a retrograde step that does not reflect the reality of what is happening on the ground. Indeed, this was a decision taken on the other side of the world by people who do not appear to understand the renaissance that has taken place in recent years.
"But many of the sites cited by Unesco are in communities sorely in need of investment. Places like Liverpool should not be faced with the binary choice between maintaining heritage status or regenerating left-behind communities – and the wealth of jobs and opportunities that come with it.
"We did not want to lose our World Heritage Status, but nor could we allow it to preserve our region in aspic, while the world evolves around us.
"This is a really disappointing decision, but I am confident that our city will remain a vibrant and attractive cultural destination and – as we rebuild from the pandemic – will continue to welcome millions of people to our city and wider city region."
Liverpool Mayor, Joanne Anderson, said: "I'm hugely disappointed and concerned by this decision to delete Liverpool's World Heritage status, which comes a decade after Unesco last visited the city to see it with their own eyes.
"Our World Heritage site has never been in better condition having benefitted from hundreds of millions of pounds of investment across dozens of listed buildings and the public realm.
"We will be working with Government to examine whether we can appeal but, whatever happens, Liverpool will always be a World Heritage city. We have a stunning waterfront and incredible built heritage that is the envy of other cities."
She added: "Our commitment to maintaining and improving our buildings remains as strong as ever and will continue to be a key part of our drive to attract visitors, along with leisure, retail and events.
"I find it incomprehensible that Unesco would rather Bramley-Moore Dock remain a derelict wasteland, rather than making a positive contribution to the city's future and that of its residents.
"I'll now be seeking to draw together all the UK heritage bodies in a round table to plan a positive future with further investment."
Paul Cherpeau, chief executive of Liverpool Chamber, said: "It would, of course, be better for Liverpool to retain World Heritage Status, but not at the expense of developing our city for the benefit of future generations.
"Liverpool has wonderful heritage assets and huge potential for growth – those two opportunities can co-exist in harmony and we must not try to play one off against the other. It's a shame, therefore, that UNESCO has taken this decision without further investigation."
He added: "In this wider context, the loss of World Heritage Status is a glancing blow, yet Liverpool remains steady in its pursuit of economic prosperity for the people who live and work here through the creation of jobs and opportunities to broaden our economic base.
"We have a high quality visitor economy which is unlikely to be significantly undermined by this misguided decision, and we must move forward with confidence to pursue projects which will further strengthen our economic future without diluting our illustrious past."
Heritage groups raised concerns about Everton's new stadium, which was approved by the city council's planning committee as well as the Government after being called in by Robert Jenrick, the Secretary of State for Housing, Communities and Local Government.
Among the benefits of building the stadium, and redeveloping the club's current Goodison Park stadium, are a £1.3bn boost to the local economy, the creation of 15,000 jobs, and the catalyst to attract up to 1.4 million visitors to the city, post-pandemic.
Chris Capes, director of development for Peel L&P's £5.5bn Liverpool Waters development, said: "Unesco's decision to remove Liverpool from its list of World Heritage Sites is very disappointing, particularly given the considerable investment that the city has put into protecting and improving its heritage sites in recent years.
"Without the World Heritage Site status, however, Liverpool's rich history remains and Pier Head, the 'Three Graces' and the city's many other fantastic historical assets will continue to attract visitors in their millions.
"Regeneration for this part of the city is vital and, like our partners across the city region, we are focused on delivering it – creating new homes, commercial space, amenities, public realm, leisure facilities and key infrastructure on previously disused brownfield land."
He added: "We will show the world that regeneration and the protection of Liverpool's heritage can happen together."
Adam Hall, from Liverpool architect Falconer Chester Hall, which has worked on Princes Dock's Lexington Tower on the waterfront and the huge conservation of nearby India Buildings, said: "Liverpool has a big, dynamic economy that has been successfully restructured in recent decades and I don't think this decision will derail the city's growth. I never saw any proof that Unesco's accreditation, welcome as it was, was a decisive factor in the city's booming tourism market, for example.
"What the city's growth has shown over the last 20 years is that Liverpool has walked a very careful middle course between conservation and regeneration based on good, modern architecture and a responsive planning regime.
"I have been of the view that this has worked very well and that the city is the better for it. It's a pity that Unesco think differently, but it's their ball and they can take it away if they wish.
"The city still has regeneration challenges and many historic sites and buildings lend themselves well to re-use. Others, perhaps not, but the need to grow the economy and provide work have to be taken into consideration. Liverpool will continue to grow and prosper."