New office space heads for 80% occupancy as workers crave normality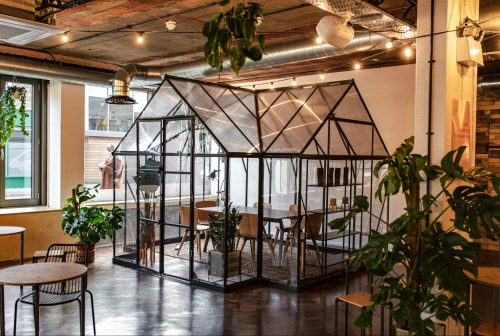 Hilton House, the Northern Quarter's newly-renovated workspace, is on track for a more than 80% take-up in space since the start of the pandemic, as office workers begin to return to normality.
The building, developed and managed by CERT Property, unveiled a fresh new look earlier this year, creating a thriving and collaborative environment for businesses.
With flexibility and community at its core, the building includes workspaces ranging from 1,200 sq ft to 5,705 sq ft, giving occupiers the opportunity to create a space that is tailored to their growth plans.
Staff mental health and self-care is also at the centre of the development which has been transformed to support the changing needs and desires of businesses post-pandemic.
Wellbeing coffee shop Feel Good Club is a thriving part of the Hilton House community. Set up during lockdown, Feel Good Club is set to host events such as wellbeing talks, yoga sessions and mental health workshops.
Now, CERT Property is looking forward to welcoming new businesses to the building, with an 84% occupancy rate expected by September.
The huge uptake in space comes as a survey conducted by the developer reveals the most popular reasons why North West workers cannot wait to get back to the office, with household chores, loneliness and childcare duties topping the list.
As 'Freedom Day' signaled the gradual return to offices across the country, the findings showed that, despite 77% of those surveyed enjoying working from home, only 12% would opt to work at home five days a week.
Topping the list of work from home distractions is housework (37%), with childcare juggling also causing a serious diversion – more than a fifth of men (21%) said juggling childcare duties was a major challenge, compared with 19% of women.
From an emotional point of view, being away from the workplace caused 29% of respondents to experience a lack of motivation, with 27% struggling with loneliness.
Howard Lord, founder of CERT Property, said: "The fact that we have reached such a high level of occupancy at Hilton House, during a time when the traditional working environment had been challenged, is testament to the success of our progressive approach.
"You can see from our survey that what is expected of workspaces has changed forever. The offices of old are gone. The office now needs to be a destination and employees are looking to return to nurturing and inspiring spaces that enable collaboration.
"At CERT we have always been passionate about creating environments that are not simply a place to live or work – instead, our vision is to build communities, bringing like-minded people and businesses together.
"We focus on the people aspect of places, if you bring people together to interact, whether virtually or physically a community will thrive, the people in it will thrive and they will help businesses thrive, too."
Home working scored higher in some areas, with a third of workers (31%) saying working from home was better for their mental health and half (49%) saying it had helped them achieve a work/life balance.
Now, with the country set to return to a version of pre-pandemic life, many workers are calling on their employers to step up their mental health support as people head back to their desks.
Nearly three quarters of survey respondents (69%) agreed that workplaces would need to adapt post-pandemic and it was not workplace facilities, but rather mental health support that was topping the chart of demands.
Howard added: "Feel Good Club offers workers a unique place to reflect and rejuvenate and is just one of the ways we're encouraging those in our communities to put their health and wellbeing first.
"While people clearly still want the benefit of having a dedicated place to focus on work, they also expect to be able to find a better work life balance with more flexibility than before."
Atul Bansal, co-founder at interior designer, Sheila Bird, which works alongside CERT Property, said: "Office spaces have been evolving for some time but, with the pandemic, it's provided us all with an opportunity to relook at where and how we work. We have an opportunity to be visionary.
"Standard offices are no longer enough for companies and their people – rather, they want a community and a space where creativity and collaboration collide. Whether it is breakout areas, communal spaces or simply allowing natural light in, it is vital that every space has a purpose and a pulse so that workforces can flourish in a post-pandemic world."