Construction firm breaks ground on £2m school sports facility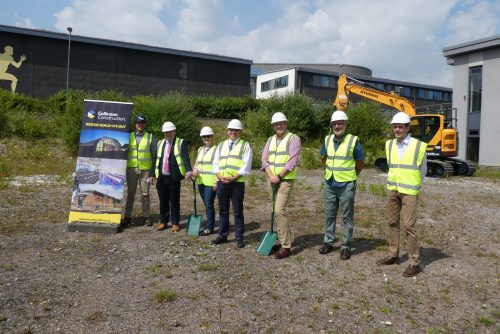 A Preston construction firm has broken ground on a new multimillion-pound sporting facility at a secondary school in Wiltshire.
Collinson Construction, based at Catterall, has commenced eight months of work on the project that will deliver a state-of-the-art sports hall and outdoor courts at St John's Marlborough.
The project is being delivered by Collinson Construction's traditional building division and will help St John's Marlborough cater for a growing student population.
Representatives of the firm were joined by the Mayor of Marlborough, Mark Cooper, along with St John's principal Ian Tucker, St John's chair of governors Caroline Thomas, and chair of the St John's Foundation Trust, Steve Tapper to mark the commencement of the initial groundwork.
The completed scheme will be used by students and staff, as well as the local community, and will result in a range of high-specification indoor and outdoor sports facilities, including a four court sports hall, two external multi use courts and landscaped areas for student recreation.
Robert Duxbury, managing director at Collinson Construction, said: "We're incredibly proud to be partnering with St John's and using our traditional building expertise to deliver this state-of-the-art sports facility for the school.
"We're pleased to have come on board and helped secure planning permission for the scheme, which had been denied twice prior to our involvement, and are looking forward to bringing it to life alongside our partners, Edmond Shipway and NVB Architects."
He added: "The new sports hall will not only help the school meet its vision of encouraging students to have ambition to be successful through opportunities in sport, but will benefit the local community, too."
Martin Cook, logistics director at St John's, said: "These new facilities will meet the requirement of an increased student population by providing additional teaching space, including an all-season covered sports area, changing rooms and an outdoor sports area that, being hard surface, can be used all year round.
"The welfare and wellbeing of our students will be significantly enhanced by providing purpose designed relaxation areas for socialising."
St John's principal, Ian Tucker, has been heavily involved in the design and planning of the project. He said: "These new facilities will provide exciting opportunities for our students, enabling them to fully participate in sport and other activities all year round, regardless of the weather.
"This is a high quality development which also improves the range of options that are available for use by the wider community in Marlborough. I am looking forward to being able to open these facilities next year, and to further improving the quality of education we offer our students, as well as the wider local community."
The development is due to be completed in March 2022.