£31m science scheme targeting new site after problems at original choice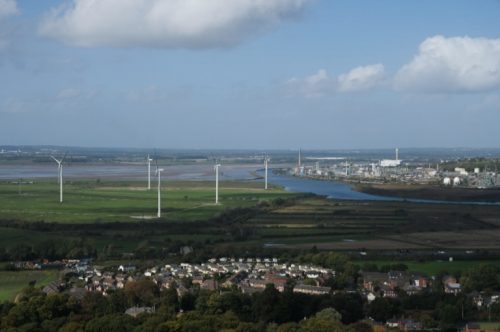 The UK Geoenergy Observatory project team is preparing a planning application to relocate the Cheshire Observatory to Thornton Science Park in Chester.
The team will submit the planning application in October. If approved, the £31m UK Geoenergy Observatories will be delivered in full by 2023.
The research facility will deliver unique research for the assessment of subsurface effects related to renewable energy storage and geothermal. It will complement the Glasgow Geoenergy Observatory.
Original planning permission was granted for the Cheshire Observatory to be sited at Ince Marshes, near Runcorn, in August 2019, and the facility design was updated in late 2020.
Ground investigation work revealed a complex subsurface which presented a range of difficulties:
The rest water level in the bedrock aquifer, artesian groundwater, was above surface level. This would lead to drilling difficulties and the need to seal wellheads to prevent water flowing out of the wells.
Soft ground to a greater depth than expected, which would make drilling more difficult and costly.
Much deeper bedrock than expected, which would also lead to a significant increase in drilling costs and reduce options for research using the facility.
Dr Mike Spence, science director at the British Geological Survey for the UK Geoenergy Observatories, said: "Relocating the observatory to Thornton Science Park will deliver a world class science and research facility for scientists and innovators working in subsurface energy storage, to meet the challenges associated with decarbonising our society.
"Thornton Science Park is located in an area of large sustainable energy projects and the observatory will be an ideal focal point for collaboration between university researchers and industry, including local companies that could directly benefit from storing heat underground."
Being on higher ground than Ince Marshes, the new site is not impacted by artesian groundwater and has shallow bedrock, evidenced by previous work in the area.
Dr Spence added: "The Cheshire Observatory will provide unique insight into the response of the subsurface to energy transfer and storage with real time, 3D-imaging of subsurface processes.
"The Cheshire Observatory infrastructure will support control of groundwater flow, heating and cooling of the subsurface and high resolution monitoring using advanced sensors and multilevel sampling installations. The Glasgow Observatory, which is equipped to investigate thermal storage in former mine workings, is already delivering these benefits for researchers and partners across the UK.
"The Cheshire Observatory will provide researchers with the at-scale test facilities that can be used to optimise the design and operation of subsurface energy storage systems. These systems are an important and growing component of the UK's heating and cooling demand."
The University of Chester has a campus on Thornton Science Park, and Prof Eunice Simmons, university vice-chancellor, said: "Thornton Science Park provides an excellent location for the Cheshire Observatory, not just in terms of the site's physical features, but also in terms of the university's regional and national networks.
"We are a national hub for clean growth expertise and innovation and home to multinationals and SMEs which complement the research that will take place at the observatory."
The site will comprise a network of 20 boreholes which will be drilled into the Sherwood sandstone aquifer to a depth of around 100m.
This is so the relationship between thermal perturbation and 3D groundwater flow regime, chemistry and microbiology can be investigated.
Boreholes will be equipped with advanced fibre optic and resistance tomography monitoring technologies so that the system temperature and physical properties can be monitored in real time.
The array will include boreholes that can be used to circulate heated and cooled fluids, so that the effect of thermal energy storage and extraction can be investigated.
A wide variety of open access data will be generated during the construction and operation of the site.
Ground investigation at the new site began in July this year. A public consultation will be launched in accordance with the local authority's policies, and if the planning application is approved, construction should begin in May 2022.