CitySuites unveils second Manchester luxury aparthotel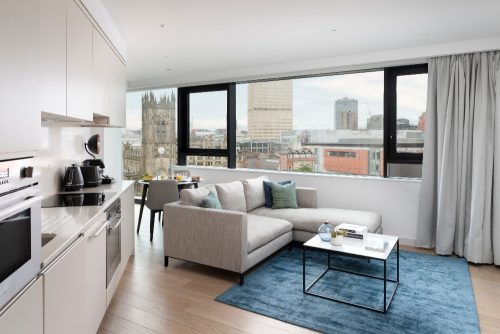 Luxury aparthotel CitySuites has unveiled its second site in Manchester city centre and it comes with skyline views, a state-of-the-art gym, 18-metre pool and spa pool and five penthouses.
CitySuites Two, which will open in October, will occupy a prime spot in Embankment West in the heart of Manchester's central business district offering stays for both leusire and business guests.
Adjacent to the original CitySuites, the purpose-built aparthotel on New Kings Head Yard includes 142 apartments, from studios up to three-bedroom apartments.
Each room comes with Mattison beds and bespoke built bathrooms in addition to a fully fitted kitchen with oven, hob and fridge freezer for all culinary needs.
Guests can enjoy a Sky Premium package, ultrafast broadband, Nespresso coffee maker, dishwasher, washing machine and GHD Air Hairdryer.
Also included are five ultra-luxurious penthouses, occupying the top three floors of the aparthotel.
The largest of the five suites will be a three-bedroom duplex penthouse that occupies 256sqm of the 16th and 17th floor, boasting a wrap-around balcony with views of Manchester's skyline.
Community spaces include The Lounge, a spacious open-plan area overlooking Embarkment West courtyard.
A meeting room will also be available to book out.
Guests are welcome to head to the original CitySuites to dine in its in-house brasserie restaurant and bar, Embankment Kitchen.
Gavin Bailey, operations director of CitySuites said: "CitySuites Two will be an evolvement of CitySuites as you know it in Manchester, everything we already are and more.
"The perfect combination of comfort and luxury remains at the core of our design and approach, but with additional facilities, community areas and services we are going a step further in being able to really tailor and personalise experiences for each and every one of our guests.
"The Super Suites will offer a hotel experience currently unparalleled in the city.
"Manchester is the fasting growing city in the UK and the level of hospitality needs to rise alongside this."