North West business briefs: Pilot Group; Mersey Regeneration; Cornerstone Place; Globus Group; Avoira
Data scientists at Manchester-based technology business Pilot Group have developed a tool to better identify road accident hotspots, helping authorities improve road safety for both drivers and pedestrians.
Pilot Group is using industry-leading algorithm-based data analysis to investigate trends in accident types in specific locations and categorise risk and advise on best-fit solutions to minimise risk. Through identifying key dark spots, Pilot Group's data can help authorities put in place measures through TWM Traffic Control System (TWM), the traffic control solutions branch of the group.
To reduce issues such as speeding and educate or alert drivers about potential hazards in an area, these measures can involve vehicle activated-signage, speed control signs and speed indication devices (SIDs). Additionally, these can be integrated with the TWM Central Management System for full asset management, monitoring the status of the signage and also automating processes such as reduced speed limits or flashing signs times.
These solutions can also integrate sensor technology to collect data including traffic counts or detail the number of speeding incidences which can provide vital support for initiatives such as School Streets Schemes or Active Neighbourhoods.
Chris Rayner, national sales manager for TWM, said: "We believe using data is vital when identifying where to install traffic safety measures. By understanding the trends and insights, we can make informed decisions with our customers that will have the biggest impact on casualty reduction.
"Intelligent transport systems do not only involve the technology within our signage, but also what we do with the data that these systems collect. Solutions based on accurate data is more likely to deliver safer roads around our schools."
::
Liverpool-based housing development company, Mersey Regeneration, has completed the handover of its new family homes development in Kirkdale to Onward Homes. The scheme contains seven three-bedroom family homes which have been financed by Homes England, and the first tenants of the new homes are due to move in next month.
The development company marked the handover with a ceremony joined by the Lord Mayor, Cllr Mary Rasmussen, Liverpool cabinet member for development and economy, Cllr Sarah Doyle, and cabinet member for health and social care, Cllr Frazer Lake.
Mersey Regeneration is an emerging Liverpool-based housebuilder who have delivered a series of small housing schemes in North Liverpool. The company has a number of further housing schemes in the pipeline which are due to start later this year and will soon be expanding its operations to Wirral and Halton.
Mersey Regeneration co-founder and managing director, Gerard Heffey, said: "We are delighted to be able to hand over our new social housing development to Onward Homes. We are committed to providing decent, quality properties and I know that these houses are going to serve the community as fantastic family homes.
"We have a number of projects in the pipeline and we're now looking forward to getting started on those. Our ethos is to work with local trades and suppliers – on this development we have reached 83% local spend which is money that will go back into the community. Another key decision is using Local Authority Building Control so LCC have been able to monitor and inspect the quality of work throughout the entire development."
::
Two entrepreneurs who joined forces to find a new way of addressing homelessness in the UK are turning a Victorian villa in Tameside into 13 self-contained apartments, thanks to a six-figure funding package from Unity Trust Bank.
Richard Kennedy and David Ball, co-founders of social enterprise Cornerstone Place, will oversee the £440,000 development in Audenshaw before handing it over to homeless charity Stepping Stone Projects to manage. Richard, whose background is in social enterprise and David, who worked in property development, set up Cornerstone Place in 2019 to source properties for charities, secure funding and develop them, and then share the net revenue so the charity can eventually buy the building outright.
Andy Ledger, relationship manager at Unity Trust Bank, said: "We only lend to organisations that help create a better society. Homelessness in the UK is expected to rise as we move out of the pandemic and we're delighted to support this project which will provide accommodation and support for vulnerable people in Greater Manchester.
Capital for the Audenshaw project was also provided by The Key Fund and Power to Change. When the property is renovated, SSP will work with Ashton Pioneer Homes and Tameside Council to provide tenant support services.
David Ball said: "A member of my family spent a lot of time on the streets so this has personal resonance for me, and Richard has the social sector running through his veins. Our business model is a way to empower, strengthen and increase the sustainability of homeless charities. Our ambition is to provide 1,000 rooms over the next five years."
::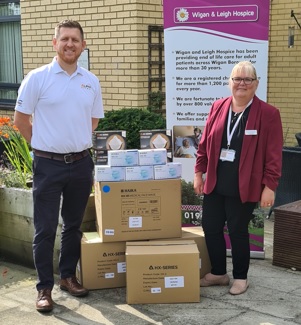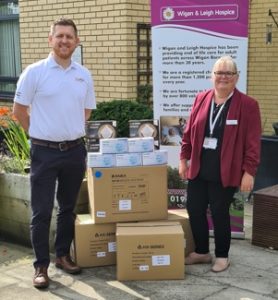 International PPE manufacturer Globus Group has made a donation of personal protective equipment to Wigan and Leigh Hospice to help protect patients and staff during the COVID-19 pandemic. Alpha Solway, part of Globus Group, has provided around 10,000 PPE products, totalling £3,000, from its Golborne-based factory. This includes including Type 2R face masks, FFP3 respirators and disposable gloves.
The donation is the latest community contribution by Alpha Solway which made the donation to the Hospice as part of its ongoing commitment to supporting its local communities.
Steven Binnie, managing director of Alpha Solway, said: "Wigan and Leigh Hospice plays an integral part within the community, caring for those with life-shortening conditions and their families. We're honoured to support them. The last year has really highlighted the critical importance of helping to protect those who are clinically vulnerable and as a business we're committed to playing our part by doing all we can to aid the recovery from the COVID-19 pandemic."
Based in Manchester, Globus Group launched the Golborne Alpha Solway factory in October last year as part of its strategy to manufacture 75% of PPE products in the UK. These plans were accelerated by the pandemic and have resulted in the creation of hundreds of jobs across the region.
Vicki McLoughlin, clinical director at Wigan & Leigh Hospice, said: "We are incredibly grateful to Globus Group for their generous donation of vital PPE. Our staff and volunteers are using these products every day as they care for patients both in the hospice building and in our local community."
::
A customer experience (CX) solution developed by Bury-based Avoira, in partnership with Capita, is to be deployed by HM Revenue & Customs (HMRC).
Following the signing of a new contract with HMRC, Capita is to implement its Assisted Customer Conversations (ACC) solution to provide it with sophisticated voice analytics and quality management services. ACC will enable HMRC to analyse more than 30 million calls per year, helping it to enhance understanding of why customers are contacting it and identify patterns of behaviour. HMRC will also be able to better assess the effectiveness and compliance of their internal processes and how well their colleagues are meeting customer needs and managing conversations.
Avoira spent 10 months working with Capita to integrate Xdroid within the consulting, transformation and digital services business's networking infrastructure and develop ACC. Xdroid transcribes every customer call and by analysing not only words but the way they are communicated, provides greater contextual accuracy.
Steve Watts, Avoira's CX practice director, said: "Xdroid is at the heart of Capita's Assisted Customer Conversations which is a truly transformative technology in the CX field. In partnership with Capita we have developed a solution which will deliver to HMRC powerful insights into the conversations they have with their customers. This will assist them in creating more convenient and personalised experiences to more swiftly identify service issues."
The contract with HMRC is for two years, with options for two further one-year extensions, and covers all HMRC, including homeworkers, such as the Salford and Liverpool HMRC offices.