People: Harrison Drury; Williams Group; Property Perspective; Arighi Bianchi; Baker & Baker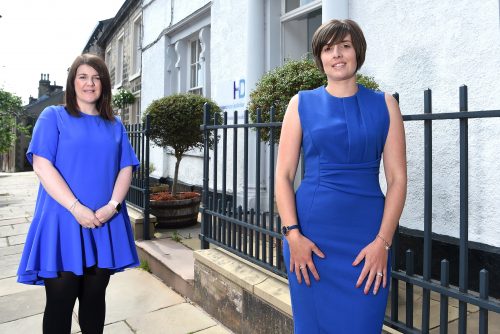 North West law firm Harrison Drury has appointed senior associate Lara Watts to its commercial property team.
With more than 10 years' experience working across the region, Lara joins the firm from Napthens in Blackburn and will be based at Harrison Drury's Clitheroe office.
Lara will advise clients on all aspects of commercial property work, covering commercial and residential property transactions and working with property developers. She specialises in freehold and leasehold acquisitions and disposals of commercial properties, as well as in real estate finance, acting on behalf of lenders, borrowers and investor clients.
She will also support Harrison Drury's corporate team, managing the commercial property aspects of its business sales and acquisitions work.
Nicola Beneduce, partner at Harrison Drury and head of the Clitheroe office, said: "Lara is an important addition to our senior team. She brings with her valuable experience in the commercial property sector, particularly in security and refinancing services and she has quickly settled into her role within our very busy commercial team.
"Lara also has local knowledge of the Rossendale area – her hometown, which alongside Blackburn where she previously worked, are two growth areas for our Clitheroe team. She will have a key role in developing our commercial property services across these areas of East Lancashire."
A graduate from Lancaster University with LLB Honours in Law, Lara then completed her Legal Practice Course at the College of Law in Chester. She qualified as a solicitor in 2011.
She said: "I was very much attracted to Harrison Drury due to the firm's outlook and philosophy. Not only its reputation for excellent client service, but for its investment in people and the opportunities I will have to develop my career. I very much look forward to the new challenges my role here will bring."
Harrison Drury has a six-strong team of commercial property lawyers at its Clitheroe office that deliver a wide range of commercial property services to businesses and individuals across the Ribble Valley and East Lancashire.
::
Williams Group has appointed Dale Bland as group head of aftersales, representing premium automotive brands BMW, MINI, Jaguar, Land Rover and BMW Motorrad.
Bland, who has more than 19 years' experience in the automotive industry, joins from Marshall Motor Group where he was a head for business for Mercedes. Prior to his role at Marshalls, Bland held senior positions with Inchcape as an aftersales and regional director and with the Thompson Motor Company as franchise director. Bland's role at Williams Group will see him leading the aftersales functions across Williams to ensure premium service levels are maintained and prepare the business for the changes in aftersales that electrification will bring.
Guy Adams, managing director of Williams Group, said: "We welcome Dale to the team and look forward to his contribution. He clearly understands our values and customer focus which have come into sharp relief during the pandemic. We continue to invest in offering the highest levels of service to our customers and Dale will be instrumental in leading the team that makes the Williams difference."
The luxury automotive retailer is chalking up 112 years as a family-owned business having started out on Deansgate in Manchester in 1909 as Williams Wheelwright Works and has evolved into one of the North West's leading providers of prestige automotive brands. The group now occupies its premium location adjacent to the Trafford Centre after its recent £42m investment in 2019 and also operates retail centres and service facilities in Bolton, Liverpool, Stockport, and Rochdale with more than 750 staff across the group.
The 14-acre Trafford City site, with spacious workshops and 72 bays for servicing vehicles, offers a step-change in automotive retailing for the region with its world class facilities. In a first for Williams, Jaguar and Land Rover are featured together under one roof and have SV (Special Vehicle) enhanced status – a specialism which means the team can offer the option for customers to personalise selected Jaguar and Land Rover models to their exacting requirements. The Williams Trafford City site features the largest BMW centre in the North West offering drive through facilities.
::
After a busy year driven by a buoyant property market and high demand for its services, Property Perspective has appointed its first sales director.
Karen Bury, who was previously head of sales, has now moved up to director level after leading the account management team through the pandemic.
Karen, who joined the company in 2016 as an account manager, has also held a team leader role for Property Perspective previously, so has worked in the business at all levels. Her new role will see her continue to push the account management team to hit exchange and completion deadlines for homes owned by customers of their housebuilder clients, as well as now getting involved in other aspects of the business including training, recruitment, home valuations and marketing.
She said: "The past year has been strange, but also refreshing in some ways as we've had to find new ways of working. To be promoted to sales director after the various challenges we had to work through during the pandemic means so much. I'm thoroughly looking forward to continuing to support our wonderful team, as well as taking on new challenges that will come with overseeing all parts of the business."
The property sales firm, which provides specialist services to the new homes sector – including managing agency assist and part exchange schemes – has also promoted Greg McLaughlin and Anthony Kelly to senior account managers and Zeenat Akhtar to trainee account manager.
Greg and Anthony have worked for Property Perspective for a number of years and were account managers prior to their promotions. Zeenat was previously an assistant account manager and credits working throughout the pandemic to instilling her with confidence for her new role.
Their promotions coincide with the team growing by 25% over the past 18 months and, despite the COVID-19 pandemic, the business enjoying a hugely positive period. The number of housing completions is up 14% and the firm has welcomed 12 new housebuilder clients, including Jones Homes Yorkshire, five new Redrow divisions around the country, Taylor Wimpey North West and Genesis Homes.
Managing director, John Jarvis, said: "I'm extremely proud of the team. Under Karen's leadership they have continued to hit exchange and completion deadlines and, most importantly, been a consistent support to vendors and buyers in what was quite an uncertain time. Karen's commitment, experience, attention to detail and strong communication were attributes that made her perfect for the role of sales director."
::
Furniture and interiors business Arighi Bianchi has announced Sarah Bianchi as its new managing director, as the Cheshire-based retailer embarks on an ambitious phase of growth to cement itself as a national brand, challenging online furniture store stalwarts such as John Lewis, Made.com and Next.
With a heritage that dates back to 1854, Arighi Bianchi – famed for its iconic Grade II-listed building in the heart of Macclesfield – is one of the longest running family-owned furniture businesses in the UK.
The company sells a range of contemporary furniture and accessories for the home, as well as carpets, flooring, blinds, curtains and fitted kitchens through its Kitchenality concession.
The appointment of Sarah Bianchi comes as the retailer looks to significantly increase is national e-commerce presence following a complete website overhaul and renewed e-commerce strategy.
The business has also welcomed a fifth-generation member of the Bianchi family to its team to help spearhead this growth, as Lucy Mather joins as head of communications.
While the business had already experienced year-on-year digital sales growth since launching online in 2015, the closure of its store – the first time in its 167-year history – brought its ecommerce site to the fore. With a fleet of 30 liveried vans and lorries, the business was prepared for increased internet orders and rising demand from customers nationwide during the pandemic. As a result, 2020/21 saw a record year for online orders and this is now a firm focus area for growth as it aims to take market share from leading interiors brands. Last year the business turned over £18m.
Managing director Sarah Bianchi said: "After a period of time in London working for City Corp and as private secretary to the Rt Hon Edward Heath MP, I joined the family business aged just 23 and have since been responsible for running the carpet division, setting up the gift shop, HR, buying and now I'm taking the reins as managing director.
"It's an extremely exciting time to be starting my new role, as we look forward to bolstering all areas of the business – from continuing to invest in our physical retail experience to expanding our online site and digital presence.
"It's undoubtedly been a challenging time for our Macclesfield store due to the lockdowns, in fact it was the first time ever that we had to close our doors for this length of time – we didn't even close during the war. But having already firmly established our online presence prior to the pandemic we have managed to continue to trade well and, in fact, we've had a record year online."
She added: "One of my priorities as managing director is to build our national brand. We've already made some great progress here attracting a younger audience and gaining coverage for our online products in national home interest media. As such an established business in the North West, we're extremely well known among the older generations – but we want to communicate the breadth of our offer and showcase the contemporary furniture and accessories we stock that appeal to fashion conscious buyers.
"We are very active on social media and are continuing to invest in our digital services. Most recently we launched an online sofa design visualisation tool and offer video design consultations, Live Chat and an exceptional e-commerce experience."
Sarah said: "I'm also proud that Lucy, my daughter, has joined us to support our digital progression. Lucy is helping us to utilise the latest digital techniques to reach our audiences nationwide, through the site, social and PR."
It was Sarah's great grandfather, Antonio Bianchi, who founded the business, alongside fellow Italian craftsman Antonio Arighi. Employing 150 people, the business is still owned and run by members of the Bianchi family.
::
Baker & Baker, a specialist bakery products manufacturer, has appointed Ryan Perera as international business development director as the company prepares to enter new geographies and expand its current footprint within international markets.
Formerly known as CSM Bakery Solutions, and based on the Wirral, Baker & Baker already has a strong European-wide footprint, with 12 manufacturing sites and a diverse retailer and food service customer base throughout the continent.
Ryan joins from Kerry Group, where he was responsible for driving the branded food service business across Middle East and Africa as the sales director of the business. While based in Dubai, Ryan will now work towards exploring growth opportunities for Baker and Baker throughout its international markets which includes Central and Easter EU markets, Russia/CIS, Middle East/ Africa and APAC markets.
Prior to working at Kerry Group, Ryan held commercial leadership roles at various organisations and contributed towards delivering commercial excellence for brands owned by Aujan/Coca Cola, KraftHeinz and Mars within the Middle East. Ryan also holds a Masters in Global Marketing from the University of Liverpool.
Baker & Baker has delivered consistent growth within its European business in recent years, and finalised the sale of its ingredients arm earlier in 2021. The business also has an exclusive licensing agreement with Mondelez, to manufacture a range of bakery products under the prominent Oreo, Cadbury and Milka brand names.
Elizabeth Langley-Jones, chief commercial officer at Baker & Baker, said: "We're extremely pleased to welcome Ryan to the team. Whilst our European markets continue to drive growth as we exit the most stringent COVID-19 restrictions, we now have the capabilities and product expertise to establish new customer relationships further afield. Ryan's experience operating in these markets will be invaluable."
Ryan Perera said: "There is a great opportunity for Baker & Baker to grow its presence across Middle East and Africa especially within the American Sweet Bakery segment. While we focus on entering new geographies within Middle East and Africa we will also drive more effort in expanding our footprint across Central/ Eastern Europe and Russia/CIS where we've already got a successful business.
"We have a clear point of differentiation in many markets with our licensing partners and the opportunity to create excitement within the category. I'm looking forward to this new challenge and working with customers as markets begin to recover from the pandemic."