Manchester's Indian ambitions sets target to 'more than double' trade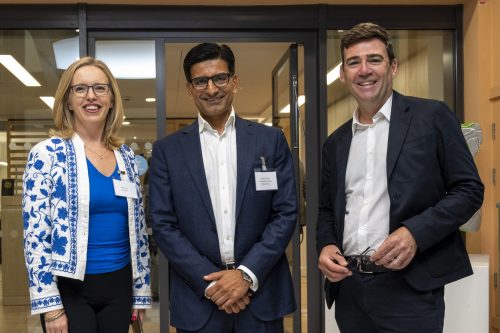 Manchester is planning a trade mission to India in early 2023 as a key part of its plans to more than double trade between the two places by the end of the decade.
Greater Manchester Mayor Andy Burnham told the Manchester-India Business Summit he wants to ensure cultural and community links are strengthened so there is a deeper relationship cultivated beyond commerce.
Burnham, who referenced Gandhi's trip to Manchester in the 1930s and some of the historic difficulties of the British relationship with India, called for "a modern relationship of equals" between the two countries.
"We have the national roadmap with the aim of doubling UK-India trade by 2030, and we think we can play a big part in that. We want to be more than doubling [Manchester-India] trade, we think we can play a big part and make sure that we hit those objectives."
Burnham led a 30-strong delegation to India in October 2019 which saw a number of memorandums of understanding being signed between universities, museums and media organisations.
He acknowledged the "pandemic has been an interruption" but is keen to put fresh momentum into the relationship.
"We will go soon as we can on another trade mission to India to strengthen this partnership," said Burnham, who was buoyant about TimeOut ranking Manchester as the world's third-best city.
"We are looking at March 2023 and we want people to start to think about planning for that, and how we make the most of that return visit. We will obviously want to be going with the support of the UK Government to further the ambitions of the roadmap."
Speaking on the eve of the England-India Test match being held in the city, Burnham spoke about the importance of creating "a partnership in every sense" between Manchester and India.
"In late 2019 we didn't just go with the straight up-and-down trade mission, it was much more sophisticated than that," he said.
"We understand it's about more than going over and asking for things. It's about people, so its also about culture and sport.
"That's the spirit we need to carry with this trade partnership. Trade comes from trust between people and a common understanding."
The business summit, hosted by Deloitte, also saw the first public engagements of the Manchester-India Partnership leadership team, which includes executive director Shehla Hasan, chair Simon Arora and deputy chair Jo Ahmed.
The Partnership was formed in 2018 and has full-time teams in Mumbai and Manchester to strengthen trade, investment, cultural, and educational ties.
Arora, who is chief executive of FTSE 100 retailer B&M, said: "Greater Manchester and the wider North has a very large Indian diaspora. It's important that we recognise the strong ties that already exist and we build upon the opportunities that that presents, both commercially and culturally.
"We are all aware India is a huge market for the Greater Manchester area. We are very serious about that, and the very existence of the Manchester India Partnership is testament to that.
"Many aspects of India's 2030 vision are very well aligned with our own focus on infrastructure renewal, improving health, and harnessing the digital revolution. It's clear to me that there's a real win-win opportunity here closer cooperation between Manchester and the UK and India, harnessing the respective strengths."