Property round-up: Individual Restaurants; Bespoke; Hurstwood Holdings; Urban Splash; Peel L&P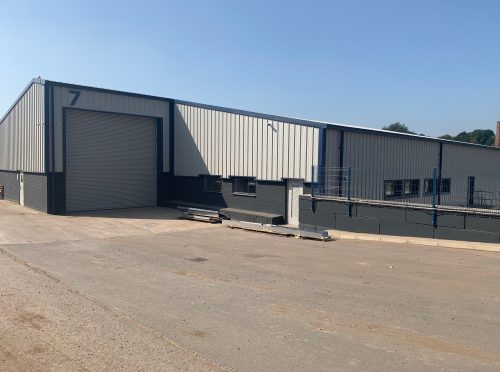 Individual Restaurants has agreed a lease for 18,620 sq ft at Units 7 and 8 at Coldwall Industrial Estate, which is owned by Hallmark Developments.
The restaurant group has secured the unit on a five-year and three months lease with a break option at a headline annual rent of £5.65 per sq ft.
The double unit had recently been comprehensively refurbished and modernised which included a new roof, cladding system and loading doors. As part of the deal, the landlord is also installing a ground floor office.
The industrial park is located less than one mile away from the Rochdale Town Centre and three miles from the M62 J20.
Richard Johnson, director of UK industrial & logistics, JLL, said: "We are happy to have secured Coldwall Industrial Estate on a flexible lease which provides Individual Restaurants with a cost-effective warehouse with access to the M62 corridor and Greater Manchester."
JLL represented the tenant, Individual Restaurants. Barton Kendall represented the landlord, Hallmark Developments.
::
Digital agency Bespoke has moved into new offices at Strawberry Fields Digital Hub, Chorley, citing team wellbeing as central to the decision to complete the relocation.
With the full team now returned to the offices based on a hybrid model, the agency has also been able to recommence its face-to-face digital strategy workshops, which had been running online since the start of the pandemic.
Bespoke CEO, Steve Brennan, said: "Back in February 2020, we were all cued up to move from our old head office in Bamber Bridge to the new offices in Strawberry Fields. But then COVID arrived.
"A few weeks before the official first lockdown was announced, we made the decision to hold the move and transfer the entire company into working from home. Like many people, we were actually pleased, and admittedly a little surprised, at how well that transition went. As early as April, we were proudly announcing our first significant project completed entirely over Zoom.
"As the months went on, though, feedback from the team about the realities of working from home went through something of a curve. At first there was a distinct sense of, 'why haven't we done this before?' But after a while, the general consensus was we were starting to miss some elements of the office. Over time, there was majority agreement, across the team and clients, that for collaborative working, the office provides that extra level of solidity and stability that helps underpin, and even enhance, creative processes."
He added: "After deciding to move back to the office on a hybrid model, we've ensured the new office is built to function in a post-COVID environment, with desk and working spaces compartmentalised and everyone having the right level of individual space."
Established more than 20 years and employing 15 staff in both Lancashire and London, Bespoke is a lead generation specialist agency. As well as designing and building websites, the agency also delivers strategy workshops to help inhouse marketing managers achieve the best results from digital strategies.
::
Manchester-based Hurstwood Holdings has continued its Scottish acquisition trail following the purchase of a 20,179 sq ft office building on Almondvale Business Park in Livingstone.
The company agreed to buy the property, Lauder House, for an undisclosed sum but with a net initial yield of circa 12.5%, prior to it going to Allsop's auction.
The two-storey building sits on a 2.7 acre site with more than 90 car parking spaces and is situated just off the M4 between Edinburgh and Glasgow. It is fully let to existing occupier, GE Capital until 2030.
Stephen Ashworth, chairman and CEO of Hurstwood Holdings, said: "Scotland has become a key focus area for growth in our portfolio and this is the sixth large commercial property that we now own in the region. Owing to our exceptional proven track record with Allsop's, we were able to agree a deal on the purchase of this property quickly, completing the purchase in only four weeks from exchange. The building has a fantastic covenant and is a great addition to our long term investment portfolio."
Hurstwood Holdings is a commercial and residential group with more than £200m of commercial investment assets on around 120 sites nationwide, housing almost 1,000 occupier clients.
::
Modern housebuilder House by Urban Splash has unveiled a new image showing what the latest phase of New Islington in Manchester will look like when it completes later this year.
This new area of the neighbourhood will be known as Stubbs Mews. Featuring 18 homes, all of which were swiftly created in the House by Urban Splash factory using Modern Methods of Construction (MMC), and the finishing touches applied on site, now they are nearing complete and ready to move into by autumn.
Manchster-based House by Urban Splash and sister business Urban Splash have now created hundreds of homes here, more than a third of them affordable. Toby Brown, from House by Urban Splash, said: "Hot on the heels of completing family homes at New Islington Marina, as well as our super sustainable Mansion House apartments, we are thrilled to continue our work in this vibrant waterside community.
"The new homes at Stubbs Mews are well designed with a range of layouts for customers to choose from. We have three- and four-bedroom options, which can be made into home offices, a snug, a nursey/play room – whatever you need there's ample space – often a rare proposition for people looking for a house in the centre of Manchester."
Stubbs Mews can be found at the North Eastern side of the New Islington neighbourhood which is flanked by the Ashton Canal. Each home features an elevated private terrace overlooking the water and options for secure under croft parking, while residents will also benefit from further green space around the community – including the Cotton Field Park.
Toby added: "New Islington is a bustling, vibrant and exciting neighbourhood which offers a viable option for people who need more space but want to stay in the city.
"These are actual houses, with parking, a private outdoor space, and a flavour of the suburban, but all set amongst the centre of the city. We can't wait to show people around this new space and welcome more residents to the area."
::
Following a public consultation and the establishment of a Community Liaison Group for Hulton Park, Peel L&P is making further changes to its proposals, prior to submitting a revised planning application to Bolton Council.
These changes, which are based on local feedback, include:
Delivery of a new village hall for the Over Hulton community
Provision of allotments for the local community
Further access into the historic parkland for the local community, with additional routes for cyclists and walkers
Creation of a young people's strategy to maximise the opportunities of the project for current and future young people in the area
In response to feedback regarding previous consultations, the Community Liaison Group has been set up to improve channels of communication between Peel L&P and local representatives and will help local people to access information, ask questions and share their views on the revised Hulton Park scheme.
Two Community Liaison Group meetings have now taken place, bringing together a range of community groups, as well as elected members. The Community Liaison Group will meet on a regular basis as the project progresses, providing local representatives with a clear means of communication on the proposals and the opportunity to directly raise issues and concerns.
Peel L&P is also now considering the feedback received from the local community during a public consultation undertaken in June 2021.
The refreshed plans were designed to respond positively to views expressed during earlier consultations and the public inquiry held in 2019, in particular comments on housing and Green Belt, transport infrastructure, demand for access to nature and leisure spaces and the increased emphasis on community wellbeing.
New aspects of the scheme include a health and wellbeing hub and Chequerbent Barns, a flexible food and drink venue for the community capable of hosting events such as markets and food festivals.
Around 600 submissions of feedback were received during the public consultation from local residents, the wider community and business groups across Bolton, reflecting the significant levels of interest in the scheme locally.
Karen Edwards, charity chief executive at Bolton Lads & Girls Club, said: "We look forward to continuing the Community Liaison Group meetings as the plans for Hulton Park develop. As a youth club and registered charity based in Bolton, we are proud to represent young people across the borough and we will work to make sure that the development incorporates facilities that support young people's mental and physical wellbeing."
Richard Knight, director of land and communities at Peel L&P, said: "We want to thank everyone that has taken the time to participate in the public consultation on our refreshed vision for Hulton Park.
"The feedback has provided a range of interesting views and ideas that we have been carefully considering before submitting a planning application to Bolton Council. The council will undertake its own formal consultation on the plans once we have submitted them, to provide residents with a further opportunity to share their views.
"We are also pleased that a number of local organisations and community representatives are engaging with the project through the Community Liaison Group. This has already provided some invaluable insights that we are now reflecting through further changes to the proposals. We are committed to working with local people to make the proposals as inclusive, accessible and sustainable as we can, and we hope that this forum will provide for genuine and open dialogue moving forward."