Optimism rising for region's hospitality and leisure sector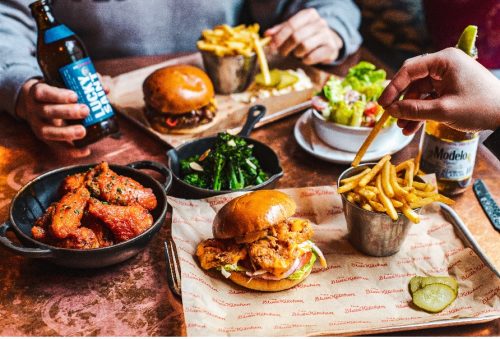 The North West's hospitality and leisure industry is bouncing back with some of the region's leaders feeling optimistic of its recovery and employment opportunities.
Sacha Lord and Thom Hetherington have both been encouraged by rumours from Westminster safeguarding hospitality pay and benefits, while championing the government's soon-to-end Kickstart scheme as a means of identifying and securing much-needed new talent for the sector.
They believe with the right wage and employment terms, there is huge opportunities for fresh new talent into the sector.
Sacha Lord, Greater Manchester's Night Time Economy Advisor, has just overseen the successful return of Manchester's Parklife Festival and Warehouse Project over consecutive weekends, and has frequently called for better payment terms for hospitality staff.
Sacha said: "The return of large-scale public events across the city is long overdue and has been fantastic for the local community, businesses and the local economy.
"We're all hoping for an uninterrupted festive period, providing much-needed revenue for all the city's struggling operators.
"Hospitality is a fantastic career path for young people, with great opportunities for progression and pay for anyone willing to apply themselves. Service staff deserve every single penny they earn, which is why I'm delighted to hear the government will be banning restaurants from keeping tips in future.
"This feels like a pivotal moment for the local hospitality sector – with a winter period of huge opportunity ahead of us, and some attractive remuneration on offer to new starters. I'll keep on pushing the government to do the right thing by Manchester's hospitality operators and staff."
Thom Hetherington, CEO of Holden Media and founder of Northern Restaurant and Bar (NRB), believes the national Kickstart scheme shows a step in the right direction from the government.
Thom said: "With such a crucial festive period ahead of us this year, the opportunity to access fresh new talent at no cost is compelling, to help increase capacity within existing teams. Now is the time to get people onboarded and upskilled before the winter rush begins in earnest.
"With time running out to enrol new Kickstart candidates, I'd urge all operators to access this new pool of free talent before it's too late. I hope the government will consider extending this valuable scheme to help operators bolster their teams, helping them plan more effectively for the future."
The optimism in the sector is echoed by a new report by Barclays Corporate Banking which revealed the sector, which has been hit the hardest by the pandemic, could contribute £465m more to the local economy this year than in 2019.
Data shows that the vast majority of hospitality and leisure businesses (91%) in the region are confident about their growth prospects for this year following a post-lockdown surge in trade.
Based on projected sales figures for the period from April to December 2021, when the hospitality sector has largely been open again, this equates to £3.5bn more in national Gross Value Added (GVA) than in the equivalent period in 2019.
The research reveals new patterns in the way people are accessing hospitality and leisure services and changing consumer habits.
For example, although restrictions on foreign travel have eased substantially in the past couple of weeks, staycation tourism could be here to say with nearly half (45%) of consumers in the North West prioritising UK holidays over those abroad.
The most popular destinations are the Lake District, the South West of England and the Scottish Highlands.
On average, consumers in the North West are prepared to pay 18.7% extra for healthier food and drink options, and 17.6% for holiday accommodation that includes health and wellbeing services such as a gym or spa.
Mike Saul, Head of Hospitality and Leisure at Barclays Corporate Banking, said: "After a very difficult period for the hospitality sector, it is great to see how well the sector has bounced back. Our findings show an industry brimming with confidence and buoyed by surging revenues.
"However, it is also an industry that is undergoing a substantial amount of change – from the customers it serves to the products it sells.
"We have uncovered strong evidence that, particularly for younger customers, operators will need to place increased focus on healthy, sustainable and safe product ranges and to maintain investment in data and technology."
He added: "Whilst the industry is navigating some short-term challenges around supply chains and labour shortages, operators that prioritise these areas will be an incredibly strong position for the long-term."