NW briefs: Cheshire Business Group; The Women's Organisation; Marketing Manchester; Ecogee; Manchester Marathon

X

Register for free to receive latest news stories direct to your inbox
Register
Representatives of the Cheshire Business Group have visited Paul Scully, Under-Secretary of State for Small Business, Consumers and Labour Markets, to discuss priorities for Cheshire and Warrington businesses as the economy recovers from COVID.
The meeting covered Cheshire and Warrington's unique challenges and the considerable potential of the county as a place to live, work and invest, including Cheshire and Warrington LEP's Recovery Plan, opportunities in a growing economy and business support. The delegation comprised Chris Manka (FSB North West regional chair), Phil McCabe (FSB development manager, Merseyside and Cheshire), Richard Huxley (IOD Cheshire chair) and Andy Devaney (director of Business Innovation, Cheshire and Warrington LEP). The CBG also includes the CBI, Chambers of Commerce, the NFU, Groundwork and the Business Improvement Districts, which provided input ahead of the meeting.
Paul Scully said: "Cheshire and Warrington has an amazing variety of businesses and has showed its resilience throughout the pandemic – now we need to work together, not just to recover but to build back better. I'm really looking forward to working with the business community in Cheshire and Warrington to make that happen."
Chris Manka said: "It is great to see the Government – in this case the Small Business Minister – engaging with the business community in Cheshire and Warrington. It's so important that ministers understand the real issues on the ground affecting small businesses across the county. We were able to cover a lot of issues and I'm encouraged that this is only the start of an ongoing dialogue with government on the challenges and fantastic opportunities in Chesdhire and Warrington."
Andy Devaney said: "This meeting has been a great opportunity for the LEP and FSB to highlight to Minister Scully, just how small businesses across our sub-region have been impacted over the last year and what challenges they are still facing.
"We were also able to showcase how our businesses are now building back their businesses and how this has informed our Recovery Strategy, which we have worked with colleagues from FSB and the Cheshire Business Group to create. We also showcased some of the exciting future opportunities in our sub-region that will be instrumental for ongoing growth, including clean energy and our world class life sciences sector."
::
Maggie O'Carroll, chief executive of Liverpool and Manchester social enterprise, The Women's Organisation, has warned that the forthcoming Universal Credit cut will be devastating for thousands of women across the North West.
The Women's Organisation is the UK's largest female enterprise agency providing a range of services focused on supporting women to start and develop small and medium-sized enterprises. Ms O'Carroll said: "The number of people accessing Universal Credit has almost doubled nationally throughout the pandemic. The £20 weekly uplift now provides a vital lifeline for around 5.9 million people across the UK. Following the announcements about national insurance increases, as well as soaring food and energy bills, this comes as another devastating blow. It could force many mothers into making crippling decisions between keeping warm and putting food on the table this winter. That is the reality.
"Our research indicates women in the Liverpool City Region will be hardest hit by the cuts. During the pandemic women accessing Universal Credit outnumbered men by eight to one. Women have also been most affected by high rates of redundancies across the region and forced into low paid and often unstable employment. In-work poverty in the region is now at a record high and 38,000 employed women now access Universal Credit across Liverpool City Region, compared to 25,000 employed men.
"And while 1,200 fewer unemployed men have accessed Universal Credit since last summer across the Liverpool City Region, the number of women accessing the same support has grown by 4,000. This roughly equates to 300 more unemployed women every month. The figures are startling and are only set to rise as more women move out of employment as the furlough scheme closes."
Statistics for the Liverpool City Region showed that 10,000 more people accessed Universal Credit during the pandemic – equating to more than 800 more people every month. Nearly 38,000 employed women across Liverpool City Region now claim Universal Credit compared with 25,000 employed men. While 1,200 fewer unemployed men accessed Universal Credit since last summer, 4,000 more unemployed women have. Female claims to Universal Credit increased by 10%, whereas male claims to Universal credit only increased by two per cent. In the North West, while 8,000 fewer unemployed men accessed Universal Credit since last summer, 14,000 more unemployed women have.
::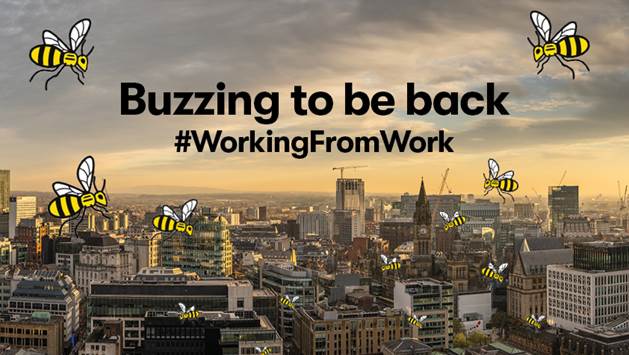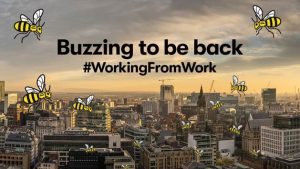 A new campaign that promotes the safe return of workers to Manchester city centre has been launched, aiming to build confidence and trust, to promote the benefits of being in the urban centre, and to support employers as they transition their workforce back to offices and shared workspaces.
Titled 'Buzzing to be back', the campaign is led by Marketing Manchester – the organisation that promotes Greater Manchester to a global audience as a place to visit, meet, invest and study – and has been developed with support of strategic partners from the Greater Manchester Tourism Industry Emergency Response (TIER) group and in alignment with the messaging of the Safely Reopening GM campaign.
The paid digital campaign launches this week and will target Greater Manchester residents with ads across Facebook, LinkedIn, YouTube and Twitter that direct people to workinmanchester.com where they will find dedicated resources to help with their transition, including travel and wellbeing advice as well as information about what's on in the city centre that they could tag onto their working day.
The campaign creative, developed by What Media, follows the working day of three unrelated characters, overlaid with distinct 'living' animations of Mancunian characters, landmarks, statues, street art and artwork, including illustrations by Manchester artist Stanley Chow, that workers will be familiar with and may have missed.
Sheona Southern, managing director at Marketing Manchester, said: "Office, retail, creative and hospitality workers are the lifeblood of Manchester city centre and cities around the world. During their working week they support our shops, our cafes and restaurants, our pubs and bars, and our galleries, museums, theatre and nightlife. They bring energy and vibrancy to our streets and squares and have a crucial role to play in helping the city's economy recover after the pandemic. We hope this campaign inspires and motivates workers to both feel safe in their city and to be reminded of everything they love when working in it, as well as supporting city centre businesses from all sectors to help employees transition back to the workplace where they are returning."
::
Liverpool property specialists Ecogee has reported a record year for staff growth, doubling its team from 28 to 61 in the past 18 months alone, and doubling turnover to £10m during a record year.
Despite the pandemic and the restrictions it brought to the construction industry, the firm, which has its head office in Fazakerley, has continued to invest into its workforce spanning all departments to meet growing business demand. Ecogee is continuing to employ people across all areas of the business, including a number of trainees in roles such as quantity surveying.
Managing director Brendan Helm is passionate about providing jobs for the local community with 100% of Ecogee's current permanent staff based in Merseyside. He said: "Ecogee celebrates its 10th business anniversary next year and we have ambitious expectations and targets for company expansion in line with that. I established Ecogee back in 2012 and now we have a growing client list that includes the likes of Prima Housing, Crossfield Construction, Scottish Power and One Vision Housing to name a few. Year on year our volume of work is increasing and so we need to continue to invest in skilled, professional and dedicated individuals to take the company forward."
He added: "We specialise in a number of areas, namely social housing, external wall work such as brick slips and rendering, new build construction and ECO grants and so we require a workforce with a broad skillset to work on-site and in our office location, too. We've been able to recruit across a number of roles in the last year and we've seen the biggest increase in staffing in that time than we have since the firm's inception. We're now working across the UK and in addition to our contracted staff we also utilise a further 50 sub-contracted individuals to support our growing workload."
In the past 12 months Ecogee has been involved in a number of projects based across the Merseyside region including outer wall work on residential apartment blocks Baltic View in Liverpool city centre and Oxford House in Bootle. The team is also working on new build projects in locations including Kirkby and Ormskirk.
::
Therme Manchester Marathon, the fourth largest event of its kind in Europe, returns to Manchester on Sunday, October 10, with a new route and a diverse range of volunteering opportunities available, particularly for businesses across the region, organisers said.
Growing from 20,000 competitors in 2019, Manchester's biggest ever marathon will welcome 32,000 runners of all abilities to the city next month, to test themselves against an improved 26.2-mile course which incorporates Manchester's iconic city centre for the very first time. The increased scale and ambition of 2021's event means even more opportunities for local groups and businesses to get involved, support a major physical and mental wellbeing initiative in the city, as well as gaining valuable experience, enjoyment and recognition from volunteering.
Following a flurry of volunteer registrations from businesses and community groups across the city, Booths Supermarket has this week signed as official 'Volunteer Partner' to the event. Booths will supply packed lunches to all event stewards on the day and is offering £500 in vouchers to one lucky organisation registering volunteers – to be used as part of charitable and CSR initiatives.
Among the rewarding opportunities on offer this year, volunteers can play an essential role in directing runners along the route, handing out medals, and ensuring runners stay hydrated at water stations. No prior stewarding experience is necessary, anyone over the age of 16 can register themselves, and 11-16-year-olds are welcome to take part if accompanied by a supervising adult.
Earlier this month Therme Group – the team behind Manchester's first city-based wellbeing resort – signed up as title sponsors for the event, citing a shared commitment with marathon organisers Human Race to promote healthy, active lifestyles across the city. Nick Rusling, CEO of Human Race, said: "Manchester is already one of the flattest and fastest marathons, but we also want it to be known as the friendliest and most fun. Our fantastic volunteers play a huge role in making the event so unique and warmly welcoming the world to Manchester."