Burnham gets on his bike to make case for levelling-up deal to Conservative Party conference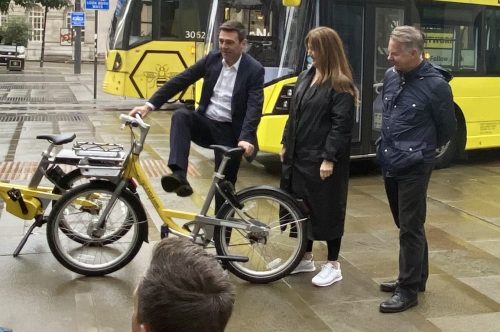 It was at the 1981 Conservative Party conference when Norman Tebbit famously urged people to "get on your bike" to look for work.
Now Labour Mayor Andy Burnham is using the platform of this year's conference to get Government support for a levelling-up deal that would enable people to get on a bus, tram, or both, to affordably access the training and work opportunities right across Greater Manchester.
"We're making this big, positive offer to the government this week. Work with us, let's level up Greater Manchester together," said Burnham. "And in doing that you can then create a template that can be taken to other parts of the country."
Burnham, who was re-elected in May, has made public transport the cornerstone of his plans for his second term. Buses are being brought back under public control which enables them to be integrated with the tram network and, crucially, create a "London-style system" where there can be daily price caps for using public transport.
"That will absolutely open up jobs and opportunities to our residents, and – this is the key bit – it defines levelling up in a very real way," he said.
"Why shouldn't everybody have London-level fares when it comes to public transport? Why should public transport be much more expensive in some of the poorest parts of the country? I don't think that that is at all right, this is how we make levelling up real for people.
"That's the message that I'm giving to the Prime Minister this week. We can help you define levelling up in a way that's meaningful, and we can help you deliver levelling-up. We have a plan in place.
"If we get the right backing from the government, in terms of powers and funding, we can have this integrated system over bus and tram in place by May 2024. This isn't some far off dream people have to wait years and years to see. This can happen, and it can happen in the next few years as long as we work together."
The Conservative Party conference gets underway in Manchester city centre on Sunday and Burnham took his message to the edge of the ring of steel around the conference site on Saturday morning to set out his request of Government, flanked by the Conservative leader of Bolton Council Martyn Cox and chair of the Greater Manchester LEP Lou Cordwell.
"There will be plenty of opportunity to talk about these things," said Burnham. "It's not about us just shouting from the outside, I mean I will be going into the conference to have those discussions with ministers – I don't know what the response will be, but I think this is the right approach to take as they come here for their conference."
Burnham has meetings scheduled with Transport Secretary Grant Shapps and Michael Gove, who became the minister for levelling-up in last month's reshuffle, among his discussions with Government this week.
He added: "I can't see how it's not in their interest to back us. If I deliver, they will get some of the credit as well – we'll all hopefully get some credit from the public. If I don't, they can call me out, so I think they are covered both ways. I honestly can't see why it wouldn't make sense to do this."