Cyber security experts link up in new collaboration at MediaCity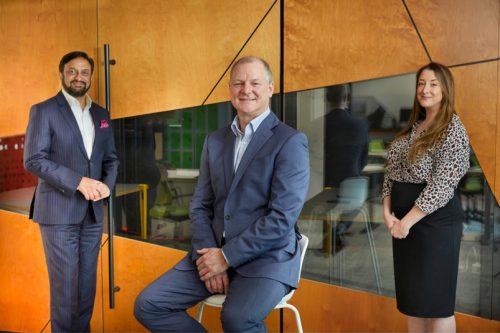 International digital transformation services consultancy, UBDS, is expanding its North West operations.
It is partnering with innovation hub HOST, the Home of Skills & Technology, to support businesses with their digital infrastructure through its new Infrastructure Operations Centre (IOC) at MediaCity.
The IOC is situated alongside HOST Cyber, which houses its own Security Operations Centre (SOC).
Together, the collaboration of the HOST and UBDS operations centres will offer organisations of all sizes across the UK a fully managed, secure and scalable 24-hour security, cloud and network service.
Both the SOC and IOC have invested in the people, processes and technology they use to protect the data they manage and are both ISO27001 certified, which is the international standard for information security.
There is an increasing demand for HOST's cyber solutions as the UK Government's Cyber Security Breaches Survey found that nearly four in 10 businesses (39%) have reported a cyber attack in the past 12 months, incurring a material cost and potential reputational impact.
UBDS is opening its third office at HOST in Salford and has exciting plans to invest in its capability in the North West, including establishing a digital academy for apprentices and graduates.
UBDS continues to grow and deliver digital transformations covering cloud infrastructure, networks, applications, the digital workplace and data analytics for customers, including the Department for Work and Pensions, Lloyds Banking Group, Tilney Smith & Williamson, the Greater Manchester Combined Authority and Salford City Council.
It will be joining 250 of the fastest-growing digital technology and creative businesses in MediaCity and will have direct access to highly skilled and diverse talent from HOST's Skills City.
It will also support members across HOST's growth programmes with expert IT and technical advice to help them in launching and scaling their businesses.
HOST Cyber works with industry partners, including, Greater Manchester's cyber and AI foundries and North West universities, enabling cyber innovations across sectors such as medtech, fintech and smart cities.
Craig Warmington, UBDS chief delivery officer, said: "We are thrilled to be based in the North West at MediaCity, Salford. We have fantastic clients in the region, achieving some amazing results together and delivering on our purpose of empowering clients to realise significant, measurable and sustainable digital transformation gains.
"Additionally, the GM One Network Platform will be the world's largest metropolitan area digital network once built, and UBDS are deploying one of the largest software defined WAN (Wide Area Network) rollout across Europe for the Department for Work and Pensions.
"We look forward to creating relationships with our HOST neighbours and local universities, as we collaborate, innovate and transform together, by exploiting advanced cloud technologies."
Mo Isap, CEO of IN4 Group, operator of HOST, said: "We are proud to collaborate with UBDS to create this unique offering, a pioneering Security Operations Centre coupled with an Infrastructure Operations Centre, that will contribute to the acceleration of digital transformation across the North West and beyond.
"This unique infrastructure will also allow us to nurture new innovation, support entrepreneurs to scale and validate their technology and plug the skills gap by training local and diverse talent within a live commercial environment, creating the most capable and industry-ready talent pipeline anywhere in the country."