Specialist lender on course to double support levels to £2bn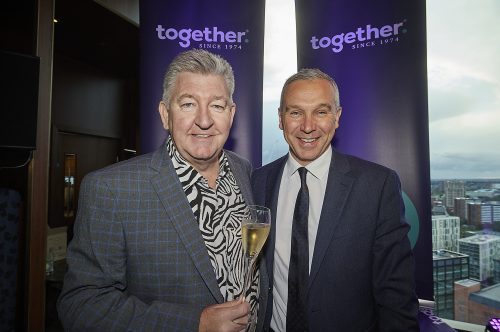 Together, the Cheadle-based specialist lender, is on course to double lending this year to £2bn.
Corporate managing director, Chris Baguley, told guests at a corporate event organised by Together this week that the group had written £1bn in loans in the last financial year – and, based on the run rate in the three months to the end of July, is on track to double that amount in 2022.
He was speaking to an audience of more than 200 of Together's corporate customers at 20 Stories in Spinningfields, Manchester. The event featured a question and answer session with guest speaker, Manchester United and Everton legend Norman Whiteside.
Mr Baguley said: "We had originations of circa £1bn in the last 12 months and based on our lending in the three months to the end of July we are on track to double this during 2022."
He said that the coronavirus pandemic had focused the group on its long term ambition to use its lending to create a positive impact for communities across the UK: "We've always supported charity initiatives within the business and offered young people, who may not necessarily be academically gifted, a springboard into their careers, and we've watched them grow and thrive.
"But the last 18 months have also given us the opportunity to take a step back and look at our vision for the next three to five years in terms of how we build on our values and think about Together's impact on the wider community."
Following the event on Tuesday, Mr Baguley said: "This was a fantastic way of bringing together some of the North West and the UK's leading property experts and we were delighted to hear from Stephen Ashworth, the chairman and CEO of property group Hurstwood Holdings, and his kind words about our business. It was also great to listen to anecdotes from Norman Whiteside's footballing career."
The midfielder and striker played 300 games for United and Everton, and still holds the record as the youngest footballer ever to play in a World Cup.