First modular homes delivered to Wirral Waters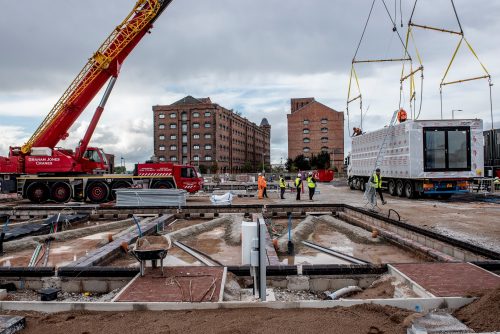 The first houses have arrived at Wirral Waters this week, as House by Urban Splash delivers its factory-built homes to East Float – a new quarter within the Northbank neighbourhood, in partnership with Peel L&P.
Among them are the first ever Row House homes, a new product coming first to Merseyside. A homegrown product designed by Liverpool-based architects shedkm, the brightly coloured Row House will feature a distinct red cladding and is a tribute to the Victorian mews.
The homes are available in three sizes, a two-bedroom, two-storey home, a three-bedroom, two-and-a-half storey home, with the luxury of a roof terrace, and the largest, a four-bedroom, three-storey home.
Residents will also benefit from private terraces as well as spacious communal gardens for their use.
The first Row House homes have been precision manufactured using Modern Methods of Construction (MMC) at the House by Urban Splash factory in the East Midlands, before being delivered to the Wirral by road.
The company's senior sales manager, Toby Brown, said: "We're absolutely delighted to deliver our first brilliantly designed, precision manufactured homes to this new neighbourhood – including our first ever Row House homes.
"It's a product that's been created following our 30 years of experience of developing award-winning homes and workspaces – something we started doing in Liverpool in the early 1990s. We've since evolved our MMC portfolio with hundreds of homes now sold across the country – we look forward to now showing them to customers in Merseyside."
Other homes delivered this week include three-storey Town House homes which are also now on sale and offer open plan options, up to five bedrooms and home offices. There is a garden living option – a traditional layout with living spaces downstairs – or loft living, with bedrooms on the ground floor and open plan living areas upstairs.
Each of them boasts unrivalled views over the water, thanks to the neighbourhood's location facing East Float Dock, a stone's throw from the River Mersey.
Future residents, who are set to move in from early spring next year, will also benefit from a new park next to East Float, as well as all the new amenities planned for Wirral Waters.
This revolutionary regeneration project is transforming the old Wirral docks into one of the North West's best places to live. Liverpool is on the doorstep on one side, with the parks, beaches and greenery of the Wirral on the other. East Float boasts urban living, community, suburban calm and glorious countryside.
Richard Mawdsley, director of development for Peel L&P's Wirral Waters, said: "The arrival of these first homes at East Float is yet another significant example of progress at Wirral Waters.
"Together with the other developments along Northbank, we are creating a new mixed, sustainable neighbourhood – a community for all. These innovative homes will sit alongside new public realm, including pocket parks and dockside walkways, helping to support healthier communities with a focus on fresh air and active travel."
House by Urban Splash and Peel L&P are creating a total 350 homes using modern methods of construction. Prices start from £210,000 for a two-storey Row House home, while the Town House homes are priced from £345,000.