People: Aticus Law; Beever and Struthers; Express Solicitors; Total Processing; University of Chester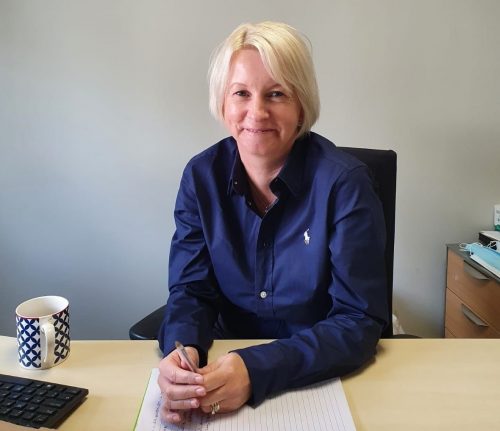 North West law firm Aticus Law has boosted its private client services offering in the region with the appointment of Victoria Richardson as its new head of family law.
With offices in Wilmslow, Manchester and Oldham, Victoria brings more than 23 years' experience to the role, having progressed through the ranks of multiple nationally accredited law firms.
A specialist in all aspects of family law, including complex financial settlement agreements, divorce and dissolution of civil partnerships and divorce proceedings, she is particularly known for resolving matters in an amicable and timely manner.
A true advocate of No-Fault Divorce she is also an accredited member of Resolution, which champions the constructive resolution of family disputes, with extensive knowledge of co-habitation issues, children disputes and grandparents rights.
She joins from McHale & Co where she joined as a family law partner.
Victoria said: "I am delighted to be joining the Aticus team following what has been an extremely busy period for the firm.
"While the last year or so has been extremely challenging for many businesses, Aticus has a truly impressive, forward thinking approach to delivering its services online so that people can continue to access the support they need when they need it.
"That, coupled with the family law team's fantastic reputation for providing expert advice that brings about the very best outcomes for its clients – many of whom are experiencing a very difficult time in their lives – makes this an ideal fit for my values and approach to law."
Aticus co-founder and partner, Edward Judge, said: "We could not be more pleased to welcome Victoria to the team.
"Not only does she have a wealth of experience and expertise that will truly enhance the existing family law offering here at Aticus, but she is also extremely motivated and passionate about helping people through the difficulties posed by the breakdown of a relationship.
"She has a truly unrivalled reputation for managing highly emotive situations whilst obtaining practical and realistic outcomes.
"Her arrival at the firm truly complements our wider private client offering including conveyancing, dispute resolution and employment law and we are delighted to have her onboard."
Joining the firm with immediate effect, Victoria is qualified to act for clients both in the UK and abroad.
::
Michael Tourville has been promoted to partner at Manchester-based accountants and business advisors Beever and Struthers within the firm's social housing and not-for-profit sector team.
Michael joined Beever and Struthers as an audit trainee in 2008 and was appointed as an audit director in 2018.
Based in Beever and Struthers' London office, Michael provides a range of assurance services including external audit, internal audit, and consulting. Michael is also a specialist in service charges and leads the firm's service charges certification and advisory work across the UK.
Michael said: "I'm delighted to be a part of a dynamic firm. I'm proud to work with such a dedicated and professional team able to deliver such outstanding client service resulting in a huge range of new opportunities for the firm."
Maria Hallows, head of social housing and executive partner at Beever and Struthers, said: "We are thrilled that Michael is a partner with the firm and is testament to the hard work put in by him and our team. We continue to be very proud of our reputation and standing within the social housing sector and promoting Michael to partner reflects our continuing investment in the sector built on delivering a first class service to our clients."
Fellow executive partner, Caroline Monk, said: "We continue to invest in the future of our firm, and Michael has been instrumental in helping us deliver consistent performance across our locations."
Formed more than 100 years ago, Beever and Struthers has a strong not-for-profit reputation based on the provision of high quality, tailored services to the UK social housing sector. The firm is one of the UK's leading independent accountancy practices with offices in Manchester, London, Birmingham, and Blackburn.
Among its core strengths is a substantial not-for-profit division that ranks among the Top Three providers of audit and assurance services with many of the leading UK private registered providers amongst its clients. The not-for-profit division has seen year-on-year growth of more than 25% in each of the past two years, with a similar level of growth predicted in 2022.
Alongside this growth the risk, audit and assurance team has doubled in size.
::
Clinical negligence partner, Carol Brooks-Johnson and new in-house barrister, Garreth Duggan, have been appointed by Manchester-based personal injury law firm, Express Solicitors.
The pair are just two of 162 new appointments made by the firm from September 2020 to August 2021.
Carol Brooks-Johnson joins as head of clinical negligence and heads up a busy department of nine, including three associates.
Express Solicitors' second in-house barrister, Garreth Duggan joins in-house barrister and partner Nyssa Crorie in the firm's advocacy department, which now has a team of five employees with further growth planned. Instead of outsourcing the work, the firm made the decision to launch an advocacy department in 2016 to provide seamless delivery to clients and achieve success where other barristers turned down work.
As the firm has a policy of promoting talent, its senior roles are usually filled from within, but Express Solicitors has taken on a further 160 employees in the past year, from trainee solicitors and litigation executives to new claims handlers.
The appointments have been necessary as the firm has recently acquired two law firms, as well as large amounts of personal injury cases, which comprise mainly of road traffic accidents. Express Solicitors is in a strong financial position to make cash-up front offers to acquire more law firms and caseloads, and has plans to do so over the next 12 months.
In addition, with marketing spend at more than £8m during the past financial year, the firm has seen rapid organic growth, with many more clients coming on board.
The appointments come on the back of news that Express Solicitors Group had its best financial results from April 2020 to April 2021, with group turnover up by 14% from last year to £31.3m and caseloads growing by 36% to 19,015.
Managing partner, James Maxey, said: "It's been a busy year for our HR and training departments, who've worked hard during lockdown to recruit, onboard and train the talent we need at the firm to offer a first class service to our clients and to help us continue to grow.
"We're delighted to have Carol on board. She has over 25 years' clinical negligence experience and will undoubtedly lead the department with great skill and expertise. In addition, Garreth will really bolster our advocacy department, which we grew after the success of bringing in our first in-house barrister. We've found the team has won many cases that other barristers turned down, so it is proving to be of real benefit to our clients."
Express Solicitors has 389 employees and is ranked in The Lawyer Top 200. Its lawyers and the firm are recognised in The Legal 500 and the firm is noted in Chambers and Partners. Express Solicitors specialises in personal injury and accident claims, clinical negligence claims and serious injury cases.
::
Manchester-based payments fintech Total Processing has made three key new additions to its team, with the appointment of Phil Astall as chief operating officer, Harry Luscombe as commercial director and Jonathan McGee as finance manager.
Previously a global senior director at travel company Expedia, Phil Astall joins with extensive experience in delivering improvements to business performance, costs, revenue and customer success. His appointment comes at a key moment, as Total Processing welcomes several new high profile clients, amongst them, two leading fashion retailers, to its merchant portfolio.
Bringing more than 10 years of experience across sales, marketing and operations, Harry Luscombe joins from SaaS platform company Mercarto, where he was a commercial director. In his new role, Luscombe will help to identify profitable sales and marketing strategy as the company expands further into the EMEA market.
Jonathan McGee joins the business following more than six years with payments company Worldpay, as an accounting manager. His new role of finance manager will support Total Processing as it scales up its ambitious growth trajectory and global expansion.
These three new additions follow an influx of recruitments for the business at all levels, as the fintech doubled its headcount over lockdown to 60 employees, expanded into a significantly larger Manchester headquarters at 111 Piccadilly, and expanded its UAE base to a larger premise at what is dubbed the 'innovation hub' of Dubai's future district.
Chief executive, Rob Pailin, said: "The recruitment of Phil, Harry and Jonathan is another huge acquisition for our growing team. We're on a mission to become the most customer-focused payments company in the world and having the right people in place is vital to us realising that ambition. Their knowledge, skills and experience will be massive going forward, and I'm looking forward to seeing what they each help us achieve."
Phil Astall said: "It's fair to say a lot of people have been taking notice of Total Processing, it's gone from a small Manchester start-up to a global fintech in the space of just four years, thanks to its advanced payments platform, exceptional customer support and partner ecosystem. I'm thrilled with the opportunity to play a part in its growth journey and proud to be a part of this exceptionally hard working and knowledgeable team."
Founded in 2015, Total Processing now claims to be one of the UK's fastest growing fintech companies, delivering its services to more than 3,000 clients and disrupting the payments sector through the delivery of custom payment solutions across online and in-store channels worldwide.
::
The University of Chester has appointed Prof Paul Bissell as its new pro vice-chancellor for research and innovation. Paul will join Chester on January 10, 2022.
Prof Bissell is currently professor of public health and dean of the school of human and health sciences at the University of Huddersfield. As dean, he leads the largest school at the university and ensures financial sustainability and delivery of the university strategy.
Over the past five years he has led the school through a process of transformation across its academic and research portfolios, resulting in major improvements in research capacity and quality in the health sciences, social sciences, sports sciences and psychology.
He has been heavily involved in the school's external engagement strategy, working closely with senior leaders in the other anchor organisations in West Yorkshire to drive innovation around research and knowledge exchange.
In terms of his own academic background, Prof Bissell is very much an interdisciplinary researcher, working at the intersection between public health, health services research and medical sociology. He has an interest in medicines usage, health inequalities, obesity science and functional neurological conditions.
He has published more than 100 journal articles and book chapters and led a series of high profile health research projects over the past 30 years.
He is also an educationalist, having been director of teaching in the school of health and related research at the University of Sheffield, and has designed and led a number of public health programmes. He believes strongly in the power of higher education institutions to transform the lives of students and learners and to deliver on opportunity and social mobility.
An appreciation of scientific principles, research and new knowledge creation are central to the student experience and he is looking forward to ensuring they are fully integrated into the citizen student strategy at the University of Chester.
Paul completed his BA (Hons), MA and PhD at the University of Manchester.