Manchester office market 'back with a vengeance' as take up rises by 17%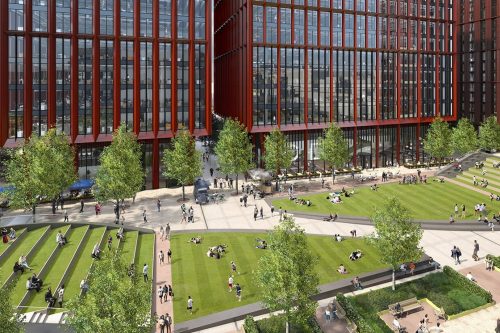 City centre transactions in Manchester totalling 257,164 sq ft were completed in the third quarter of 2021, an increase on the 220,200 sq ft signed in the previous quarter and taking the sq ft to date for the year to 712,000 sq ft.
The third quarter figures from the Manchester Office Agents' Forum (MOAF) are a significant improvement year on year with just 69,106 sq ft being transacted in the corresponding quarter last year.
"An almost 17% rise in just one quarter highlights the fact that the Manchester office market is back with a vengeance" said Steve Brittle, from Matthews & Goodman.
"The fact is companies, now reviewing their 'back-to-work' and hybrid-working strategies, are exploring and adopting more flexible and agile working models – hence the catalyst for the 17% rise in market.
"The good news is that as Manchester is one of the most active commercial centres in the country, we think this trend will continue."
Major transactions of note during the quarter include: Cloud Imperium Games taking 87,130 sq ft at Allied London's Manchester Goods Yard; Deliveroo committing to 10,002 sq ft at 5 New York Street; and Accenture taking 25,000 sq ft at Bruntwood's Sci Tec's Circle Square scheme on Oxford Road.
Matt Pickersgill, at Avison Young, said: "Cloud Imperium Games, an international independent game company, have committed to the largest deal of the year demonstrating its confidence in the office market by moving its whole UK operation into the city centre.
"As we move into Q4 and beyond this will, of course, continue to breed confidence across a number of larger corporate occupiers who are continuing to think about their own ongoing office requirements.
"We also anticipate several further announcements of large Grade A deals before year end and as a result, achieving 1m sq ft of city centre take up for 2021 is still a very realistic target."
Turning to South Manchester's office market, this achieved a take up figure of 110,511 sq ft across 68 transactions for Q3 which is marginally below the 117,065 sq ft reached in the previous quarter.
Transactions include, Comlit Group acquiring 12,238 sq ft at Waterside, Baguley from Pin Property, and Circular 1 Health Limited committing to 12,000 sq ft at Egerton House in Didsbury.
The Q3 figures for Salford Quays and Old Trafford increased up to 65,755 sq ft from 35,820 sq ft in the previous quarter. The largest deal was 23,500 sq ft taken by In the Style at Prime Property Consultancy, Maple House, at M60 Business Park.
MOAF comprises commercial property agencies Avison Young, BE Group, CBRE, Colliers International, Canning O'Neill, Cushman and Wakefield, Edwards and Co, Hallam Property Consultants, JLL, Knight Frank, LSH, Matthews & Goodman, OBI, Savills, Sixteen and TSG Property Consultants.