People: DF Capital; Suttons Tankers; UHY Hacker Young; Bristol Street Motors; Boyds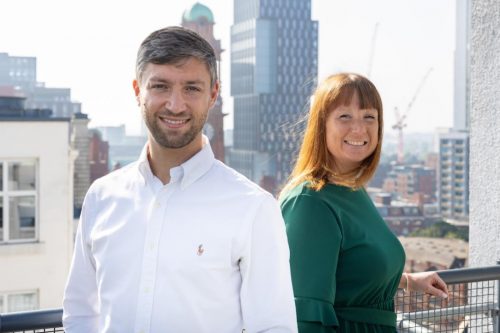 X

Register for free to receive latest news stories direct to your inbox
Register
DF Capital, the Manchester-based specialist savings and business finance bank, has announced the appointments of two senior marketing professionals to support the company during its next phase of growth.
Will Jones has been appointed in the newly-created role of head of marketing, and Gabrielle Donnelly joins as marketing manager. Together they will be responsible for helping develop and execute the business's plans to broaden its footprint in the industry, enter new markets and create new product lines.
Will joins DF Capital from Aldermore where he led marketing for the commercial real estate business. He has more than 14 years' marketing and communications experience across multiple sectors and previously held European and global-focused roles at GE Capital and CEVA Logistics.
Gabrielle is an experienced marketer and has worked in a variety of industries, including property, healthcare and the energy sector. She brings with her a wealth of knowledge in delivering effective and creative marketing communications.
Both Will and Gabrielle will be based in DF Capital's Manchester headquarters.
Jonathan Biggin, DF Capital's COO, said: "Our business is growing and there are exciting opportunities to take advantage of. Both Will and Gabrielle bring with them expertise in a broad range of marketing disciplines and they have also worked in a number of different industries which dovetail perfectly with our customer markets.
"It's a privilege to welcome them to the team and provide them with the opportunity to be part of our growth story."
::
Widnes-based Suttons Tankers has appointed Chrisi Lloyd-Roberts as operations director for the division.
Chrisi brings a wealth of experience including the efficient implementation of major new contracts, systems implementations, process improvement and procurement.
As an existing board member who has been with Suttons for more than six years, Chrisi has been involved in the creation and execution of the overarching strategy as well as both the long and short term aims of the business.
Building on the success that Steve Hassall, fleet director, achieved in strengthening the structure of the operations team with strategic appointments and streamlined processes, Chrisi will focus on the future scalability of the business to prepare it for further growth.
Michael Cundy, managing director, said: "Chrisi's board level experience and excellent transferrable skills made her a strong fit for the job. I am looking forward to seeing her contribution to this critical area of the business."
Chrisi Lloyd-Roberts said: "Using my operational leadership experience from manufacturing I am looking forward to working with the tankers operational teams. Over the coming months I'll be focusing on the critical themes of safety, customer service and efficiency, whilst retaining stability through this challenging period of the national driver shortage."
::
The Manchester office of UHY Hacker Young, the national accountancy group, has strengthened its team with more than 30 new hires in 2021. The team has seen a 25% growth in staff this year and is focusing its efforts towards staff retention and updating its remuneration package on offer.
The expansion of UHY Hacker Young's Manchester office aims to support the group's overall growth strategy. Over the past year, the local practice has taken on a number of larger audit clients which has driven the need for additional qualified auditors as well as more trainees.
The firm has also been celebrating a raft of internal promotions with more than 10% of staff being promoted in the past 12 months, demonstrating the firm's focus on recognising the success and development of its staff.
Recent promotions include Sarah Whalley from senior tax manager to director and Kimberly Simmons from senior audit manager to director.
Ryan Wear, partner at UHY Hacker Young Manchester, said: "Our successful growth strategy has been driven by our significant levels of recruitment both before and throughout lockdown.
"Ultimately, we want to ensure that as the firm grows, we always have the appropriate skills and capacity to service all of our clients and maintain the high standards they expect from us. We are only part way through our growth strategy, but given the success that we have achieved to date, it's clear there are some really exciting times ahead."
David Kendrick, equity partner at UHY Hacker Young Manchester, said: "The business has transformed significantly over the past decade and we are hugely excited about the future. Our strong team gives us a great foundation for further expansion moving forward."
::
Chris Armstrong, who joined the company on its finance graduate Scheme in 2014, has been appointed as general manager at Bristol Street Motors Ford Bolton.
Chris, who represents England and Great Britain at Water Polo, graduated with a Business Studies degree. He completed his CIMA qualifications while on the scheme and worked as an accountant at the Ford Bolton and Wigan dealerships before taking on his current role as assistant divisional finance director within the Ford division.
Thirty-year-old Chris's potential was spotted by chief executive Robert Forrester and operations director Ian Harrison, and they approached him to move into an operations role.
Chris said: "Although I have taken the company's general manager development programme, I hadn't really thought about an operational position until Robert and Ian spoke to me.
"My studying and career to date have revolved around finance and it is an exciting prospect to step away from that.
"I am looking forward to the challenges of a sales environment and a customer-facing role and further developing my skills within the company. I am thankful that I enrolled on the Finance Graduate Scheme and for the faith shown in me by Robert and Ian. This is a great business to work for, which values its colleagues and offers great opportunities for progression."
Ian Harrison said: "Chris is a highly gifted individual who joined the company on the Finance Graduate Scheme, developed into a first class accountant, and honed his skills over the last year working in a regional role.
"I think that this is a great appointment not only for Chris, but for the Bolton team, the Ford Division as a whole and thinking longer term for the business."
Robert Forrester said: "This is a great appointment and moreover shows our core value of 'Opportunity' in operation. Chris has youth on his side and both in his finance graduate role and regional financial role, has always shone brightly. I believe he will make a first class general manager and then who knows."
::
Crewe-based pharmaceutical and biotech product development consultancy, Boyds, has added two experienced product development experts to its team, amid growing demand for its specialist product development services from biotech and spinout businesses in the UK, Europe and the US.
Diane Shattock Ph.D. joins as director of product development and Ian Hollingsworth M.Sc., as associate director of product development. Both are working alongside Boyds' vice president of product development, Nick Meyers Ph.D.
The hires are central to Boyds' planned expansion of the product development team and its clear strategy of expansion into the US, specifically of its programme management and product development support to US-based clients via its expertise, support and guidance throughout the lifecycle of medicine development activities, from early stage discovery to commercialisation.
Diane and Ian are the latest of 18 new starters since March, when Boyds embarked on its current expansion. The consultancy has created the new roles to further enhance its expertise and also expand the business, in response to a 25% surge in turnover and sustained growth in demand for its services across the UK, Europe and the US.
The product development team works collaboratively with Boyds' in-house regulatory affairs, clinical operations and medical teams to support clients from the earliest stages of drug development, through clinical trials towards product approval and launch, working closely with regulators in the UK, Europe and US.
With more than 19 years' experience in clinical drug development, Dr Shattock is a project management professional (PMP)-qualified programme director and before joining Boyds was project lead at Freeline for its lead gene therapy programme in Fabry Disease, and project manager on its Haemophilia B programme.
Diane has a wealth of programme management experience from her work across many therapeutic areas and all phases of drug development, including as global project manager at Takeda and leading a collaborative Phase I-stage programme for an antibody therapy in Rheumatoid Arthritis for Eisai and Morphotek.
Ian Hollingsworth is PMP qualified, and has more than 20 years of experience in the pharmaceutical and biotech industries. His career began as a research chemist at AstraZeneca before his move into project managing early stage programmes. Ian has managed projects in production facilities as well as transnational drug development programmes, and most recently the UK initiative to establish Advanced Therapy Treatment Centres (ATTC) across the NHS.
Following their appointments, Boyds' Nick Meyers said: "I am delighted that Diane and Ian have joined the group. As well as their scientific expertise, they bring a wealth of development and programme management experience from previous R&D roles across the sector, and, importantly, provide us with a significantly increased capacity to support our clients and their programmes."
Prof Alan Boyd, who founded the consultancy in 2005, said: "Boyds is committed to supporting the development of medicines for patient benefit.
"The number of companies approaching us for support and guidance with taking their idea through the discovery and development pathway, has grown again this year, and in particular there has been significant surge in the number of biotech's and spinouts seeking our expertise. Not only do we have the experts to deliver the relevant support and guidance to companies that don't have the expertise or resource in-house with which to take their idea through the pathway from discovery to commercialisation, but we may also be able to help save them time and money, particularly when involved from an early stage."
Last month Boyds opened a US office in Pennsylvania, which is headed by Katy Rudnick, vice president and head of US regulatory affairs.
Since Boyds was established, the company has worked with companies across the globe to help them translate their ideas into medicines for the benefit of patients. The company's global reputation for its work in advanced therapies has led to a steady increase in the number of companies approaching Boyds for this expertise, with more than 60% of the company's client base now in the US.